The Pennsylvania Dairymen's Association, Center for Dairy Excellence and the Professional Dairy Managers of Pennsylvania joined together to recognize three individuals at the 2020 Pennsylvania Dairy Summit through an industry-wide awards program that showcases leadership, stewardship, and excellence in Pennsylvania's dairy industry.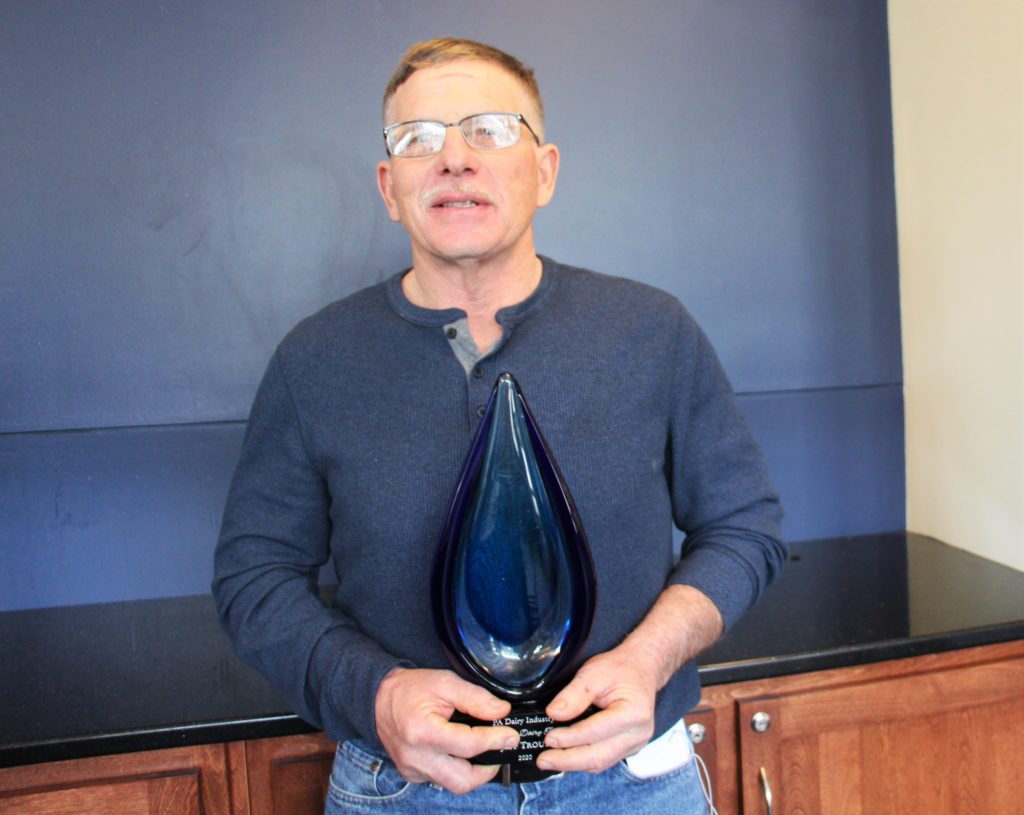 Pennsylvania Distinguished Dairy Producer Award: Jeff Trout
Jeff Trout of Trout Brothers Dairy in Blain, Pa. was presented with the Pennsylvania Distinguished Producer Award. Jeff Trout is a second-generation dairy producer from Perry County. Since graduating high school in 1977, Jeff has worked full-time on Trout Brothers Dairy through a partnership with his brother, Mike. For more than 40 years, Jeff and Mike have worked diligently to grow the herd from 80 to 650 head and build an operation that consistently produces high-quality milk.
Jeff is innovative and always looking for ways to enhance the profitability of his operation. Trout Brothers Dairy concentrates on his forage characteristics and the health and well-being of his herd. They believe better feed builds better animals, and better animals allow the dairy to consistently produce the quantity and quality of milk to remain competitive in today's marketplace. The Trout brothers have also added a sand bedding system to increase cow comfort and utilizes the wastewater for an irrigation system.
In 2011, Jeff diversified his business by entering the value-added market and establishing Bootlleg Creamery. Since then, his production has quadrupled and the ice cream business has increased significantly. Producing 24 flavors of ice cream, Jeff supplies five farm markets, several restaurants, a retail location, and two mobile units for community and sports events.
Forward-thinking and deeply committed to the dairy industry, the number of long-term employees on Jeff's farm reflects his ability to work well with his employees. Jeff believes his dairy farm and ice cream business are only as strong as the people he employs.
Jeff is a dedicated ambassador for the Pennsylvania dairy industry and actively educates the community on the importance of dairy farming. He has been a member of the Farm Bureau for nearly 40 years and currently serves as a Jackson Township Supervisor.
Throughout the community, Jeff strives to make the dairy industry stronger. He always makes time to participate in discussions and activities that benefit Perry County's agricultural community, including the Perry County Economic Development Authority. His insight and knowledge helps these organizations understand how they can assist farmers in achieving economic stability.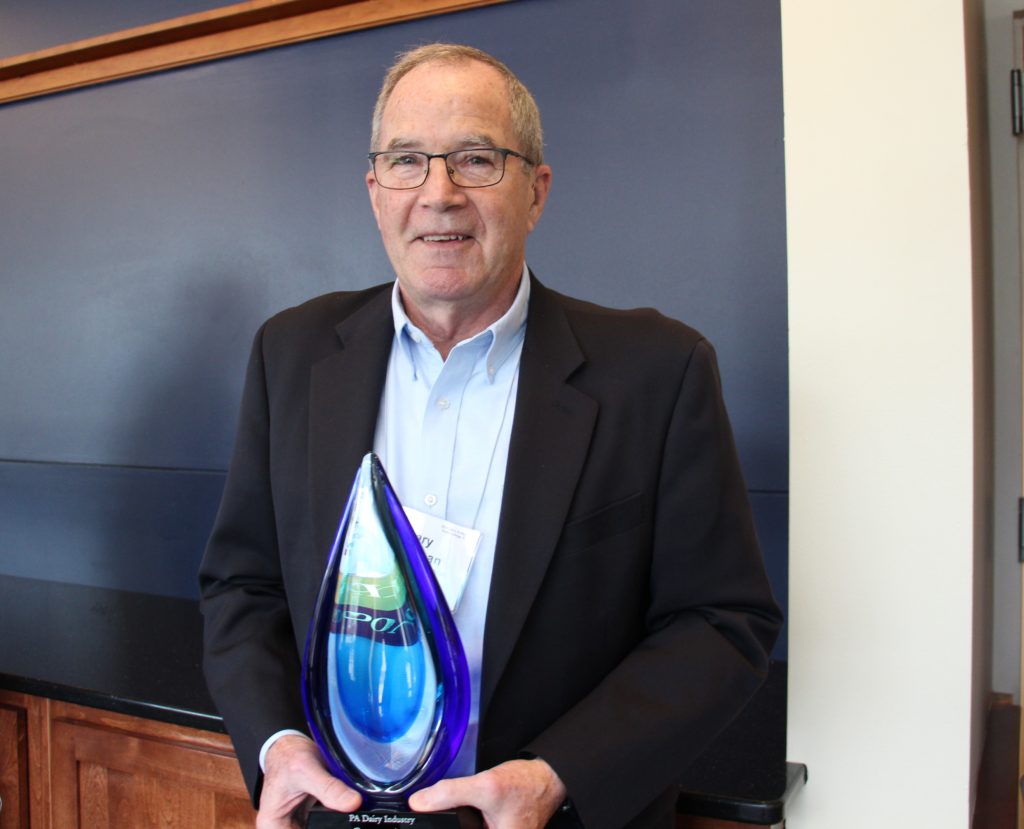 Pennsylvania Dairy Service Award: Gary Heckman
The Pennsylvania Dairy Service Award winner this year was Gary Heckman with AgChoice Farm Credit. Gary has dedicated his career to serving the Pennsylvania dairy industry and leading organizations that make an impact at the local farm level. From his humble beginnings with a hoof trimming business to his leadership roles at cattle genetic industry companies across the country, Gary has spent more than 40 years serving others and helping to develop young professionals.
He began his leadership journey as an active participant on the Dairy Task Force to help chart a course for the Pennsylvania dairy industry and build momentum and energy for growth. One of his biggest accomplishments was being appointed as the first executive director for the Center for Dairy Excellence. During his three-year tenure as executive director, Gary developed the Center's mission and Board of Directors and launched its initial farmer programs. He continued to serve as an agribusiness representative on the Center for Dairy Excellence Board of Directors for several years, offering leadership, guidance and insight.
In 2007, Gary joined AgChoice Farm Credit and currently serves as the chief business services officer. He is responsible for leading AgChoice's business consulting, farm accounting, education initiatives, and crop insurance. Gary plays a key role in developing and expanding AgChoice's business services to help farmers establish and carry out financial management programs, risk management plans, business plans, and dairy benchmark programs to enhance the financial strength of their businesses. Through Gary's direction, AgChoice's programs now reach nearly 2,000 farms, many of which are dairy farms.
During his time at AgChoice Farm Credit, Gary has also spearheaded SmartStart, a loan incentive program for young, beginning and small farmers based on their participation in educational activities. Throughout all of his work and leadership positions, Gary remains humble and forward-thinking. He has a clear vision for the future of the dairy industry and brings people together to align toward that direction.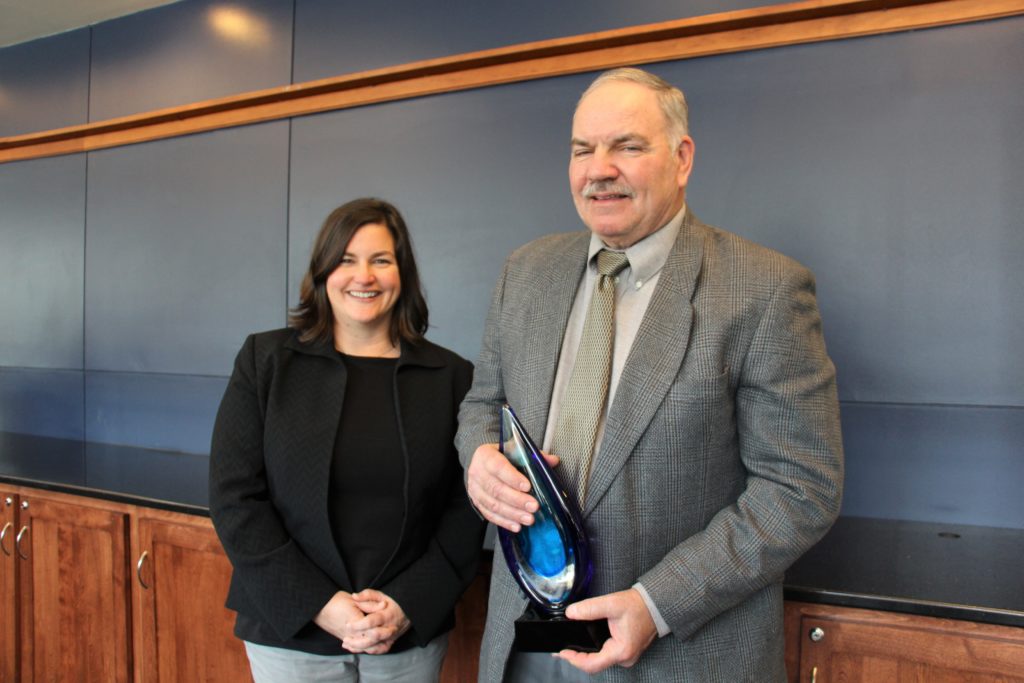 Pennsylvania Dairy Innovator Award: The Itle Family
The Itle Family of Vale Wood Farms in Loretto, Pa. was the winner of the Pennsylvania Dairy Innovator Award. Vale Wood Farms has been processing its own brand of milk and dairy products since 1933. The farm was settled in 1816 by two brothers, and over the past 200 years, the farm has grown from five to 500 acres. Today, Vale Wood Farms is a 200-cow, 500-acre dairy farm operated by the Itle family, representing the third and fourth generations. The Itles' milk processing facility bottles their fluid milk and creates other dairy products, including ice cream, cottage cheese, sour cream, yogurt, butter and buttermilk.
While there is an increased emphasis on value-added dairy opportunities for farm families, this has always been a part of Vale Wood Farms' business model. The Itle family supplies all of their local community's dairy needs and provides weekly home delivery to thousands of customers. They also supply 20 local school districts and businesses in their region with wholesome dairy products.
As they serve their community, the Itle family is constantly innovating and adapting their business to meet changing consumer demands. While their great-grandfather made his first delivery of milk in glass quart bottles pulled by a horse and wagon, over four generations, they have evolved to provide their customers with online ordering capabilities and emailed invoices. The Itle family frequently reviews their product mix and now offers iced coffee and yogurt smoothies in addition to a full line of traditional milk products.
The ltle family actively engages with their community through social media outreach, on-farm events, and widespread involvement in local civic organizations. They lead community outreach programs, including school tours that reach 5,000 students, summertime on-farm events that reach thousands of patrons, and a fall pumpkin patch that reaches nearly 10,000 visitors. They also offer a short course to dairy farmers who are interested in learning about the value-added business model.
As both dairy producers and dairy processors, the Itle family provides tremendous leadership, innovation, and understanding to help bridge the divide between these two industry segments.