Date:
Tuesday, August 13, 2019
Location:
Livestock Evaluation Center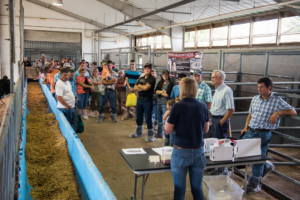 During this year's Ag Progress Days, a free tour titled "Why Do We Finish Cattle On Corn-Based Diets?" will showcase the benefits and sustainability of steers fed grain-based diets for beef production.
Participants will have the opportunity to observe cattle in a feedlot that have been fed grain-based diets and ask Penn State Extension experts, staff from the PA Beef Council, and Pennsylvania cattle buyers questions about nutrition, feed efficiency, and more.
The Pennsylvania Beef Producers Working Group is organizing the tours at the Livestock Evaluation Center (LEC) during Ag Progress Days, Tuesday, Aug. 13 through Thursday, August 15.
There will be a total of five tours offered, each covering similar information. By the corn crib at top of the event's "Main Street," stop by the tour registration area and get a free ticket to reserve a seat on the bus. Participants will also board from that area on Main Street.
If the buses are full, participants may drive to the LEC during tour times (parking will be available). Walking and standing will be a part of the tour, and restrooms are available.
The bus will leave from the top of Main Street at the following times:
Tuesday, Aug. 13 at 2 p.m.
Wednesday, Aug. 14 at 10 a.m., noon, and 2 p.m.
Thursday, Aug. 15 at 10 a.m.
Tours will be listed at https://agsci.psu.edu/apd/tours.
Listings will be available in July 2019.
Additionally, tour participants will receive a $5 Beef Food Voucher toward any item at the PA Livestock Association food booth, located on Main Street between third and fourth streets.
The demonstration is made available with the backing of the PA Beef Producers Working Group (BPWG), a collaboration of Penn State Extension, PA Beef Council, Center for Beef Excellence, PA Cattlemen's Association, and PA Department of Agriculture, with support from JBS.
To learn more about any of the BPWG's educational outreaches, contact Bridget Bingham, Executive Director, Pennsylvania Beef Council, at BBingham@pabeef.org.