Date:
Tuesday, January 12, 2021
Time:
7-8:30 p.m. EST (6-7:30 p.m. CST)
Event Host:
Center for Dairy Excellence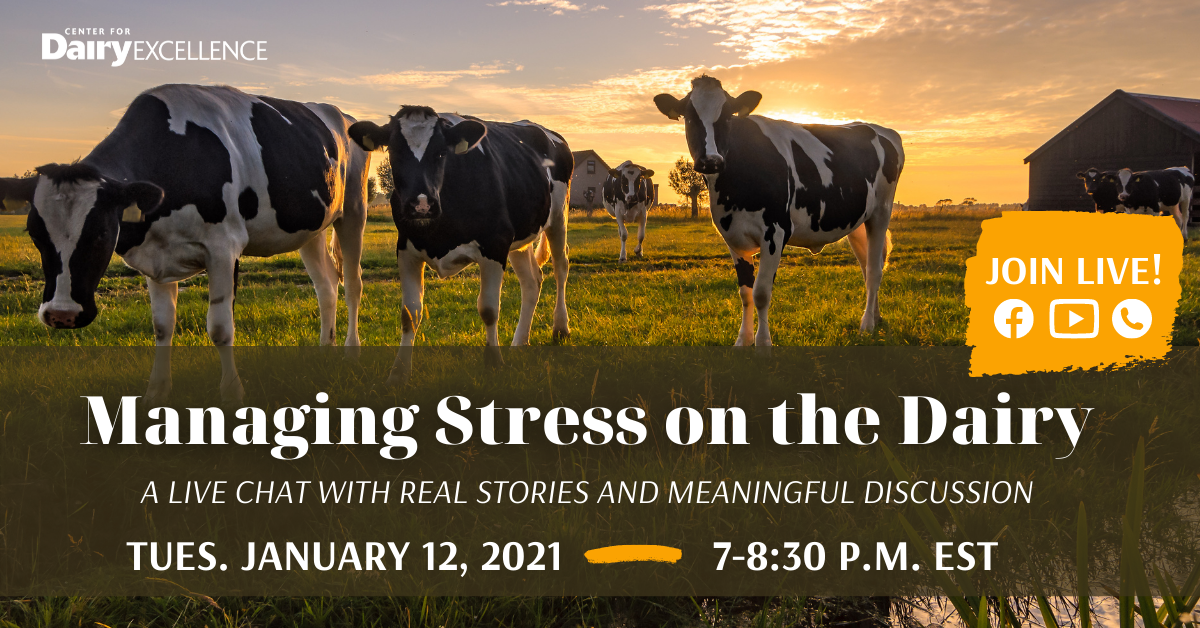 As we begin the new year, levels of anxiety, stress and depression are increasing. Stress has become a significant part of the daily lives of dairy farmers, their families, and employees. From the ongoing instability in the market prices for dairy products and the current COVID-19 pandemic to the evolution of the dairy industry during recent times and shifts in farming practices and climate, it's important to remember that you are not alone.
Join us for a live chat on Tuesday, January 12, 2021 from 7-8:30 p.m. EST, and help us start the new year by normalizing the conversation around mental health for those in the dairy community. The event is free and no registration is necessary.
What to Expect
The 90-minute live chat will feature:
A Pennsylvania dairy farmer who will share their story and journey with stress and mental health.
Expertise and discussion from Dr. Michael Rosmann. He will share strategies for how people involved in dairying can manage stress effectively. Dr. Rosmann will explain how our reactions to stress are one of the few factors over which we have control.
The session will be live streamed on Facebook and YouTube and will feature a live, question-and-answer format. You can also connect via Zoom or conference call. Resources from Dr. Rosmann will be available following the live chat.
How to Connect
Mental Health Resources:
Dr. Michael Rosmann provided the following mental health resources for the dairy community. Click on each link to download the articles:
About Dr. Rosmann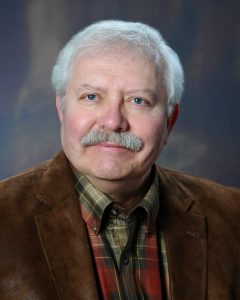 Dr. Michael Rosmann is a psychologist and farmer in Harlan, Iowa who has devoted most of his professional life helping farmers, ranchers, and the agricultural community to improve their behavioral well-being, leading to the new field: Agricultural Behavioral Health.  He obtained his BA in psychology from the University of Colorado and his MS and Ph.D. in clinical psychology at the University of Utah.  He served on the psychology faculty at the University of Virginia for five years, after which he and his family moved to Iowa where they established a family farm operation growing organic crops and raising purebred cattle.  Dr. Rosmann participated in various professional arenas, including the development of the first mental health response in Iowa to the Farm Crisis of the 1980s; he established behavioral healthcare services at Myrtue Medical Center at Harlan; he accepted an appointment to the Department of Occupational and Environmental Health of the University of Iowa, where he continues as Adjunct Professor.
His Agrarian Imperative theory explains why people farm and cling tenaciously to the land, sometimes to the point of suicide.  Many years of research and program evaluation undertaken with colleagues to develop behavioral health supports that work best for distressed agricultural producers became the basis for the Farm and Ranch Stress Assistance Network, which is part of the 2018 Farm Bill.