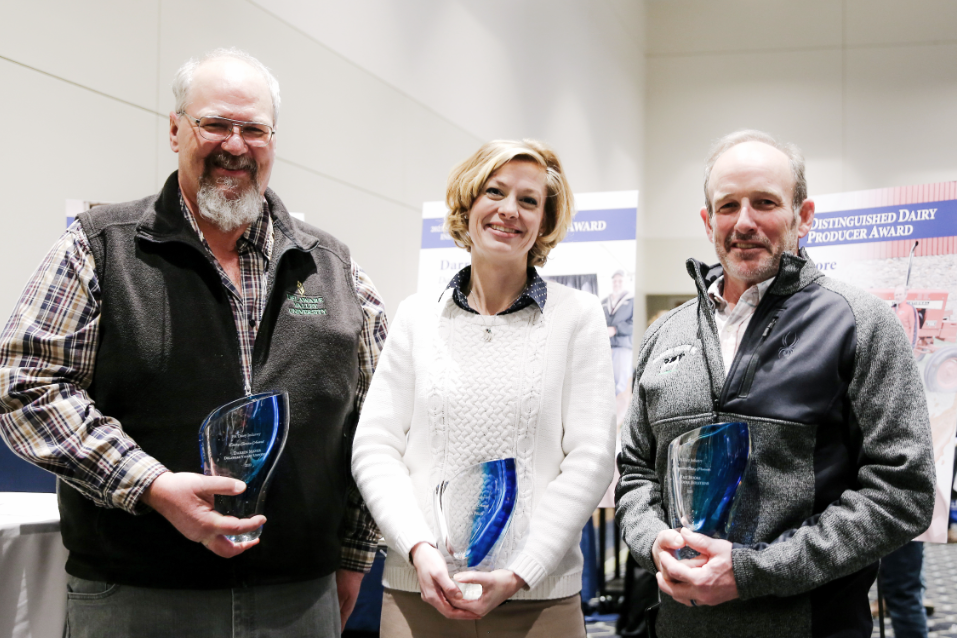 Dairy Awards
The annual Pennsylvania Dairy Industry Awards are now closed for nominations. They will re-open in the fall of 2023.
About the Awards:
The Center for Dairy Excellence, Pennsylvania Dairymen's Association and Professional Dairy Managers of Pennsylvania are accepting nominations for an industry awards program showcasing leadership, stewardship and excellence in Pennsylvania's dairy industry. Three industry awards are offered annually, with winners being recognized at the Pennsylvania Dairy Summit and throughout the industry.
The three award categories include:
Pennsylvania Distinguished Dairy Producer Award – Recognizes dairy producers (either individual or farm enterprise) who have demonstrated superior management capabilities within their own dairy business and provide outstanding leadership and service to the dairy industry.
Pennsylvania Dairy Service Award – Recognizes an individual in the industry who has distinguished him or herself in serving the greater interest of Pennsylvania's dairy industry and its individual dairy farms.
Pennsylvania Dairy Innovator Award – Recognizes an individual or business entity that has provided tremendous innovation to progress Pennsylvania's dairy industry toward a brighter future, either by advancing the marketplace or creating new opportunities for innovation on the dairy farm.
How to submit a nomination:
Applications will be kept for consideration for three years following the year of submission. Nominators will have the opportunity to update the nomination application annually.
Questions?
For more information or to email your nomination form, please email Emily Barge or call (717) 346-0849 .
To meet the 2023 Pennsylvania Dairy Industry Award winners, click here.