In the midst of COVID-19, we are carefully considering and evaluating our spring and summer event schedule for the safety of our audience. If A Toast to Dairy is affected, we will notify you as soon as possible.
On Thursday, June 18, 2020, join us for "A Toast to Dairy," an annual event supporting the Dairy Excellence Foundation of Pennsylvania. Join us for a farm-to-fork meal featuring Pennsylvania dairy products, local cheeses, wines and brews, and live music. This year, the event will highlight our on-farm internship program, which gives college students the opportunity to gain on-farm experience on progressive dairy farms. By attending "A Toast to Dairy," you can help support this program and ensure students are exposed to careers in dairy.
Be the first to know about event updates and giveaways! Sign up for updates.
About the Event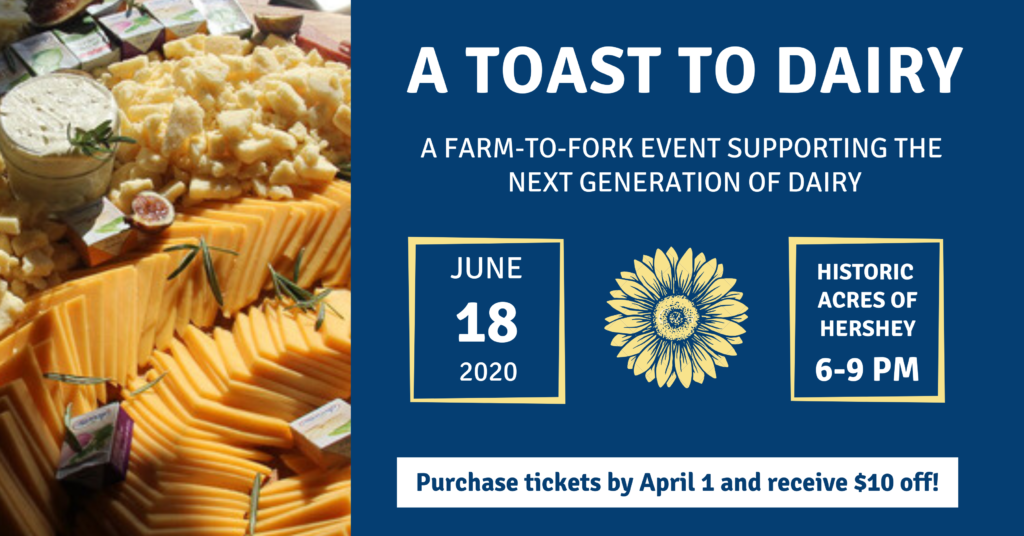 When: Thursday, June 18 from 6-9 p.m.
Where: Historic Acres of Hershey
3425 Old Hershey Road
Elizabethtown, PA 17022
Cost: $75 per person*
Early Bird Special: Purchase your tickets by April 1 and receive $10 off!

*Ticket bundle options are also available. View options on the registration form below.
How to purchase tickets: Complete the form below or email Heidi Zimmerman.