PA Dairy Overview
Pennsylvania is ranked 8th in total milk production nationally, with the Commonwealth's 474,000 cows producing over 10.1 billion pounds of milk annually. The state's annual milk production per cow is 21,338 pounds – or about 2,510 gallons – per cow. At 5,200 dairies, the state has the second largest number of dairy farms nationally, having more dairy farms than every other state except Wisconsin.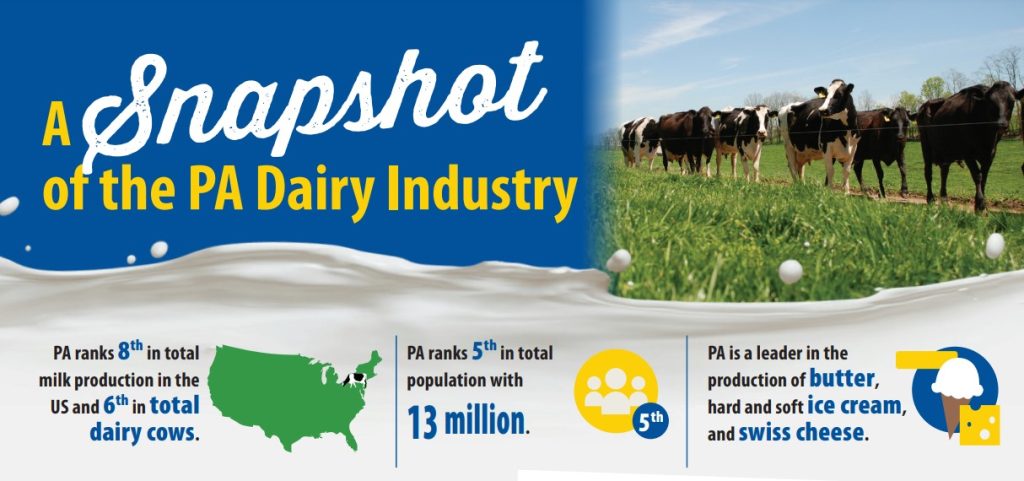 Trends in Pennsylvania's dairy industry:
The number of Pennsylvania dairy farms is declining. Currently, 5,200 dairy farms are located in Pennsylvania. This represents 17.4 percent of all dairy farms across the nation. Pennsylvania's average herd size is about 91 cows, and 99 percent of all dairy farms in Pennsylvania are family owned.
The number of cows in Pennsylvania continues to decrease. Cow numbers in 2021 averaged 474,000, 1.7% less than 2020. The dairy herd in the Commonwealth has been decreasing steadily for many years. In the last 10 years, the state's herd size has shrunk 12% or just over 62,000 head.
The state's total milk production decreased for the first time in three years. Prior to 2021, milk production had been increasing for three years despite a decline in the total number of cows across the Commonwealth. In 2021, the state's total milk production was 10.114 billion pounds, down 1.6% compared to 2020.
Milk per cow in 2021 had a slight increase. Although dairy farm numbers and cow numbers are decreasing, milk production per cow is increasing. Except for a slight dip in per cow production in 2018, milk production per cow has grown every year for at least the last 10 years. At 21,338 pounds per cow, milk production across the Keystone State increased a slight 0.1% increase over 2021. However, milk production per cow has grown over 9% since 2012. The average cow in Pennsylvania in 2021 produced about 2,510 gallons of milk. This is 207 gallons more milk per year than she did in 2012.
Opportunities for growth exist in this region. Pennsylvania is located within a day's drive of more than 50 percent of the population in North America. With abundant water, access to both domestic markets and international seaports, and a strong dairy infrastructure, Pennsylvania is well positioned for growth. However, finding incentives for companies to invest in Pennsylvania's dairy infrastructure remains essential.
Creating a more favorable environment for Pennsylvania's dairy farms will be critical to the industry's ability to grow and meet increasing dairy demand, both domestically and across the seas.
Click here to view a visual snapshot of the economic benefits of Pennsylvania dairy.
To learn more about how to better support Pennsylvania's dairy farms, contact the Center for Dairy Excellence at 717-346-0849 or email info@centerfordairyexcellence.org.