Empowering the next generation of dairy farmers starts with the education they receive today. With less than two percent of the U.S. population directly involved in production agriculture, the Dairy Excellence Foundation empowers the producers, consumers, and advocates of tomorrow. See how our programs and curriculum are impacting students across the nation.
---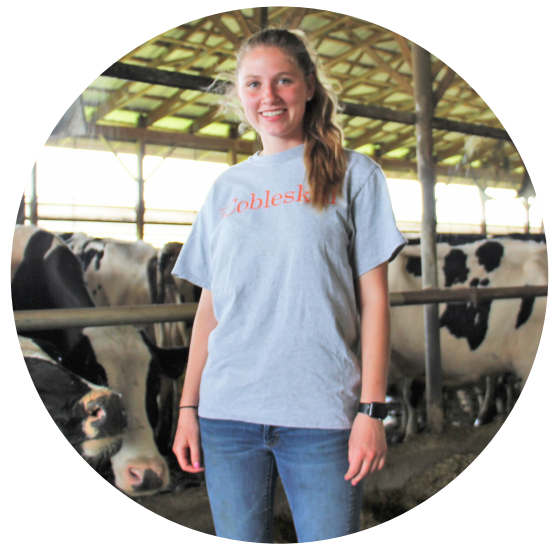 College Sophomore Completes On-Farm Internship and Helps Build Next Generation
As a college student approaching her sophomore year at the State University of New York (SUNY) Cobleskill, Lily Fries ended her freshman year with a lot of challenges and changes, but also a new opportunity to pursue her passion for agriculture. Lily is completing a summer internship at Schrack Farms, a dairy farm in Loganton, Pa. to gain on-farm experience and expand on her dairy production management classes.
---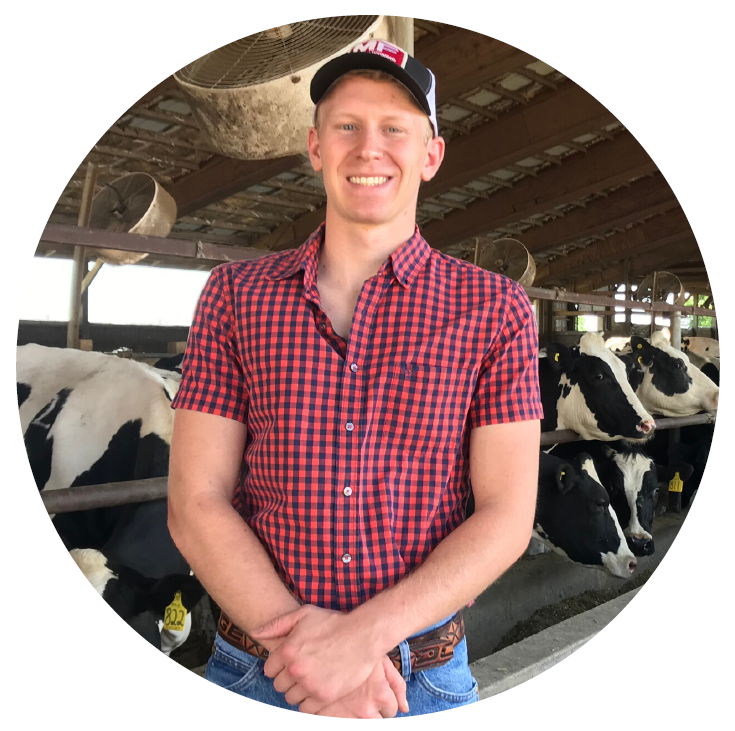 Animal Science Student Expands Horizons During Internship at Minnesota Dairy
After growing up in Southern Lancaster County, Dominic Mattilio hasn't been afraid to get out of his comfort zone. As a junior at Penn State University studying animal science with a minor in agronomy, Dominic is spending his summer more than 1,100 miles away in Hanska, Minnesota at Tauer Dairy, a 220-cow dairy farm. He is one of seven college students who are completing on-farm internship through the Center for Dairy Excellence Foundation of Pennsylvania, the Professional Dairy Managers of Pennsylvania, and the Pennsylvania Dairymen's
---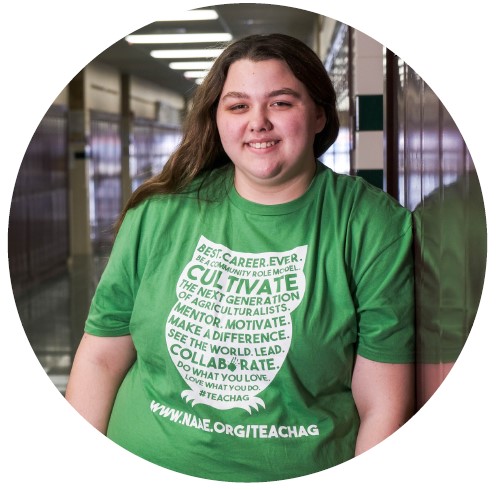 High School Junior Expands Dairy Knowledge Through Independent Study
As a junior at Cumberland Valley High School and the Cumberland County Teen Miss Agriculture USA, Amanda Hamilton is passionate about sharing the benefits of dairy with the community. To expand on her passion for dairy, Amanda recently made the decision to complete the Dairy Leaders of Tomorrow (DLT) independent study program.
---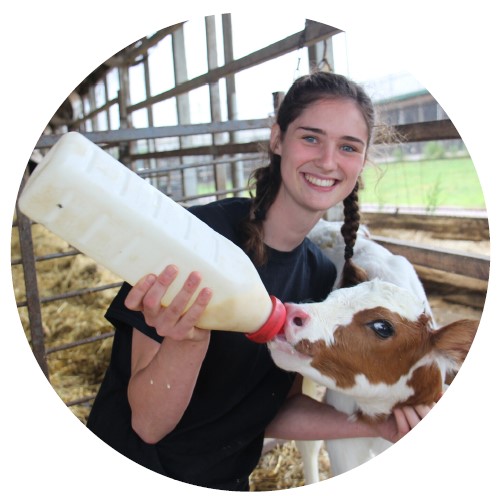 Meet Montana, an On-Farm Intern with a Passion for Herd Health
From an early age, Montana Stump has cared deeply for animals. After growing up on her family's hobby farm and spending her weekends at a friend's dairy farm, she discovered her interest in animal health. Hetrickdale Farm, the large-scale dairy in Bernville, Pennsylvania that Montana visited as a child, is now providing her with professional, on-farm experience.
---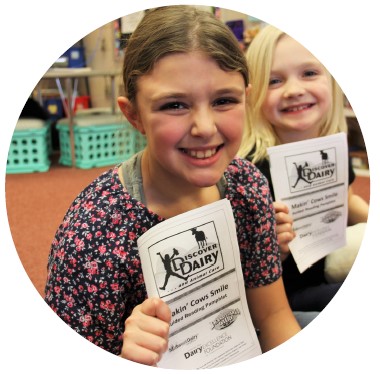 Second-Graders Connect with Dairy Farming Through Adopt a Cow Program
Second graders at Jackson Elementary in Eastern Lebanon County School District are getting an inside look at dairy farming this school year through Discover Dairy's "Adopt a Cow" program. With agriculture being such a big part of the community in Lebanon, Pennsylvania, Becky Kleinfelter decided to sign up for the year-long interactive learning series.
---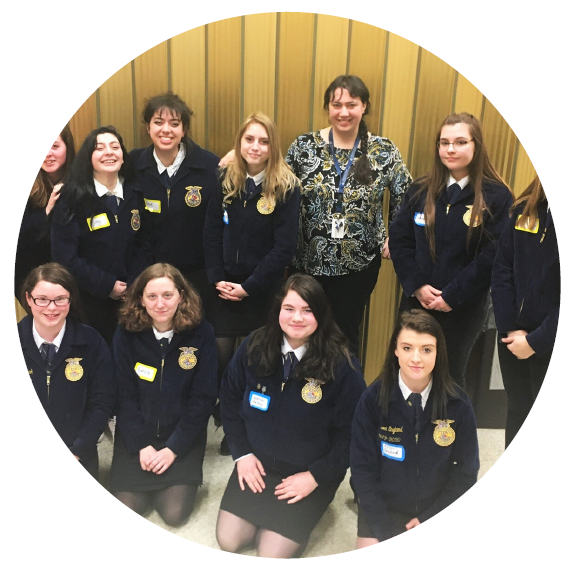 Dairy Leaders of Tomorrow Offers Virtual Learning and Independent Study
The next generation of dairy doesn't look the same as it did five months ago, let alone 10 years ago. The dairy industry and the way we teach students are changing rapidly, and the future often feels unknown. To navigate these changes and continue preparing students to pursue careers in the dairy industry, many agriculture teachers are using the Dairy Leaders of Tomorrow (DLT) program. Available in a digital format with online modules that allow students to work independently at their own pace, the DLT curriculum includes three core courses that meet Common Core Educational Standards.
---
High School Students Meet Berks County Dairy Farmers During Annual Farm Tour
More than 60 high school students from six different high schools throughout Pennsylvania participated in the annual Dairy Leaders of Tomorrow Farm Tour. Students received a firsthand look at three dairy farms with different business models, explored the types of careers available in the dairy industry, and talked to a wide range of professionals to learn about all facets of dairy production—from nutrition and herd health to robotic milking technology and food science.
---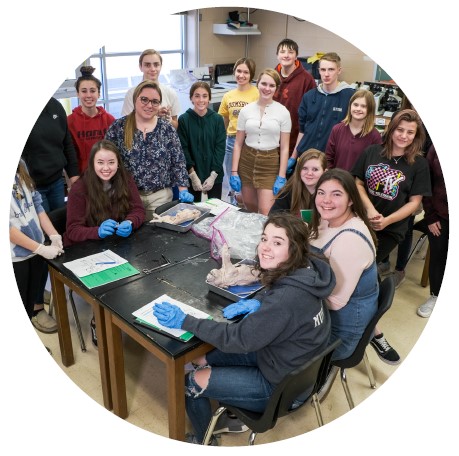 Dairy Leaders of Tomorrow Curriculum Introduces High Schoolers to Animal Science
While the Dairy Leaders of Tomorrow curriculum is centered around dairy, it often sparks connections with other animal science topics. At Cumberland Valley High School in Mechanicsburg, Pennsylvania, the Dairy Leaders of Tomorrow reproductive anatomy lesson served as a relevant introduction for a pig dissection assignment. The DLT anatomy lesson introduced students to the different parts of a female cow's reproductive system.
---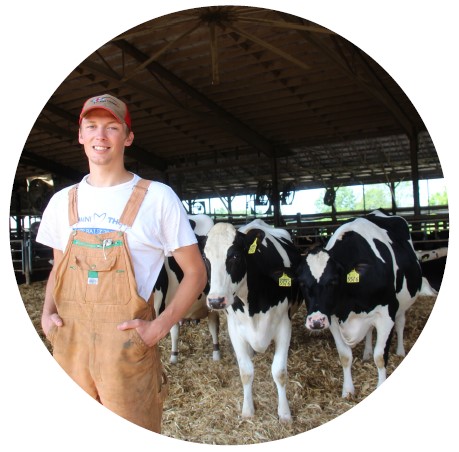 Meet George, a College Student With an Interest in Dairy
George DeMers may not have grown up on a farm, but he found his passion for agriculture at an early age thanks to the role models in his life. Gaining inspiration from his dad, who majored in dairy production at The Pennsylvania State University, George followed in his footsteps. He became an animal science major at Penn State Main Campus. To complement the knowledge he was developing in his animal science classes, George knew he wanted to gain experience on a dairy farm.
---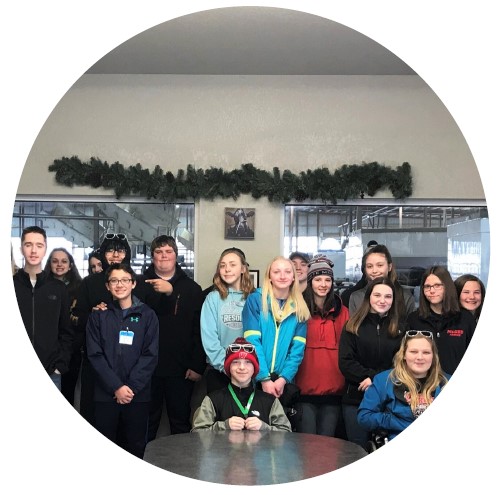 Farm Tour Grant Gives Students a Firsthand Look at Innovative Dairy Technology
When it comes to dairy farming, new technology is emerging across the industry to increase efficiency, enhance cow comfort and further reduce dairy's carbon footprint. When Lisa Jagielo, an agriculture instructor at Unity School District in Balsam Lake, Wisconsin, heard about farm tour field trip grants offered through the Discover Dairy program, she knew it would be an eye-opening way for her students to see some of this technology firsthand.
---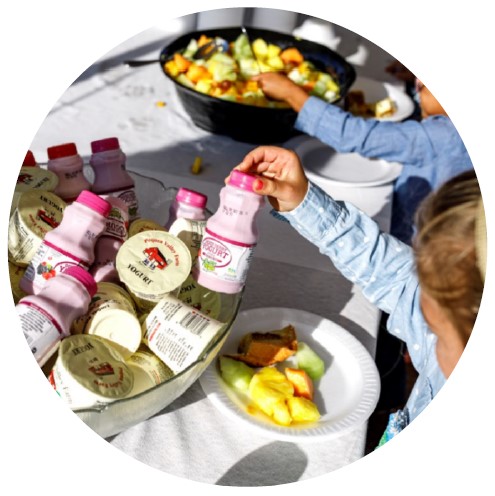 Middle School Students Discover the Impact Dairy Makes on Their Community
With consumers becoming more interested in shopping locally, Mary Myers, a middle school teacher from Keystone SMILES Crossroads CLC, wanted her students to understand the role agriculture, and dairy farming, play in this consumer trend. As she searched for lessons that could help her bring dairy farming into the classroom, she found the Discover Dairy lesson series. Designed for elementary and middle school students, the program immediately interested her class.
---