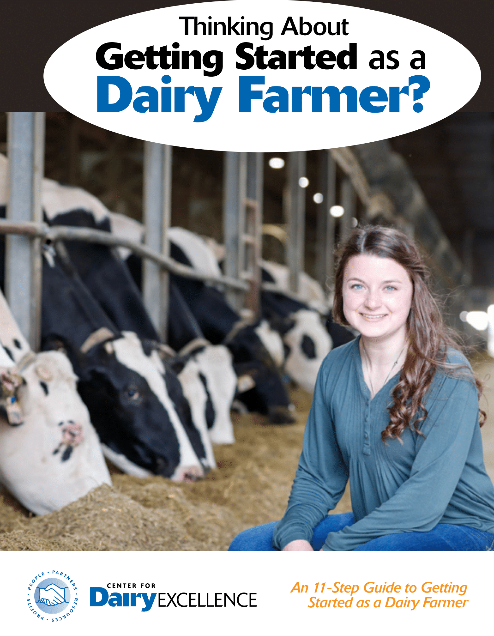 Thinking about getting started as a dairy farmer? Dairy farming has provided a meaningful career to thousands of people, and you may have the desire to follow this path. Individuals who are considering getting started in this field often have a few questions: What kind of initial investment do I need? Will I get a return on that investment? Will I enjoy working long hours with relatively few days off? This 11-step guide was created to help you answer these questions and find the next steps forward.
No matter what your path might look like — whether your family is helping you get your start or you are beginning from scratch — this guide provides 11 starting points and links to industry resources that should help you eventually own and manage your own herd of dairy cows.
Click here to download the guide. (Note: You do not need a Dropbox account to access this. Simply click "Download" on the top left once you get to the guide.)
Table of Contents
Step One: Get Some Experience
Step Two: Find a Mentor
Step Three: Create a Business Plan
Step Four: Make Sure You Have a Secure Milk Market
Step Five: Form an Advisory Team
Step Six: Find a Facility
Step Seven: Secure Financing
Step Eight: Find Cows to Purchase
Step Nine: Establish a Records System and Risk Management Plan
Step Ten: Get Things in Place
Step Eleven: Take Delivery and Start Your Career
If you have questions about this free resource or trouble accessing it, please email Emily Barge.