2020 On-Farm Internships
The Professional Dairy Managers of Pennsylvania, Pennsylvania Dairymen's Association and Center for Dairy Excellence Foundation of Pennsylvania offer $3,000 grants for farms and students to participate in a 10-12 week on-farm internship program, intended to provide on-farm learning experiences to the next generation of dairy managers in Pennsylvania.
To qualify for the internship:
Farms: may be located within or outside of Pennsylvania, but producers must agree to provide the intern with exposure to all aspects of a successful, progressive dairy operation. Read more about Farm Expectations.
Students: must attend a Pennsylvania university, a Pennsylvania resident attending an out-of-state school or a recently-graduated Pennsylvania resident with an interest in dairy production. Preference is given to upperclassmen undergraduates. Read more about Student Expectations.
To access the applications, click on the links below.
2020 On-Farm Internship Program Student Application
2020 On-Farm Internship Program Farm Application
Due Dates:
Student Applicants: October 31, 2019
Farm Applicants: December 31, 2019
Brittany Snyder
Dairy Excellence Foundation
Email: bsnyder@centerfordairyexcellence.org
Any questions should be referred to Brittany at 717-346-0849.
---
Congratulations to our 2019 On-Farm Interns for a successful summer experience! Check out how this internship impacted their career goals: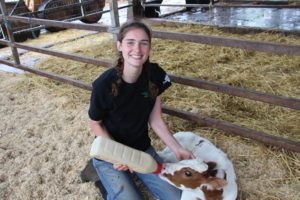 This internship has been a great opportunity for me. I've gotten to learn a lot about herd health, which is really what I want to do. They have been really good teachers—they'll show me how to do something, but then let me do it [myself]. It's exciting and it has been nice to get experience on a larger farm.
Montana Stump, a 2019 on-farm intern who gained experience at Hetrickdale Farm
I learned a lot about what happens on a dairy farm on a day-to-day basis and all the great people who make it happen. My host farm was really nice and patient with me. I know so much more than I did in the beginning of the internship, but I still don't know nearly as much as them. They never got frustrated with me. If I felt uncomfortable doing something, they took the time to explain it.
George DeMers, a 2019 on-farm intern who gained experience at Mason's Chrome View
I thought I knew cows; but before this, I was in the little leagues. Now I'm in the major leagues. This internship, along with my host farm and mentor, have helped me have a new look on dairy. This internship gives a real-time view of the operations; it's unique and hands-on. It takes you to the heart of the Pennsylvania dairy industry.
Stephanie Takitch of Latrobe, PA - Interned on the Zugstead Farm of Mifflintown, PA during the summer of 2018