COVID-19 is impacting the entire economy and marketplace, including the milk market. We'll be providing weekly updates with milk futures prices and other market updates to help keep you as knowledgeable as possible during this time. View the entire list of weekly updates.
---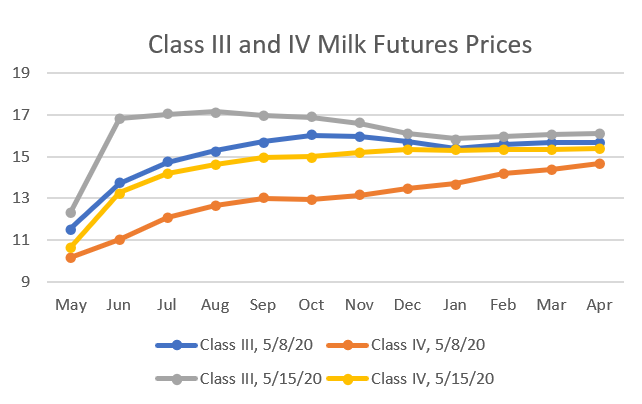 Class III and Class IV milk futures as of noon on Friday, May 15, 2020 are significantly improved from a week ago. Hopefully, this is the beginning of a market correction from the huge disruption caused by COVID-19 beginning in March. Average Class III price for the next 12 months climbed from $15.09 per cwt last Friday to $16.16 today. This is an increase in average price of $1.07, driven by large increases ranging between $3.12 per cwt in June to $1.26 in September. Class IV prices over the next 12 months is up $1.59 per cwt to average $14.55, driven by significant increases from over $2.00 per cwt to about a dollar from June to March of 2021. Now may be the time to start looking at DRP policies to see how favorable they are compared to your cost of production.
USDA CFAP Webinar
The USDA sponsored a webinar last week where they announced what the application process would look like to obtain direct payments provided by the Coronavirus Food Assistance Program (CFAP). See notes and Q&A answers from this call below. Links to the recorded call and answers to frequently asked questions can be found on the FSA's webpage under the Resources section.
CFAP direct payments will be available to all producers regardless of size or commodity
Applications must be received at local FSA offices. Offices will only be open by phone and will be available to help with application by electronic means whenever possible.
Forms Needed to Apply
Form CCC-901— Identifies members of a farm or ranch that is a legal entity; Member names, addresses, Tax ID#, and citizenship status
CCC-941— Reports average adjusted gross income for programs where income restrictions apply
CCC-942— If applicable, certifies income from farming, ranching, and forestry for those exceeding income limits
Form AD-1026— Ensures compliance with highly erodible land conservation and wetland conservation
Form AD-2047— Provides basic customer contact info
Form SF-3881— Collects bank information and permission to deposit funds by direct deposit
FSA is not requiring an acreage report at the time of application, and a USDA farm number may not be immediately needed.
Frequently Asked Questions
What commodities are available for payment? Any commodity or livestock product that has had economic loss due to COVID-19
What can be filled out now? Several forms can be completed in advance and are located at farmers.gov/cfap. If you are an existing customer, this information is probably on file.
What should first-time customers do? FSA staff will work with you to complete the application. You must call and set up an appointment with your county office.
If a producer received PPP and/or EIDL, can they receive CFAP funds? Yes, eligibility for this program has nothing to do with the SBA programs.
Visit farmers.gov/cfap for further information. Watch a recording of the webinar for more information.