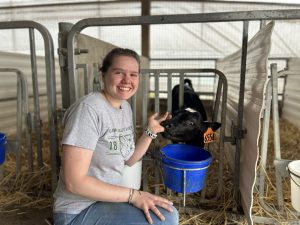 Rebecca VanBlargan has always loved animals, but it wasn't until she began her college career at Delaware Valley University that she discovered how much she loves working with cows. After growing up in 4-H and becoming a biology major – where she also specializes in zoology and minors in animal science and dairy science – Rebecca started working on a dairy farm near her house to gain hands-on experience with cows.
"I grew up in 4-H, but I always did small animals and helped my friends with goats and sheep. That was really the extent of it. I'm really interested in genetics, and in college, I was looking for internships," Rebecca shared. "I saw one about dairy cows and genetics. I applied and heard nothing back because I hadn't touched a cow before. So, I started working on a farm at home [to get more experience] and I absolutely loved it."
This dairy farm processes their own milk and has about 70 cows and a tie-stall barn. To diversify her experiences and continue growing her skillsets, Rebecca decided to apply for an on-farm internship the summer before her senior year. She was paired with Y-Run Farms, LLC in Troy, Pennsylvania and has spent the summer learning how to manage a larger herd – and the decision-making that goes along with that.
"This farm is a lot bigger. They're milking around 830 cows, and they have a parlor system and free-stall barn," Rebecca added.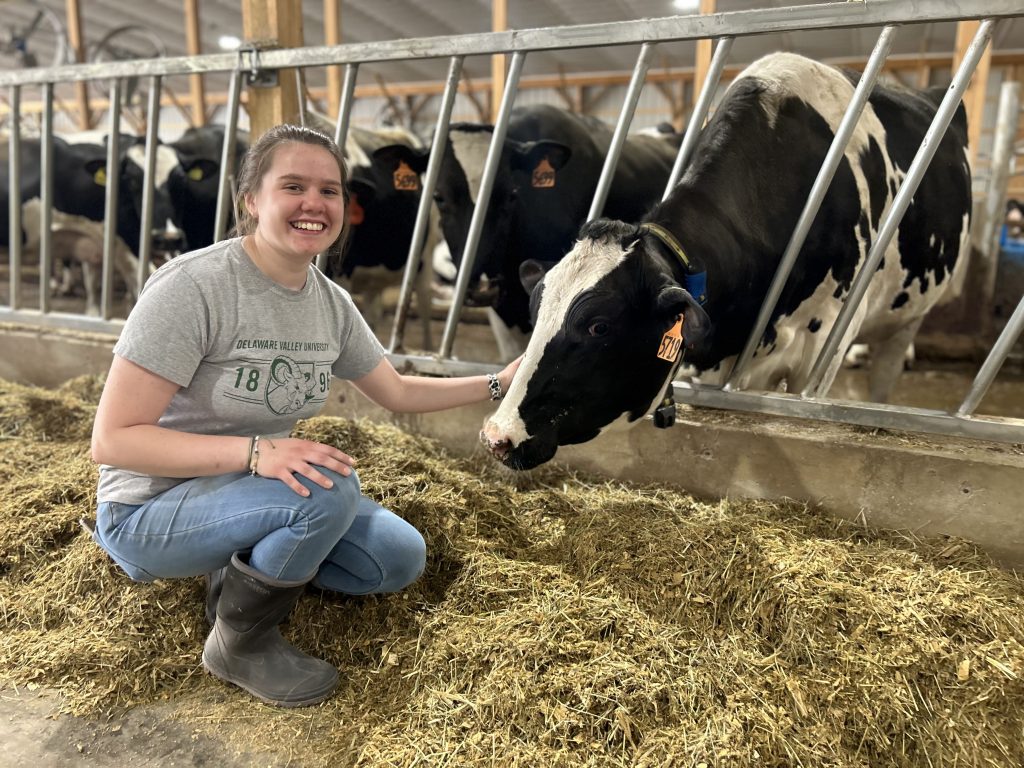 For the Kline family at Y-Run Farms, they recognize the value these types of internships had in helping their current employees discover a strong passion for dairy farming.
"Our employee [who helps manage our herd] did an internship when she was in college, and that's what brought her back to the farm from another job. We thought this would be a good way to give back to help other students understand farm practices. It has definitely been a win-win for our intern and our farm," said Glenn Kline of Y-Run Farms, LLC, a host farm in this year's program.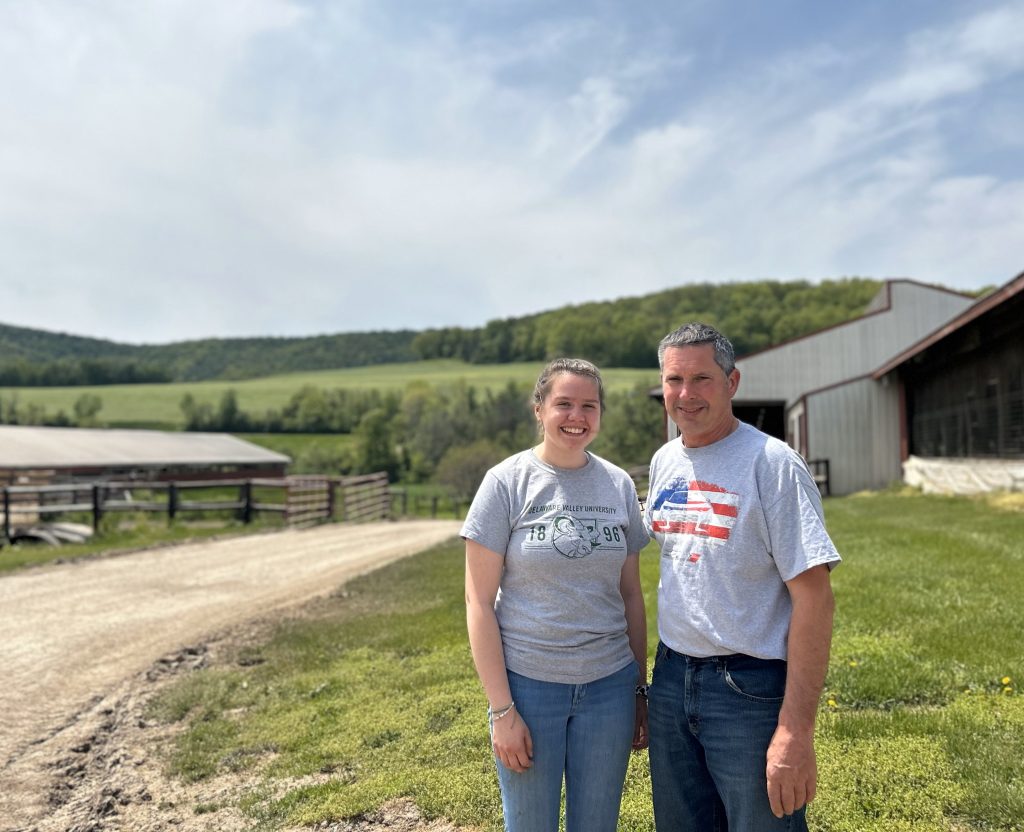 Throughout the summer, Rebecca has worked closely with the assistant herd manager to perform herd checks and help with vaccinations. She has also gained experience with breeding, and she has even stepped in to help with some challenging calvings.
"I really like having to pull calves. It's not ideal for the cow or the calf [when that happens], but especially when the calf is healthy, it's nice to be a part of that," she shared.
As part of the on-farm internship program, each student is required to complete an in-depth research project that benefits their host farm. At Y-Run Farms, Rebecca says the far-off dry cows get moved to the close-up pen about two weeks before they calve. She decided to track if the stress of moving them causes any issues.
"I've been tracking how many treatments each cow has gotten, where they calved, if they had any dystocia, and what lactation they're in," she explained. "I've also been tracking the sires of the calves to see if that could have anything to do with it as well."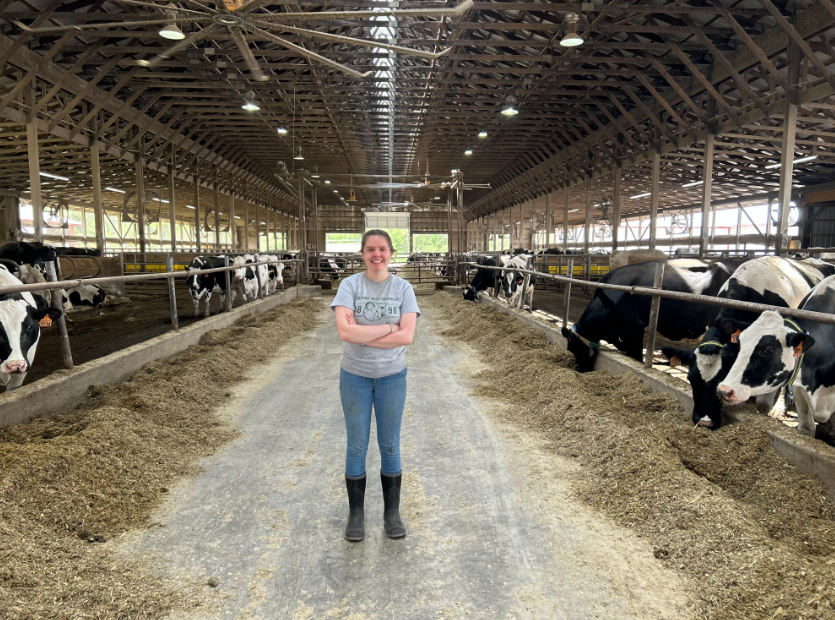 Through her observations and research, Rebecca has noticed other interesting trends that could impact breeding decisions. The farm has experienced five to six sets of twin Holstein heifers this summer, and Rebecca has found that there are a few common sires they all have.
From meeting new people every day and gaining boots-on-the-ground skills to performing research that could make a real difference on the dairy operation, Rebecca says the internship has solidified her interest in dairy.
"I definitely want to stay in the industry. I don't know where, but I want to be here working with cows. The on-farm internship is a great experience. You're basically getting thrown into the industry," she explained. "If you have any interest in dairy at all, you'll get to meet people like nutritionists, veterinarians and others who work in the industry every day. It's good to get those connections."
---
The Dairy Excellence Foundation, the Professional Dairy Managers of Pennsylvania, and the Pennsylvania Dairymen's Association provide $3,000 grants to support the on-farm internship program each summer. Learn more.