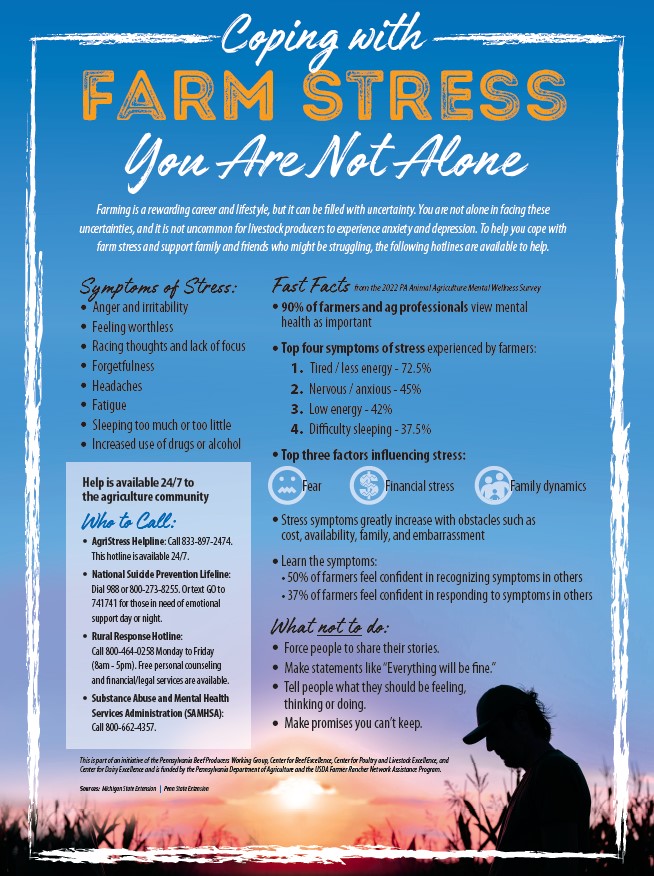 Farming is a rewarding career and lifestyle, but it can be filled with uncertainty. You are not alone in facing these uncertainties, and it is not uncommon for livestock producers to experience anxiety and depression. To help your community cope with farm stress and offer resources to those who might be struggling, the following posters and rack cards are available at no cost while supplies last.
Consider requesting a poster to display in your office or rack cards to share with employees or community members.
Click here to see a preview of the 18×24 posters.
Click here to see a preview of the rack cards.
Fill out the form below to request posters and rack cards while supplies last. This material is available as part of an initiative of the Pennsylvania Beef Working Group, Center for Beef Excellence, Center for Poultry & Livestock Excellence, Penn State Extension, and Center for Dairy Excellence. It is funded by the Pennsylvania Department of Agriculture and the USDA Farmer Rancher Stress Network Assistance Program.
Request Farm Stress Material