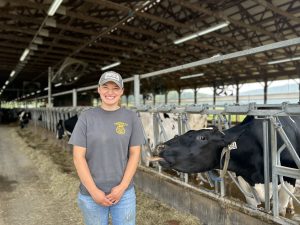 For Cameron Goodyear, dairy farming has been her source of comfort and how she has connected with family throughout her childhood.
"I've been on farms since I was about 11 years old. I fell in love with cows, and they're just my comfort. Farming was something I had an interest in. My stepdad showed me the ropes, and that's how we bonded," she shared.
Now beginning her sophomore year at The Pennsylvania State University where she's studying ag education, Cameron wanted to push herself to gain experience on a different type of dairy operation than she was accustomed to. She decided to complete an on-farm internship about an hour from her hometown, and she was paired with Eleven Farm in Elliottsburg, Pennsylvania.
"I wanted something with more experience and to put myself out there more. I'm more of a shy and reserved person, so I need something to push me [out of my comfort zone]," Cameron explained.
With a small team and Cameron being the only employee, she was exposed to all aspects of the dairy operation throughout the internship – including the farm's robotic milking technology. She was responsible for feeding, bedding, scraping, and helping with fieldwork. Learning the differences between traditional milking parlors and a robotic milking system was an exciting learning curve, too.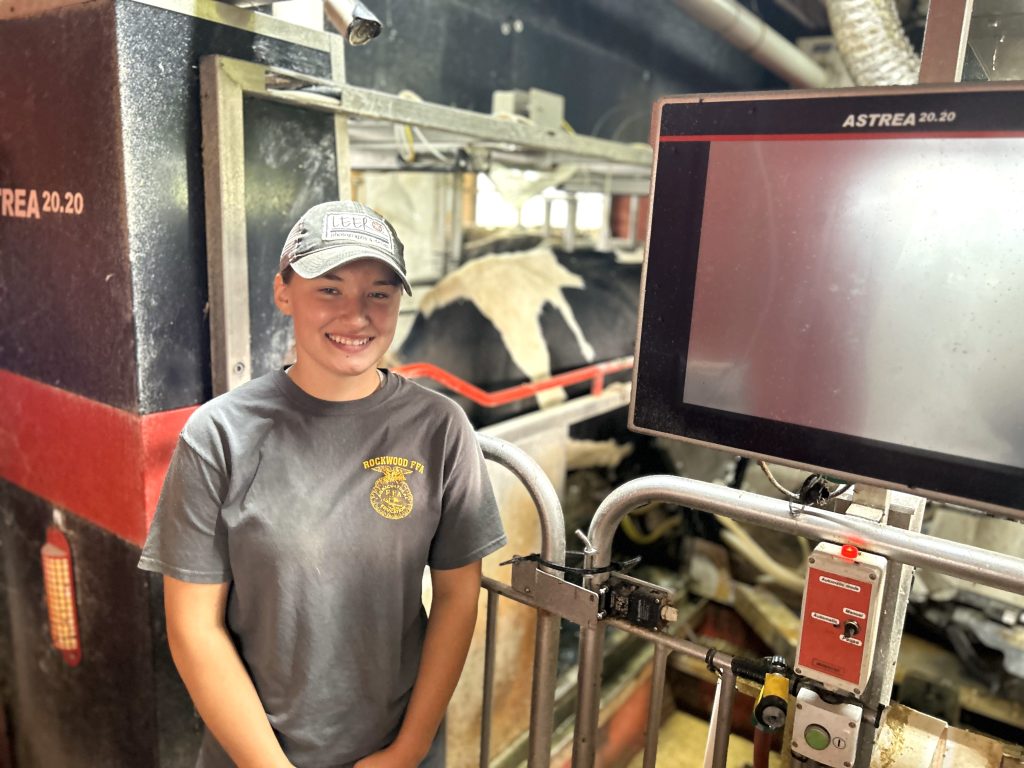 "Being an intern on a robotic dairy has come with a new learning curve for me, but I'm loving the concept and convenience of them," Cameron shared. "I've always worked in parlors. It's been an adjustment to train my mind that I don't have to milk the cows, but the robots are very neat. I feel like you can get a lot more done, but there are still tasks involved like sorting cows."
As part of the on-farm internship, Cameron completed an in-depth research project. She chose to monitor fresh cows by taking their temperatures on days 1, 3 and 5 and taking ketosis on days 5 and 13. She also spent time tracking whether aspirin helped with milk production. Cameron even studied the growth tracks' of the farm's heifer population to help with those management decisions.
"My goal is to see if all the heifers are growing according to plan. For the fresh cows, I wanted to see if everyone is staying healthy so we can catch anything before cows get sick," she added.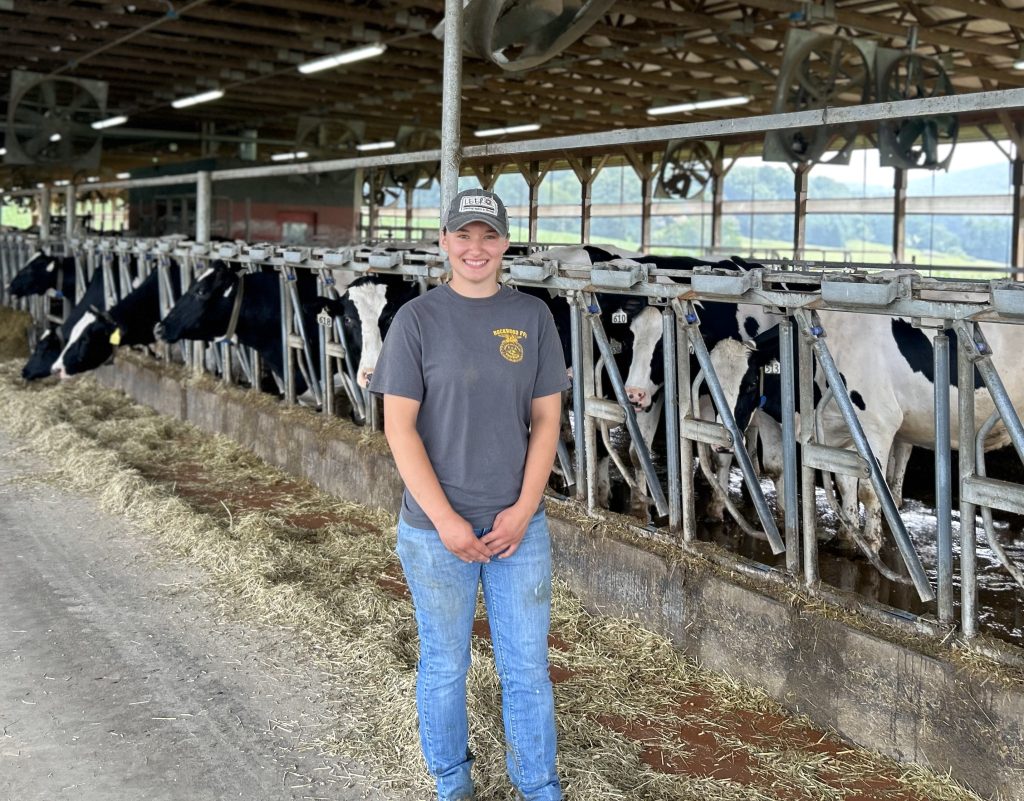 From exciting moments such as seeing twins on the veterinarian's ultrasound to pulling a calf that was backwards, Cameron finds it rewarding to work and care for animals on a daily basis. The internship and on-farm experience has made her re-consider what the next three years of college might look like.
"I might be switching to an animal science major. I've always been more of an animal person, and it's probably where I should be. I've known that, but I just kind of pushed it to the side," she explained. "[After this experience], now I realize this is where I'm happy. It's helping me see everything in a different light. It's been a great experience."
As Cameron continues her college education, she plans to continue gaining on-farm experience. She will transition to working as an employee on Eleven Farm during her fall semester.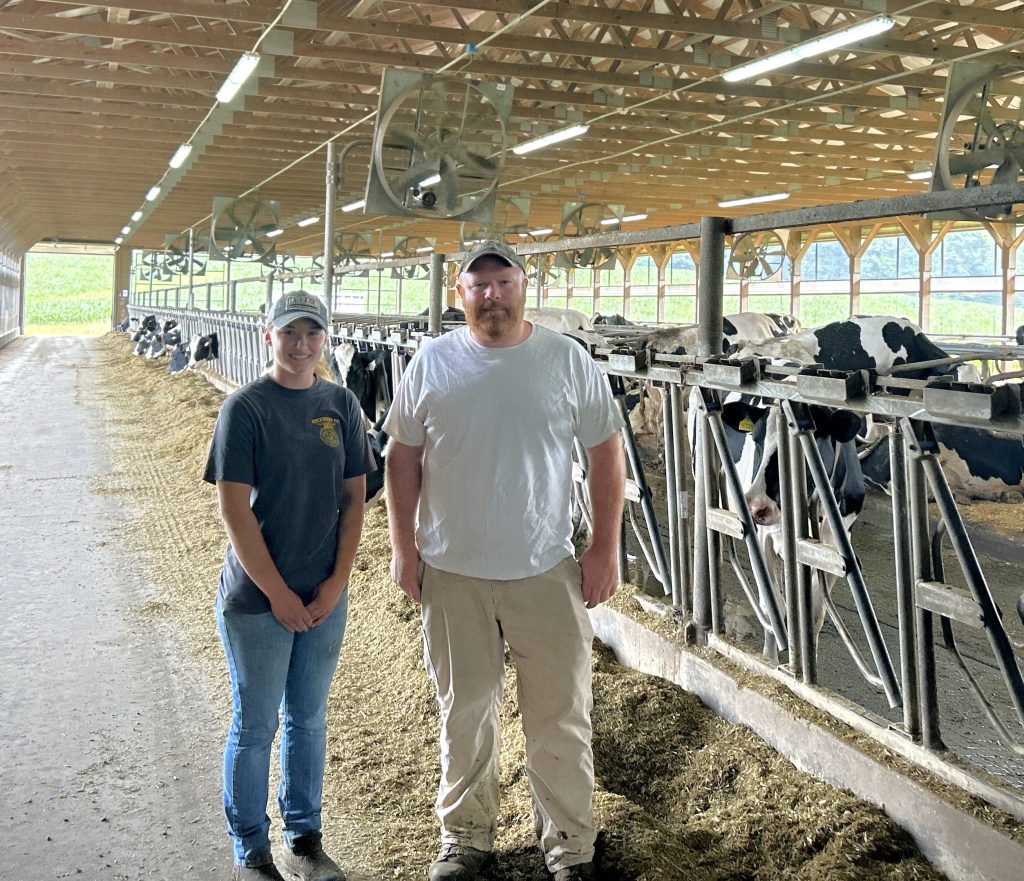 ---
The Dairy Excellence Foundation, the Professional Dairy Managers of Pennsylvania, and the Pennsylvania Dairymen's Association provide $3,000 grants to support the on-farm internship program each summer. Learn more.