The Dairy Excellence Grant program was designed to improve cow comfort, milk production per cow, and overall efficiency on your dairy. For dairy producers who have received these grants in the past, their improvement projects have included new mattresses, sprinkler systems, tunnel fans, calving barns, and so much more.
Take a look at some past projects, and see how these dairy producers have used the grants to improve efficiency on their operations!
Cow Comfort Enhancements: New Mattresses, Fans, and Cow Brush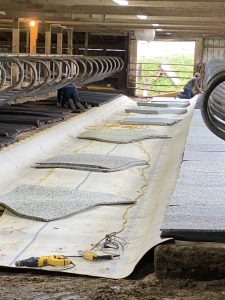 Our goals were to increase milk production and longevity. The fans alone paid for themselves in two months' time last summer. In other years where we had heat waves, we could lose 10-12 pounds per cow. We hardly lost any pounds with the fans. It was amazing.
With the mattresses, our cows don't get cramped like they did before and they have actually saved me a lot of time and money with bedding. I used to rely on sawdust for comfort before, so we went from bedding about every four days to just once a week with the new mattresses. The price of sawdust keeps going up all the time, and now I'm using less fuel and spending less time in the skid loader. It has been a huge help financially.
Without the grant, I probably wouldn't have went through with the cow brush because the other improvements cost so much. But now, the cows are using it really hard when they are shedding their winter hair.
I knew these improvements would have an impact, but it blew my mind just how they far they really went. Cow comfort really makes a difference.
Justin Gochnour, JUS-DEN Farm
Our barn was in desperate need of new stall mattresses. The ones in place were 16 years old and becoming very worn to the point that we were starting to see more feet and leg problems in our cows. We had talked about putting in new mats for the past year but never had the funds to replace them. We saw the opportunity to apply for this grant and figured it would not hurt to try. The new mattresses were installed two weeks ago, and the cows look and seem more comfortable. It felt like I was walking on pillows so I can only imagine how the cows feel now. We were able to replace our old mats with this grant, preventing future feet and leg problems and saving money on vet bills.
We truly appreciate all the help we received from the Center for Dairy Excellence. It has been a great resource for us since we took over the family farm a year ago.
Annette & Steve Worthington, Curly Hill Farm
Enhancements to Heifer Walkway and Drainage Buffer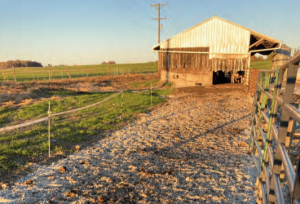 This project increased cow comfort by expanding year-round pasture and water access to our young heifer groups. We anticipate lower costs associated with raising our heifers due to expanded access to pasture and fewer health issues related to feet and legs. This project also enabled us to expand available cold-weather water access through the addition of a new frost-free waterer. Finally, we were able to improve animal comfort in our pack area by eliminating water incursions that resulted from recent third-party, right-of-way modifications to grade and drainage.
Jason Frye, Pleasant Lane Farms Creamery LLC
Upgraded TMR Mixer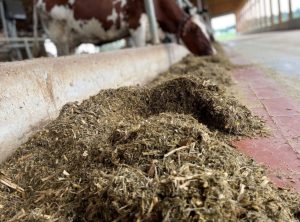 The upgraded TMR mixer has made a better and more uniform mix for the cows than what we had in the past. Our components have actually jumped three tenths of a point. We're an all Jersey herd, so components mean everything here. It's more income, and it has made a big difference. I've also noticed fresh cow health is a lot better because they're getting a more uniform mix. It's really making a difference on that end, too.
Dillon Cotter, Glenview Farm
New Barn Lighting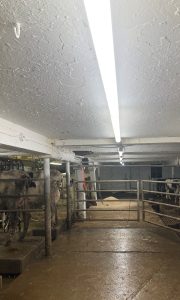 We installed new and efficient lighting in both our freestall barn and our flat parlor. It's one of those projects that every year we've wanted to do, but it kept getting pushed down the priority list. But once we had the grant, it helped us make it happen. Now we realize the benefit. We can see the cows better, they can see each other better. It makes everyone happier. Not to mention that we catch cows in heat as we can see who is active, we can see bedding issues and needs, and overall cow health – especially in the winter. We can make sure there are no small issues in our facility as we can see when something needs attention.
I was amazed at how easy of a process it was [applying and receiving the grant]. I highly recommend it to anyone with a project in mind that it's certainly worth a try! While this can be a challenging industry, it's certainly nice that CDE is there to support us with initiatives like these.
The Royek Family, Royek Dairy Farm
New Gates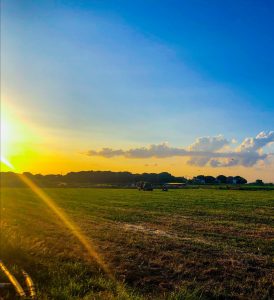 We are opening an on-farm creamery, so I'm working on reducing the herd size and bringing our breeding age heifers into the dairy barn. But I needed extra gates and headlocks. Right now, where we have them, I'm wasting a lot of my time trying to get one or two heifers bred. This grant helped pay for the gating and headlocks to bring the breeding age heifers in, condense the herd, and hopefully make everything much more efficient. When I heard about the grant, especially with the way prices for gates, metal, and even wood have increased over the last year, every dollar helps.
Amy Brickner, Stover Farms
Manure Scrape System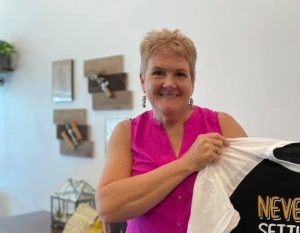 We were so happy and thankful that we received the grant for improving the barn. It came at a time when the money was desperately needed, so it was a huge help. Our cows are so much happier now from what we could build because of it.
Lolly Lesher, Way-Har Farms
Mattresses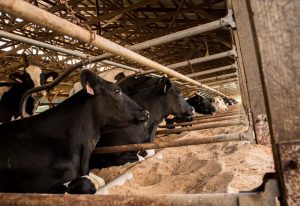 Replacing our mattresses is something we have wanted to do for some time. As comfort goes up, hopefully milk pounds will also! This grant is a boost that is much appreciated.
Rachel Casner, Casstead Farms
Feed Bunk Upgrade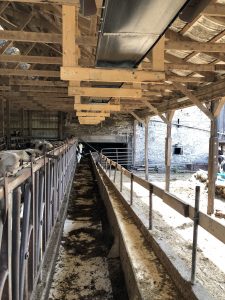 I must express my gratitude for presenting this motivation to improve comfort and profit in a very needed and practical way. One of our major upgrades has been to our feed bunk and feeding system. lt involves removing an overly limiting portable poly bunk and putting in a distribution system over a bunk my father had constructed in the late 1970s that was under roof to enable more space for the cows to eat. Being a farmer means I am independent minded, but always willing to find a better way. This grant is helping accomplish this project.
William Haughwout, Willows Farm
Crowd Gate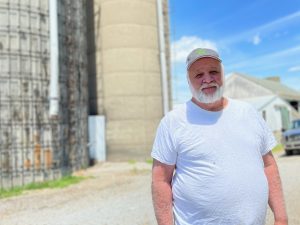 If it's available and you qualify for it, go for it. Times are tough these days, and every little bit helps. The crowd gate was $12,000 but $5,000 helped a lot. It makes a difference.
Adam Derr, Faywest Holsteins
Fans and Curtains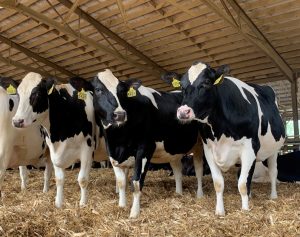 We want to thank you for making the grant money available to us. We are certainly enjoying the better milk production in the summer heat, and the cows with better down time since installing the fans.
Christian Hershberger, Hershberger Dairy