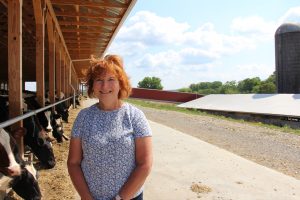 Withstanding Loss on Your Dairy: A Risk Management Conversation with PA Dairy Farmer
We recently sat down with Ginger Breon of Weaver Family Farm in Centre County, Pennsylvania. With risk management being a key component of her family's dairy farm, Ginger shared how she has used risk management to weather market downturns, avoid accumulating debt, and withstand losses.
---
How Risk Management Is Impacting Pennsylvania Dairies
When you look at Pennsylvania's dairy industry, most farmers can agree – the future feels uncertain. For Joe of Somerset, Pa., becoming educated and informed has lessened some of his uncertainty. As Joe and his profit team started analyzing their dairy farm's financial picture, Joe decided to use risk management resources to protect the farm against milk price volatility.