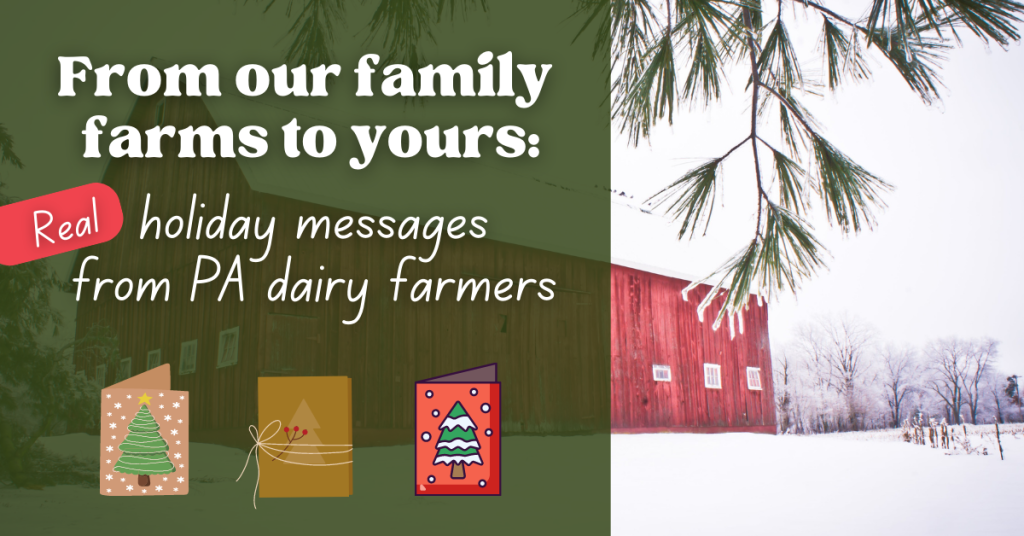 All roads lead home for the holidays. Not for dairy farmers. Yes, holidays will be most likely be spent at home and on the farm, but so will most other days of the year as they care for their animals, steward the land, and raise their families alongside of it all.
May all your days be happy and bright. Not all are bright. Some days are filled with trying to get fieldwork done while the sun sets, fixing a frozen pipe in a cold barn, or dealing with the stress of trying to manage it all. But the rewards are so great.
Since none of the Christmas card clichés felt quite right, we asked Pennsylvania dairy farm families to share some of their own messages and moments that make life on the farm so rewarding. Moments of gratitude, moments of humility, moments of humor, and moments of struggle, these are REAL messages from real families with real stories who are making a difference this December and all year long. Thanks for all you do!
Submit your own message at the bottom of this page!
Day One:
The gift of time together:
"Just this morning, I wondered if all the effort matters in the long run. Working to improve on a dairy can feel like 2 steps forward and 30 backwards at times. The effort has given me the gift of time, side by side with my Dad, time I never dreamed I'd have. If that's the only result in the end, it's worth it."
–Greta, PA dairy farmer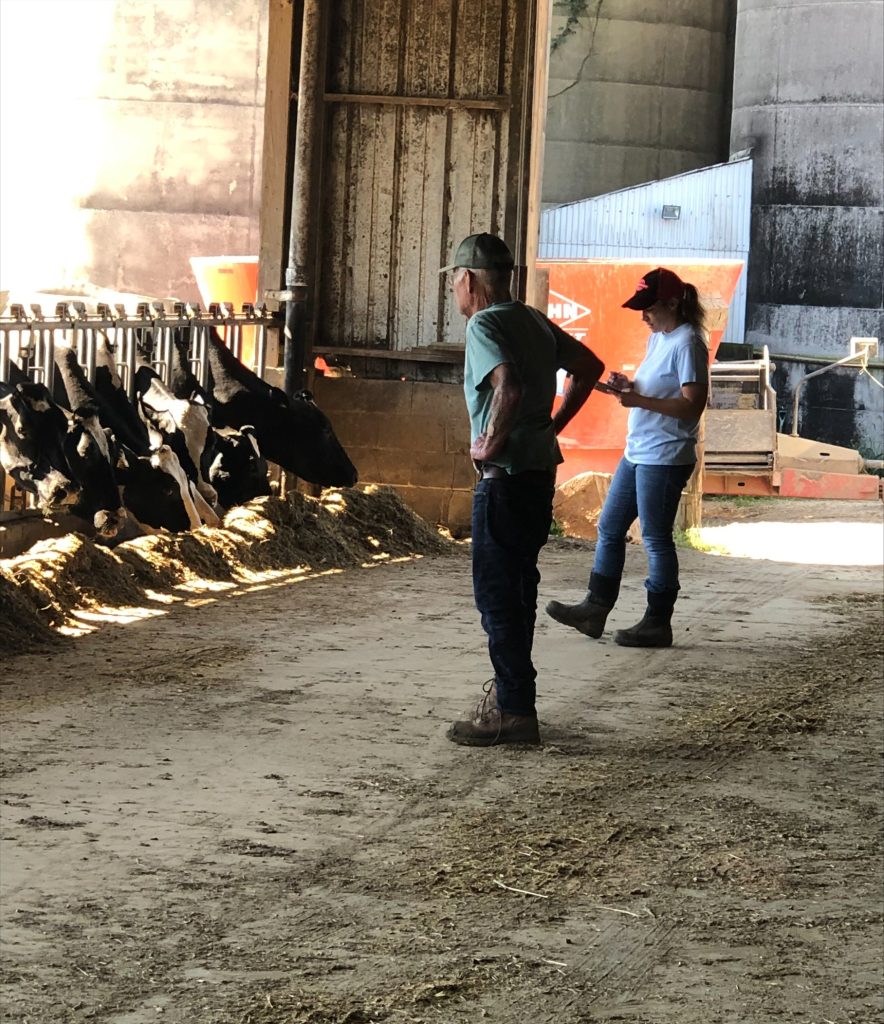 ---
Day Two:
The little moments:
"I'm thankful for early mornings and the little impromptu moments of climbing a silo in 30-degree weather to watch the sunrise together from the silo roof."
-Justin and Melissa, PA dairy farmers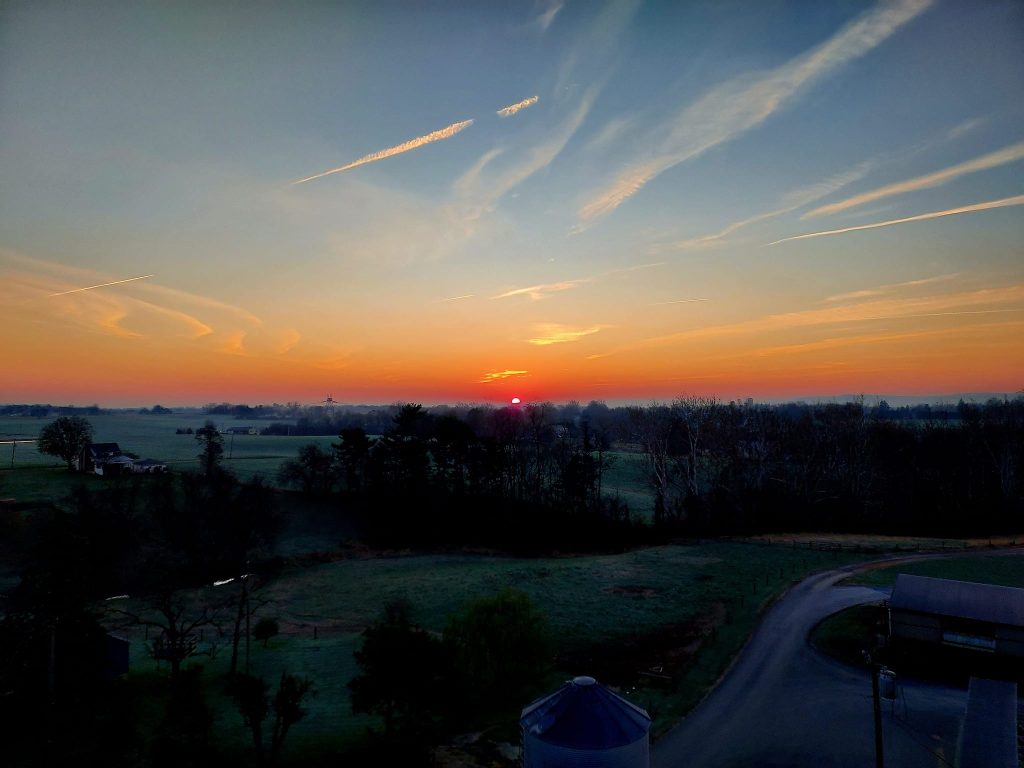 ---
Day Three:
Working with family:
"I appreciate being able to help on the farm and seeing my family every day. I appreciate that we are blessed with health and continue to push forward every day. As rewarding as it is to work with our sons every day, it also comes with challenges. They often view something a bit different than we might, so it takes a lot of understanding on both parts."
–Amy, a PA dairy farmer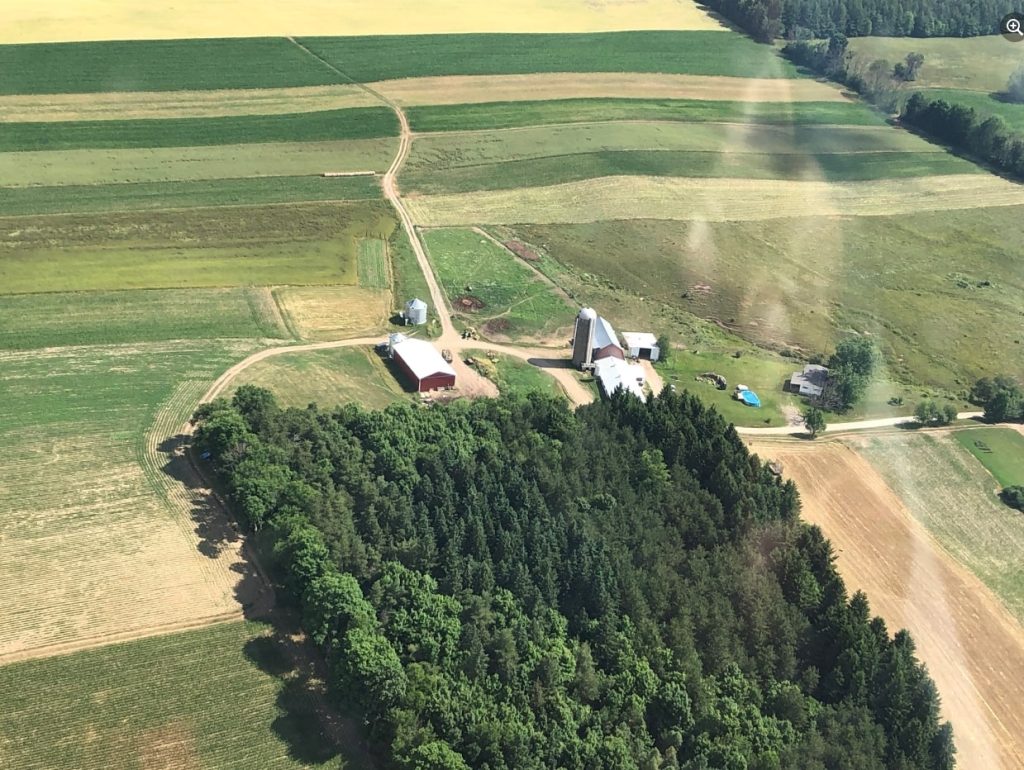 ---
Day Four:
A good harvest:
"I'm so thankful that family farms, although struggling, are still making it. I'm so happy to be able to work with my family every day. It makes doing our job even more fun. I also thank God for keeping us safe, daily. I'm especially grateful this year that we were able to have a pretty good harvest. Although the forage quality is not as good this year as others, we had a good yield regardless of the dry weather."
–Jeanette, a PA dairy farmer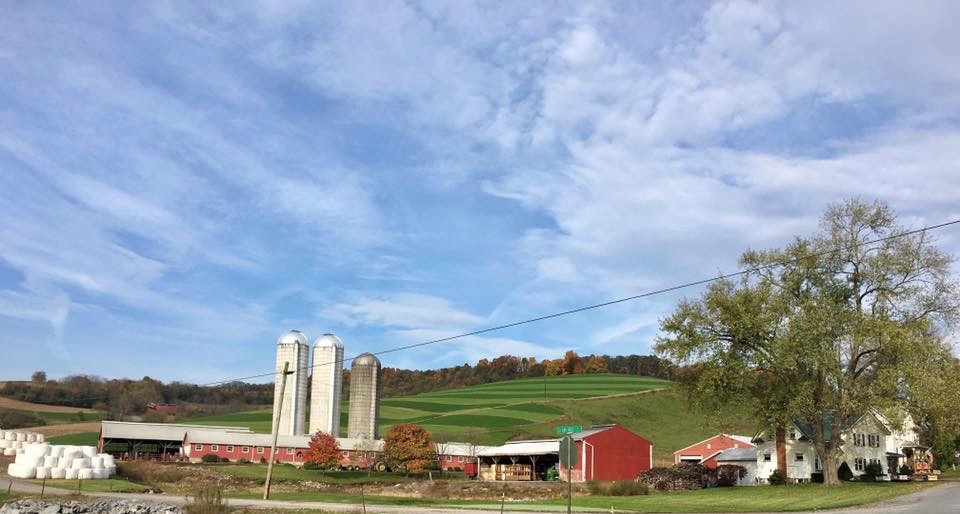 ---
Day Five:
The reward of caring for cows:
"Of course Saturday was a busy day. No time to even sit down and rest, so I was looking forward to an early night. However, the farm had other plans. By 4:00, I knew we were going to have a calf. Number 5198, a cow that was long overdue, had her water bag out but it wasn't normal at all. After all these years of my own observation, I was sure the calf was already lost. At 5:00, I told my son who was working the store that I was going to check the cow, get a shower and I'd be back to pick him up so he didn't have to drive home in the dark when the store closed. I checked the cow and found that she wasn't dilating, and after 45 minutes of attempting to maneuver the calf out, I gave up and called my vet.
The vet arrived at 7:30 and we managed to deliver the calf. That night, we had two more calves born, thankfully both healthy girls. 5198 helped mother them both, and her milked helped feed them.
Now, just a few days later, 5198 is in the herd as strong as ever producing milk for me, my family and all our amazing customers. Despite the long days, in spite of the setbacks and struggles, I love being responsible for my cows. I wouldn't trade caring for them while they produce nature's most perfect food for the world."
–Amy, a PA dairy farmer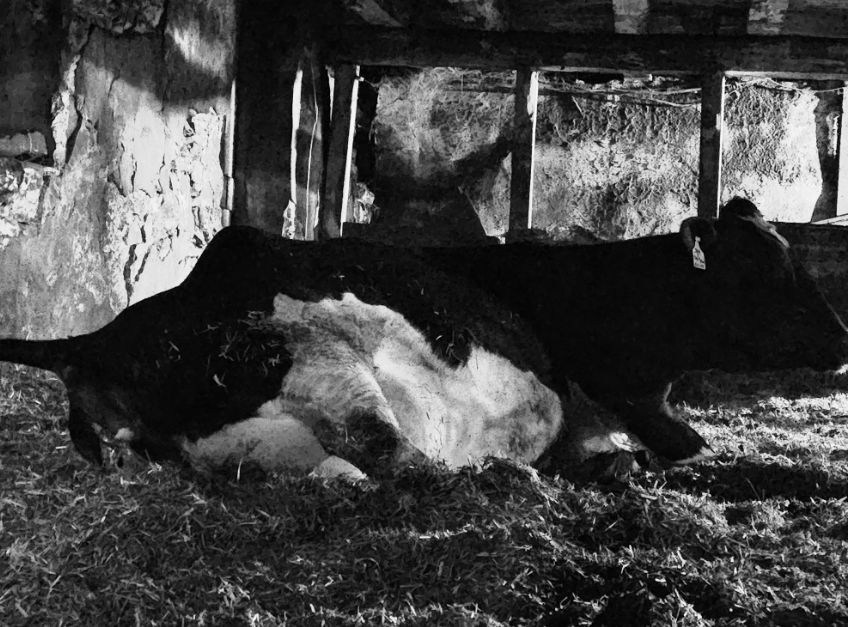 ---
Day Six
Employees:
"As we're heading into a busy holiday season, we are grateful to be blessed with some really great employees who afford us the opportunity to spend part of the holidays with our children and family. Without them, holiday time would be pretty non-existent. It takes a great team to get everyone fed, milked and cared for on a normal day – so knowing we can count on them for some of the big holidays each year as well is truly a blessing!"
–Jennifer, a PA dairy farmer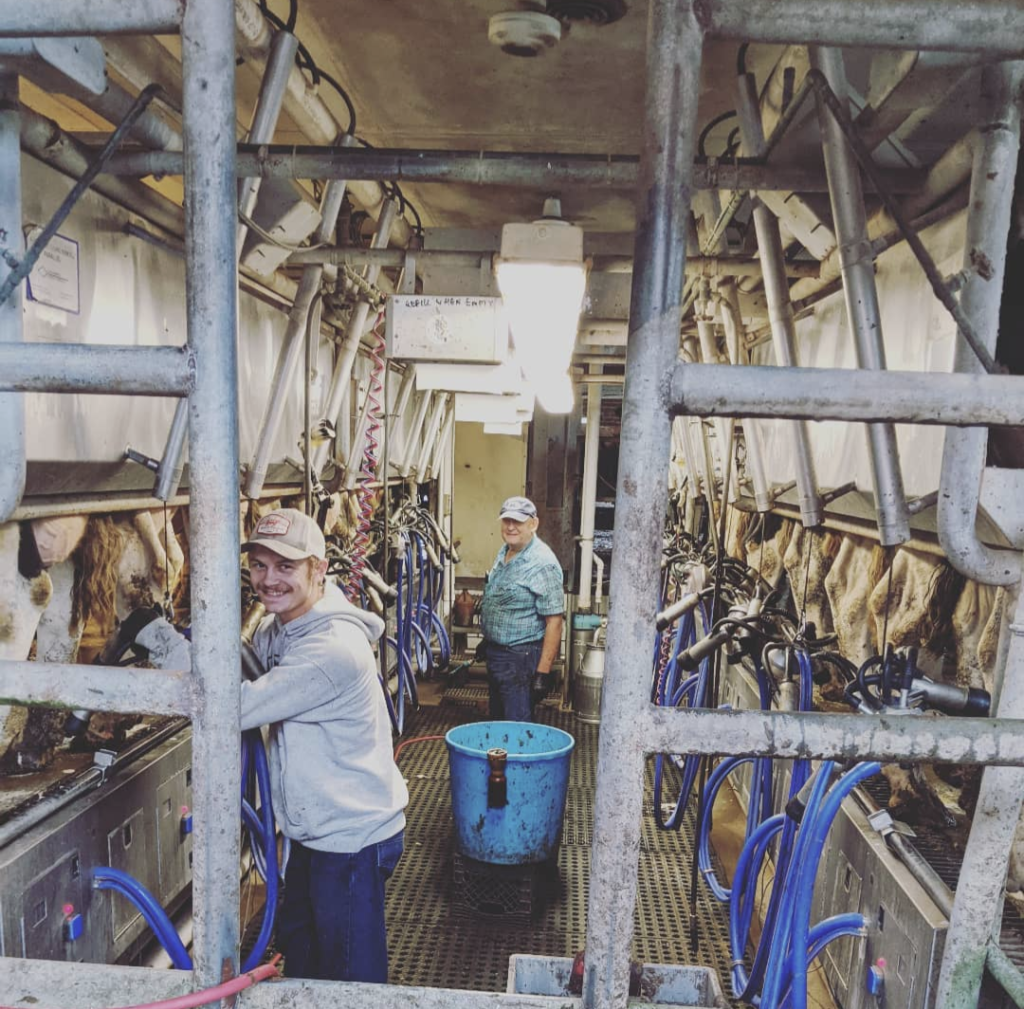 ---
Day Seven
Raising a family:
"Raising a family and being in the barn every day, twice a day, can be hard sometimes. Sometimes it is guilt and sometimes it's gratefulness. I feel blessed that my kids can be raised on the farm, but it can be a struggle some days when I feel like I'm missing time with my older kids who are in school all day and they get home and I don't see them until I'm done with chores at night."
–Amanda, a PA dairy farmer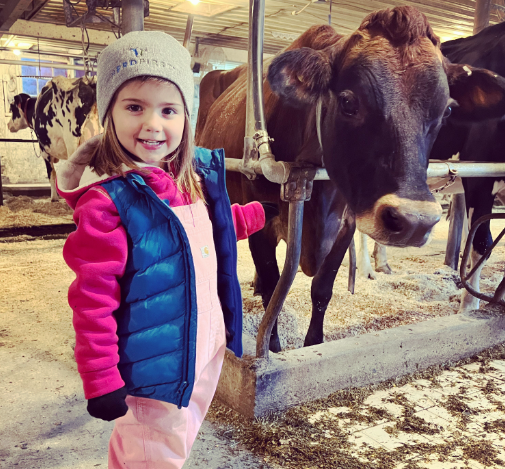 ---
Day Eight
Memory making:
"You can take the girl off the dairy farm, but you can't take the dairy farm out of the girl. This is our 13-year-old daughter heading to her Homecoming dance this fall — but not before she headed to get her picture with her favorite thing: the cows!"
–Timothy, a PA dairy farmer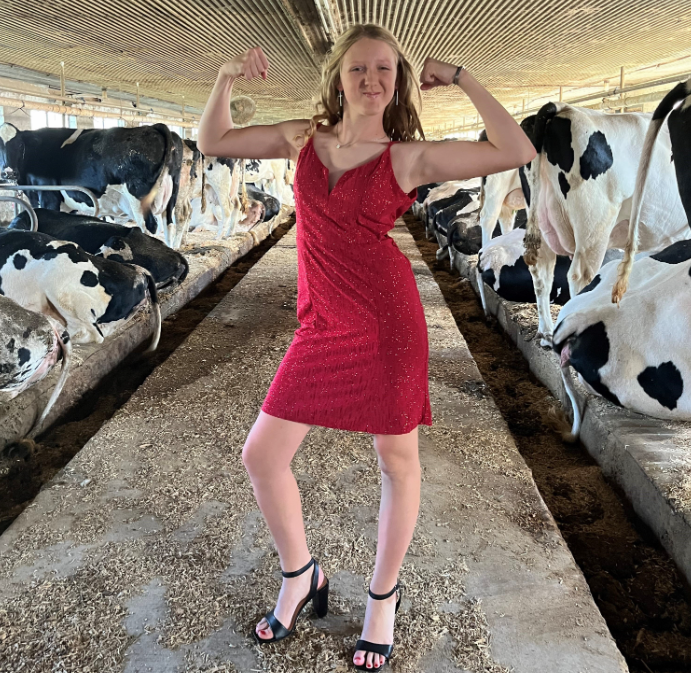 ---
Day Nine
New possibilities:
"After 30 years of grazing our crossbred herd of 45 cows and replacements, they left the farm on the Monday before Thanksgiving – all but for our soon-to-be steered part angus freezer beef. Our terms, our decision. A few went to homestead farms, some are heading to Vermont, and others I know not where. I am thankful all went well; quietly, without many tears, relief. Maybe it was the cow prayer our daughter wrote. Knowing our next step will hold possibilities of travel to visit children and grandchildren, and allowing the land to rest through the winter. We have lived it, loved it, and time to let go. New possibilities to contemplate through the winter until spring breaks and life begins anew. We are grateful."
–Janice, a NY dairy farmer
---
Day 10
Safety and hard work:
"Harvest season is a super busy time on the family dairy farm. I'm thankful for the Lord's blessing of safety this year and for the opportunity to teach our children where food comes from, and the hard work that goes into it."
–Brian and Beth, PA dairy farmers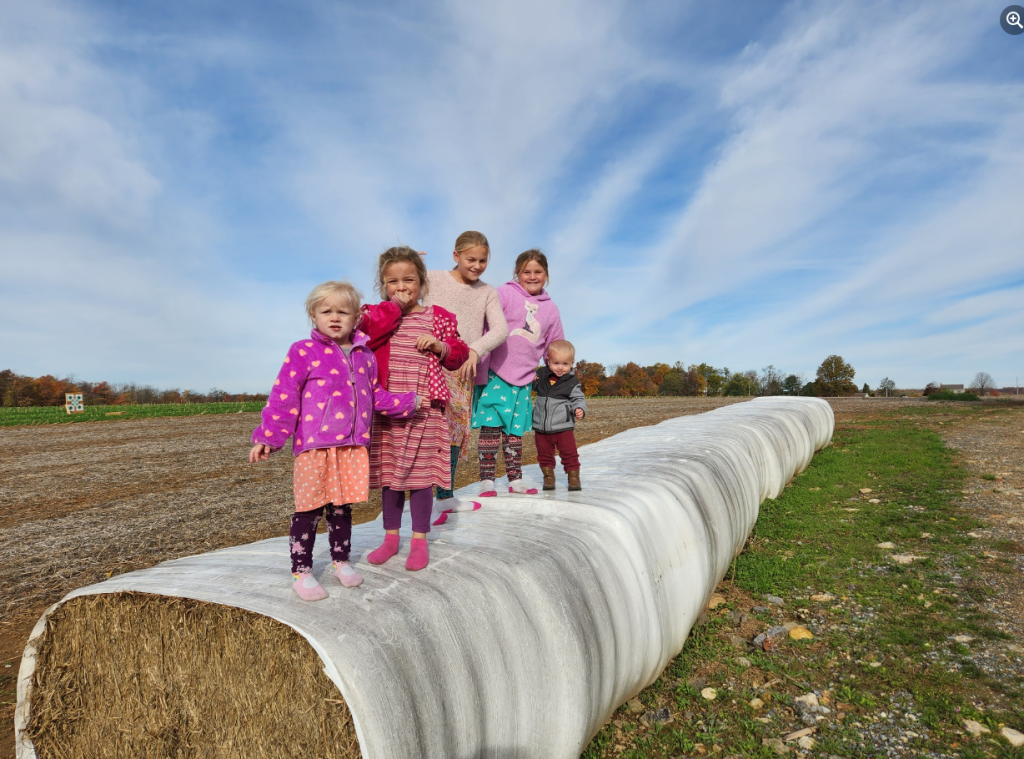 ---
Day 11
New technology and more cherished family time:
"We are thankful that our son, his family, and our daughter have joined us in our farming venture. Although the decision was challenging, we were blessed to be able to install three robots and manure collectors. This has afforded us more cherished family time."
–Ed and Jayne, PA dairy farmers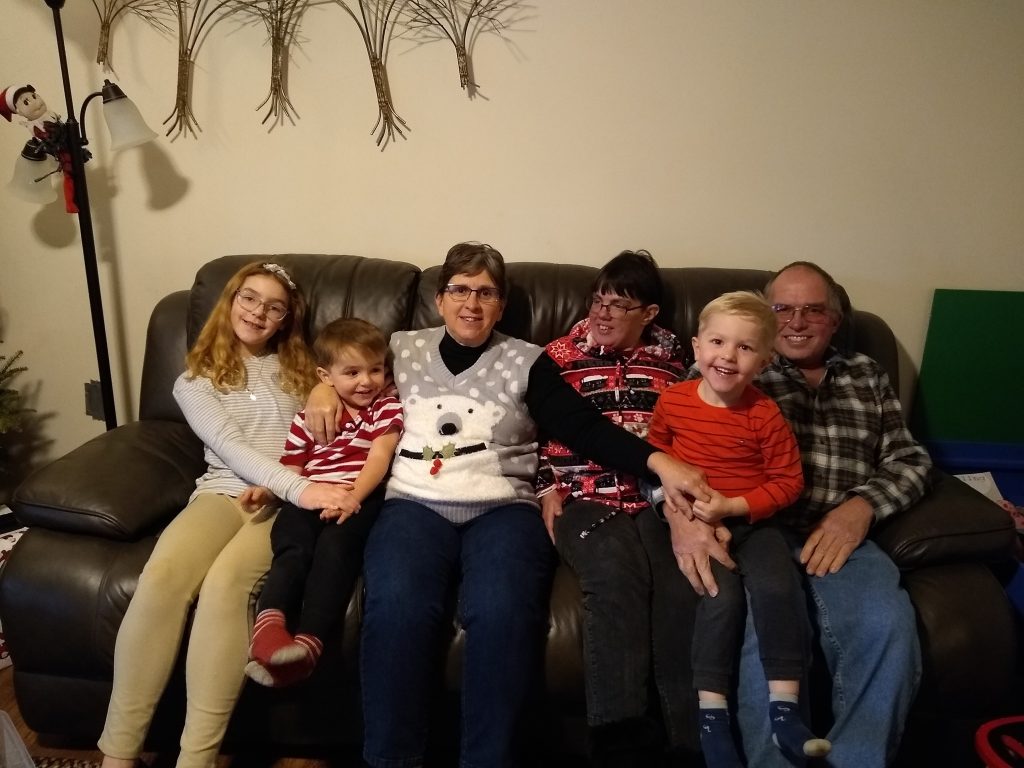 ---
Day 12
A community that pitches in:
"This year has been a challenge in many ways. Between vendor delays, inflation, rising fuel costs, and a drought in July, this year had difficulty all through it. Through it all, we are blessed beyond measure when we take a moment to reflect. We are surrounded by friends and family that pitch in when needed, employees that we cherish, and an opportunity to raise our children in the best environment we can imagine."
-Ron, a PA dairy farmer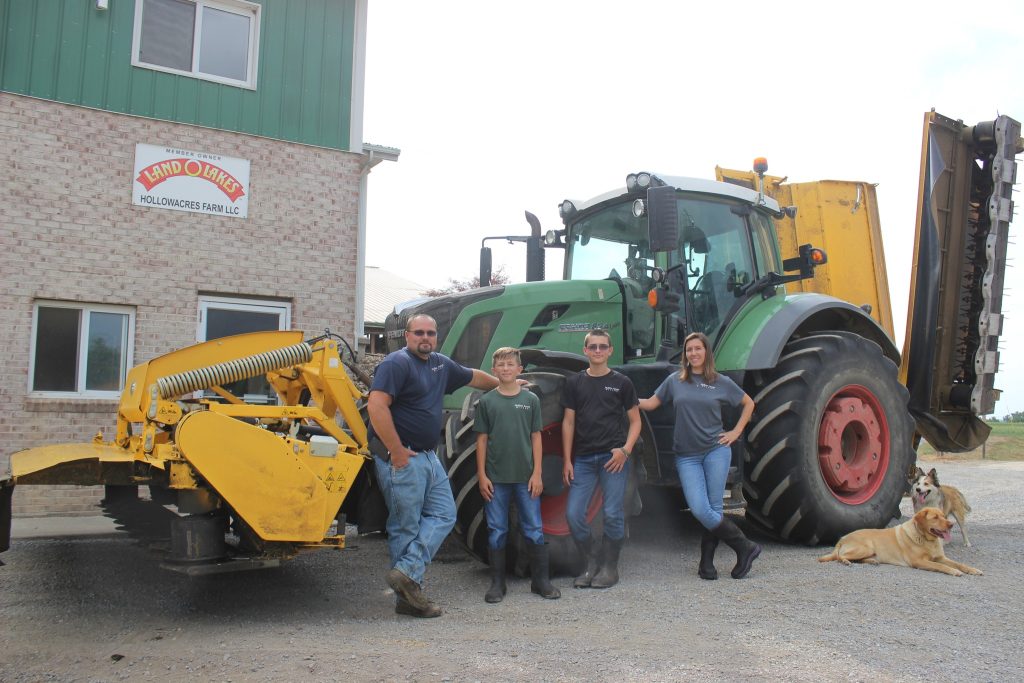 ---
Day 13
The beauty of this life:
"Our health, family and friends who share our passions, an off-the-farm job to help pay the bills, the beauty of the farm itself, all the animals, family time spent at fair and cow shows, a hard honest day's work, sunrises and sunsets all remind me of how blessed I am for all the gifts God has given us. Despite the frustration and heartache of milk prices, farm ground, poor crops, broken equipment, sick cows, fuel prices, rising costs, and the bills, all of the above things I mentioned make it worth it. I would never trade it."
-Annette, a PA dairy farmer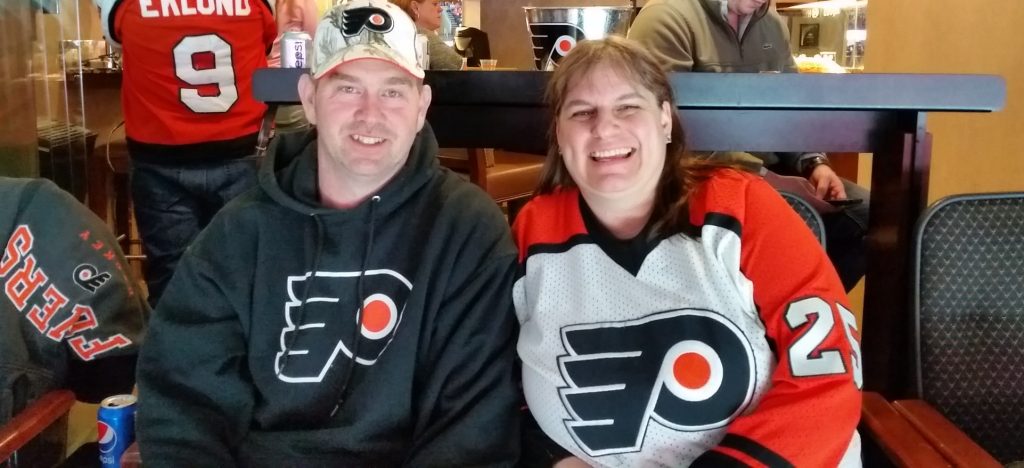 ---
Day 14
Working as a family:
"Working every day as a family on the farm that we love is priceless. God has blessed us in so many ways. May your family have a Merry Christmas!"
–Angelique, a PA dairy farmer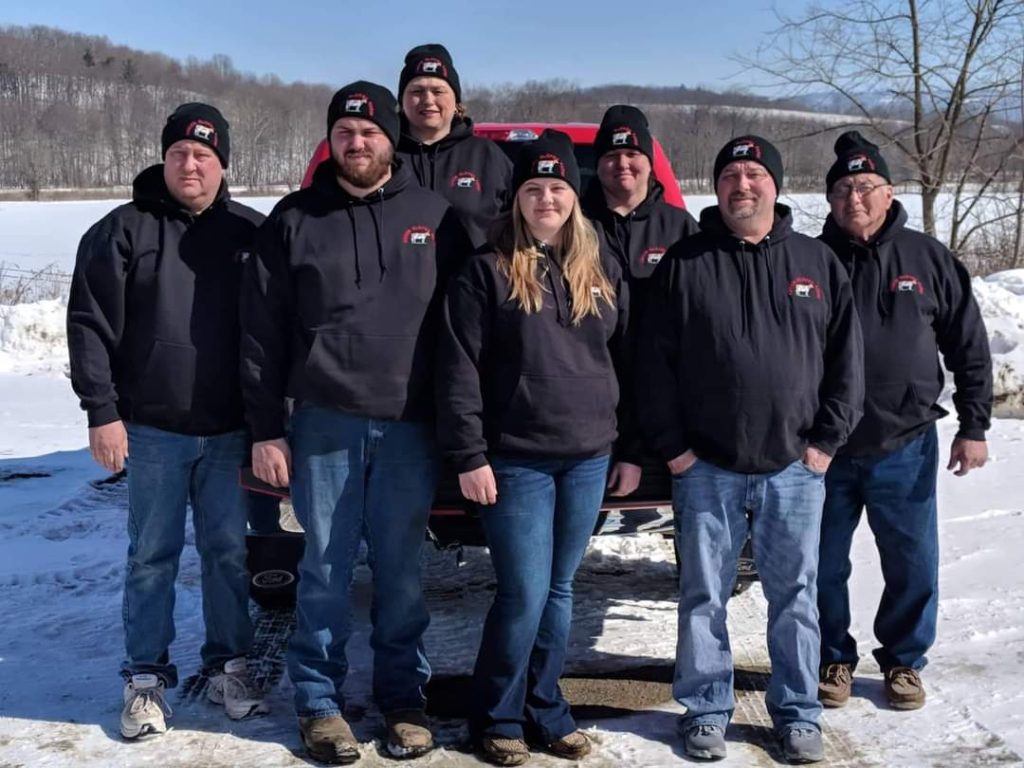 ---
Day 15
Quiet moments in the barn:
"Farming can be exhausting physically and mentally, but nobody really talks about how tired your soul can get. You spend every moment pouring yourself into your farm, your livestock, and your business, and sometimes it feels like you can never catch a break. But it's those quiet moments in the barn before you take your boots off for the day that bring you such peace that makes it easy for you to reset and start again. Because at the end of the day, week, month or year, a farmer's soul will always be the most fulfilled in the barn."
–Casi, a PA dairy farmer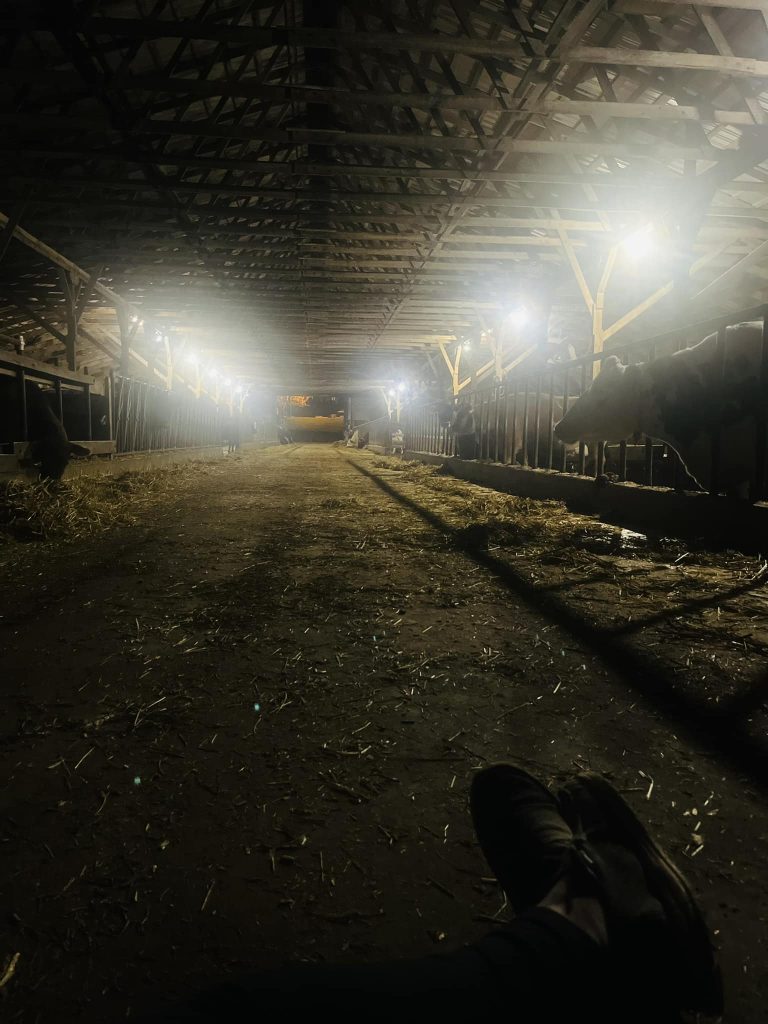 ---
Day 16
Each generation:
"Family farming is challenging, that's for sure. However, working alongside my husband and children make those challenges seem minimal compared to the enjoyment we get out of seeing each other succeed. We don't always have to agree but being able to compromise, admit you're wrong when you are wrong, and discuss without judgment is something we strive for. All of that goes along with the goals we have for the farm to continue from one generation to the next. Thankful for past generations whom built the foundation for our family to continue on. We always pray that past generations know that passing the farm along, with clear communication and a transition plan, is a blessing to them as well as the future generations. Blessings and Merry Christmas to all!"
–Meg and her dairy farm family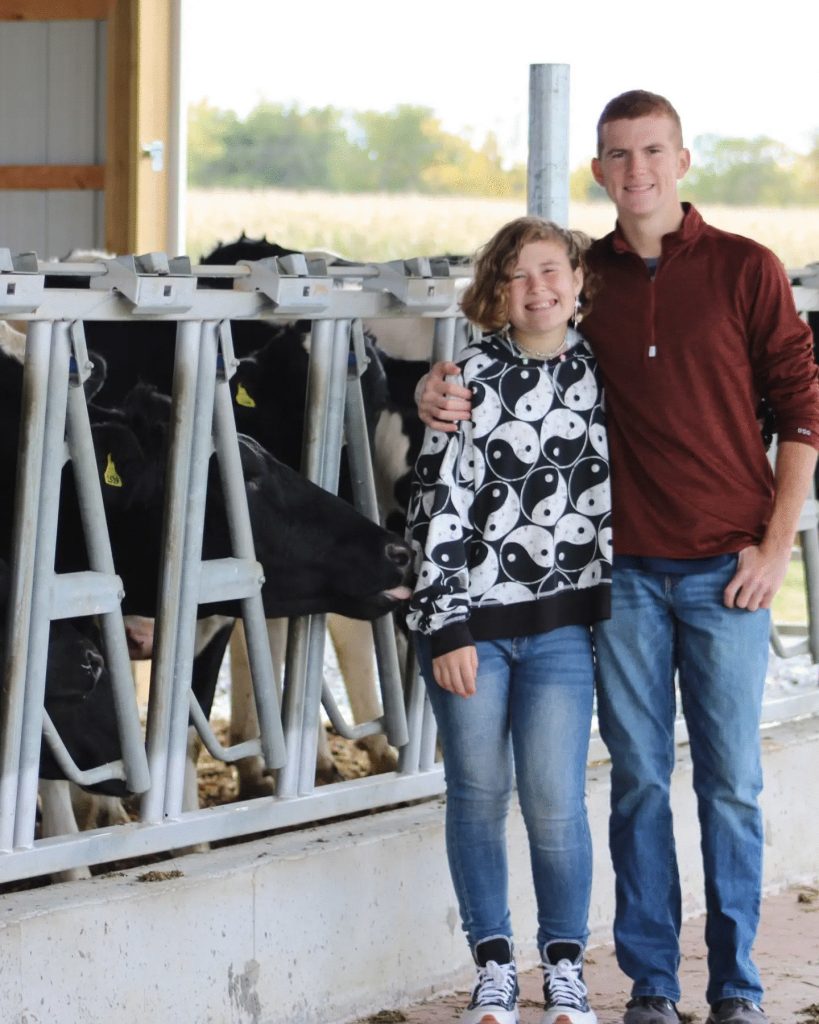 ---
Day 17
A strong legacy:
"This year our family dairy farm celebrates its 200th birthday. We received our Bicentennial award from the state of Pennsylvania. This award means the farm has been in the same family for 200 years! My husband and I recently purchased the farm from my husband's parents. We have a three-year-old son, and we are thankful and proud to have the opportunity to be part of the farm's long history. We hope to be able to give back to the land and continue to help it flourish for generations to come."
-Matt and Kate, PA dairy farmers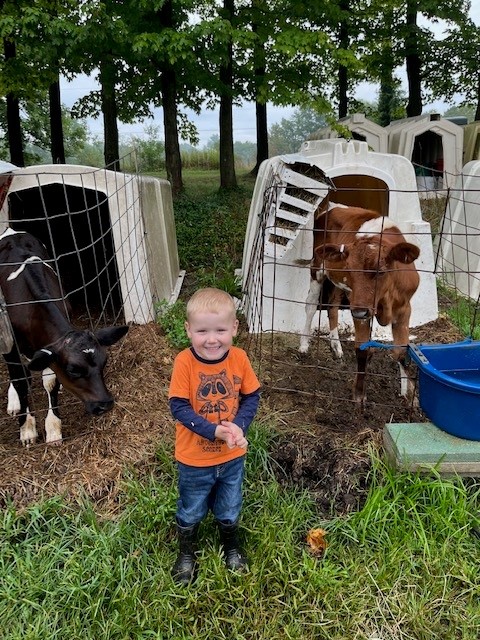 ---
Day 18
Solitude and peace:
"Especially this time of year, I find myself outside walking between the barns and it's perfectly quiet, still and dark. You realize how tenuous our existence is on this planet and how close to that bare cold and darkness we are. You value things like the clothes you're wearing and how warm you feel. Then, you walk into a barn that's lit up and all the cows turn to look at you. It's almost like they already understand that peace. It's always a striking moment for me every year: that simple solitude and peace."
–Dale, a PA dairy farmer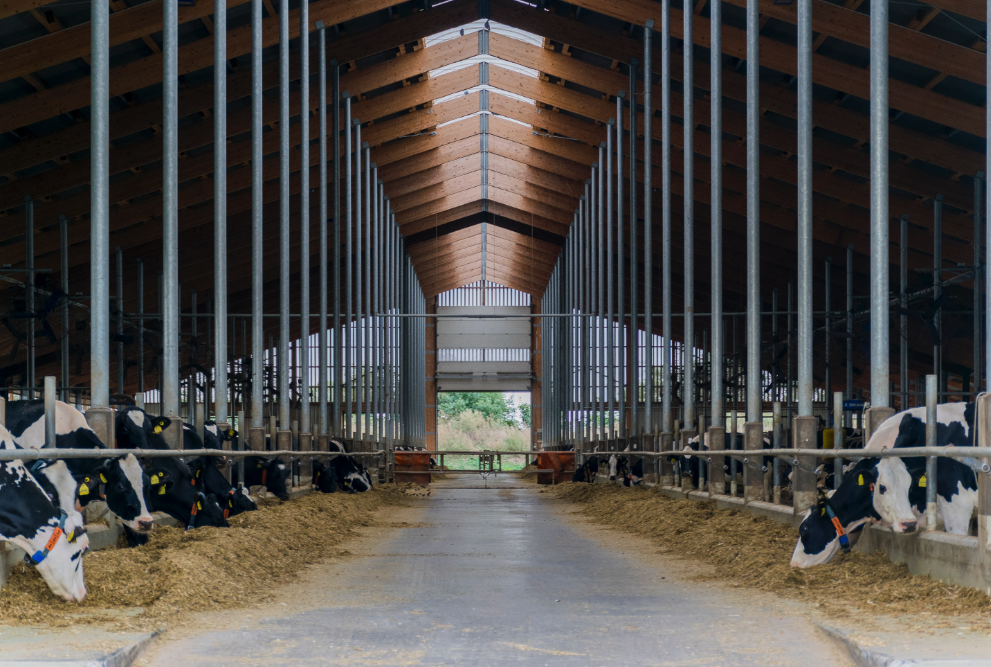 ---
Submit Your Holiday Message