Join the "Give a Toast to Dairy" Social Media Campaign
Help us kick off June Dairy Month and celebrate the next generation of dairy. Join us for our first virtual "Give a Toast to Dairy" campaign, launching June 1, 2020. As a member of the dairy community, we invite you to participate and help us start the movement next week.
Overview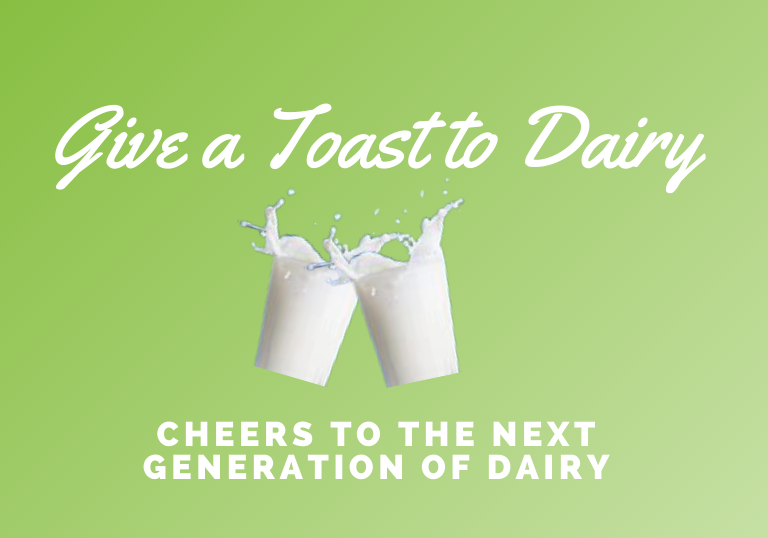 Since we can't celebrate together, the Dairy Excellence Foundation is kicking off June Dairy Month by giving a virtual toast to the next generation of dairy. From agriculture teachers who are working around the clock to keep students learning at home, to the students who are committed to growing their skills during on-farm summer internships, to the dairy farmers who are making these learning experiences possible, we want to give a virtual "cheers" to the future of dairy.
Grab your favorite dairy product (milk, ice cream, maybe even a grilled cheese!) and let's raise a virtual glass to help celebrate the next generation. When you share your video, tag the Dairy Excellence Foundation and don't forget to nominate your friends to keep the toasts flowing. Have fun with it – creativity and milk mustaches are encouraged!
With each toast, we hope you'llconsider making a $25 donation to the Dairy Excellence Foundation and add a special #GiveAToastToDairy filter to your profile. With our in-person Toast to Dairy fundraising event being cancelled, the virtual toasts and donations will help us continue to impact students and teachers this coming school year.
How to Help and Join the Campaign
Post a short, fun video giving your "toast" to dairy. View video examples and tips below.

Tag the Dairy Excellence Foundation when you post the video.

Tag and nominate your friends to keep the movement going.

Use the #GiveAToastToDairy hashtag.

Share and "like" other #GiveAToastToDairy videos that you see circulating on social media.

Invite your friends to the Facebook fundraising event page and encourage others to make a $25 online donation to help the Dairy Excellence Foundation continue to impact students and teachers this coming school year. The fundraising page will be live on Monday, June 1 at 7:30 a.m. on the Dairy Excellence Foundation Facebook page.

Add the #GiveAToastToDairy filter to your Facebook profile photo. See directions below.
Video Tips
Make your video creative and FUN. You can certainly hold a glass of milk, but you can also raise a grilled cheese or even a milkshake! If there's a certain dairy product that connects more with your tastebuds, family or brand, feel free to make it personal.
Consider saying why dairy education matters to you, or describe why you're passionate about educating and working with the next generation of dairy.
Verbally nominate the friends you'd like to do the next "toast" in your video. Tag them in your post as well.
Use your phone to take and post the video. The goal is to keep them authentic, simple and fun, so there's no need to invest a lot of time into creating the video.
The videos can feature you, family members, neighbors, friends – whoever is interested in participating.
Video Example
Click here to view an example of a #GiveAToastToDairy video.
Note: Yours does not need to be this long – she took time to introduce the campaign. For some inspiration, take a look at the last 30 seconds when she gives her toast and raises her glass. This is the idea we're going for.
Adding the Toast to Dairy Facebook Filter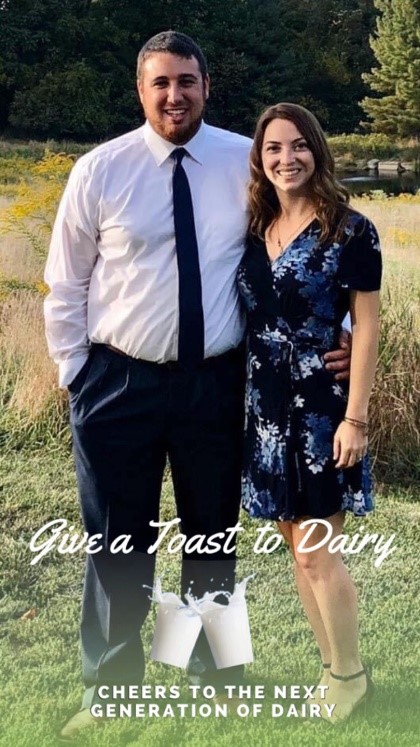 Click on your profile photo and select "Update."
Click "Add Frame."
Search "Toast to Dairy" and select the frame.
Preview the frame with your profile photo, and click "Use as Profile Picture" to confirm.
Thank you!