Join the "What's Your Why" Social Media Campaign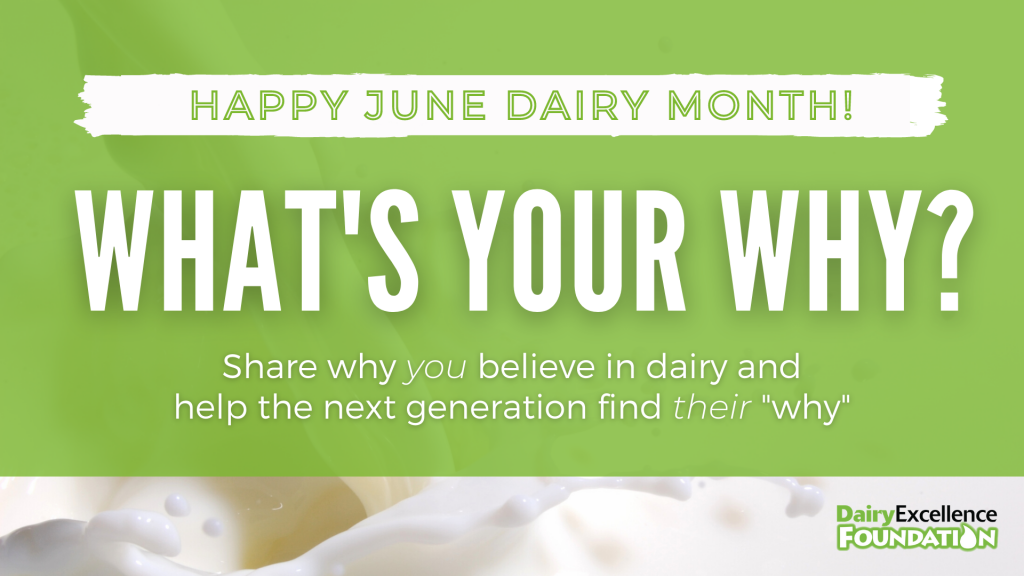 Help us celebrate June Dairy Month and share why we are passionate about dairy while supporting the next generation through the Dairy Excellence Foundation! Join us for our June Dairy Month social media campaign and fundraiser, launching June 1, 2021. As a member of the dairy community, we invite you to participate and help us start the movement next week.
#WhatsYourWhy #JuneDairyMonth
Overview
What's your reason for believing in dairy? Why are you passionate about the future of this industry? To celebrate June Dairy Month, share your "why" and help the next generation of dairy producers, agriculture teachers, and dairy advocates find their "why." Post your "why" on social media and consider making a $10 donation to the Dairy Excellence Foundation to support scholarships, internships, and dairy education programming. Tag a friend to keep the movement going!
How to Help and Join the Campaign
Share a photo, video, or message on social media and describe your "why" – why do you believe in dairy? Why do you do what you do? View examples and tips below.
Tag the Dairy Excellence Foundation with your post and include #WhatsYourWhy and #JuneDairyMonth.
Nominate and tag some of your friends to be the next ones to share their "why" moments.
Share and "like" other #WhatsYourWhy posts that you see circulating on social media.

Consider making a $10 donation to the Dairy Excellence Foundation with your post. Your donation will help us provide scholarships, internships, and dairy programming to students of all ages, so they can discover their "why," too.

Invite your friends to the Facebook fundraising event page and encourage others to make a $10 online donation to the Dairy Excellence Foundation. *The fundraising page will be live on Tuesday, June 1 at 7:30 a.m. on the Dairy Excellence Foundation Facebook page.

Add a special campaign filter to your Facebook profile photo. See directions below.
Tips for Your Posts
Make your post creative and FUN! It could be a photo of you on the farm with an inspiring story about how you first became passionate about dairy. You could also consider making a short video describing your commitment to dairy. Include friends and family members (or cows) in your post – whoever is interested in participating and whatever feels most natural to you. This is your chance to share why the dairy industry means so much to you and to encourage students and consumers to gain an appreciation for dairy, too.
Nominate the friends who you would like to share their "why" moments by tagging them in your post. This will help keep the campaign growing.
Example Posts
Adding the Facebook Filter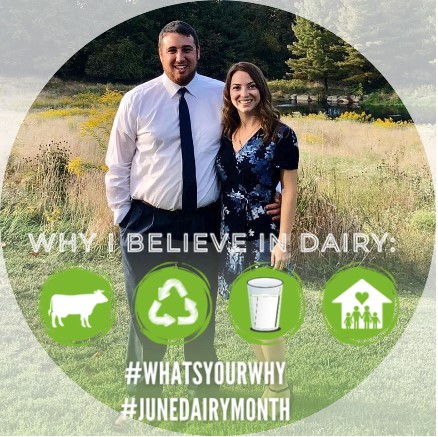 Click on your profile photo and select "Update."
Click "Add Frame."
Search "#WhatsYourWhy" and select the frame.
Preview the frame with your profile photo, and click "Use as Profile Picture" to confirm.
Tip: You can also open your Facebook and click this link to be automatically taken to the frame for a quick & easy way to add it to your photo.
Thank you!