Date:
Wednesday, March 2, 2022
Event Host:
Center for Dairy Excellence and PA Beef Council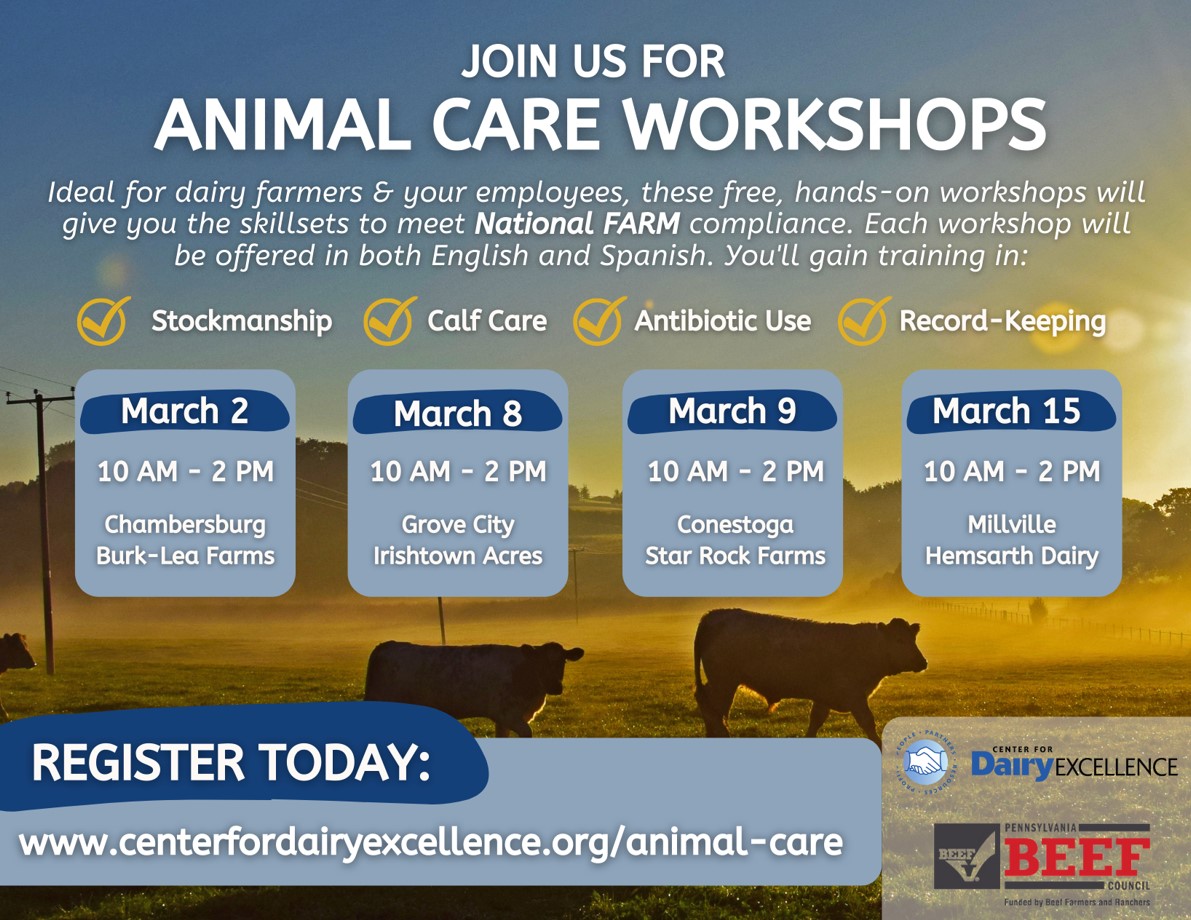 Dairy producers, you and your employees are invited to one of four, free animal care workshops being held on dairy farms across the state throughout March! Hosted by the Center for Dairy Excellence and the PA Beef Council, the workshops will focus on hands-on skill-building to help you meet National FARM compliance. A Spanish interpreter will be present at each event, making the workshops ideal for both English and Spanish-speaking employees. Lunch will be provided at the conclusion of each workshop. Register below!
Dates and Locations
Wednesday, March 2 from 10 a.m. to 2 p.m.
Burk-Lea Farms
3099 Grand Point Road
Chambersburg, PA 17202
Tuesday, March 8 from 10 a.m. to 2 p.m.
Irishtown Acres
902 Springfield Church Road
Grove City, PA 16127
Wednesday, March 9 from 10 a.m. to 2 p.m.
Star Rock Farms
175 Chestnut Grove Road
Conestoga, PA 17516
Tuesday, March 15 from 10 a.m. to 2 p.m.
Hemsarth Dairy
112 Hemsarth Road
Millville, PA 17846
Workshop Schedule
9:30 a.m. –  Arrive and Welcome
10 a.m. – Workshop Starts
10-1 p.m. – Rotate through each training area. Stations will be approximately 45 minutes long.
1 p.m. –  Lunch and Wrap-Up
Training Areas
During each workshop, attendees will rotate through 45-minute stations and gain hands-on training in several key animal welfare areas:
Stockmanship—Learn about stocking density, the humane movement of dairy animals, and the key characteristics of a cow's natural behavior to help provide a low-stress environment.
Handling downer cows and euthanasia – Learn how to make appropriate and humane decisions around euthanasia and managing downer cows.
Calf care – Learn how to provide top-quality calf care to help reduce stress and improve the calf's future performance.
Antibiotic use and record-keeping – Learn about the importance of antibiotic stewardship to ensure responsible use of antibiotics to keep cows healthy and the milk and beef supply safe.
Register Today:
Animal Welfare Workshop Registration