Date:
Wednesday, February 10, 2021
Location:
Virtual Tasting Event (Cheese will be shipped to you)
Event Host:
Center for Dairy Excellence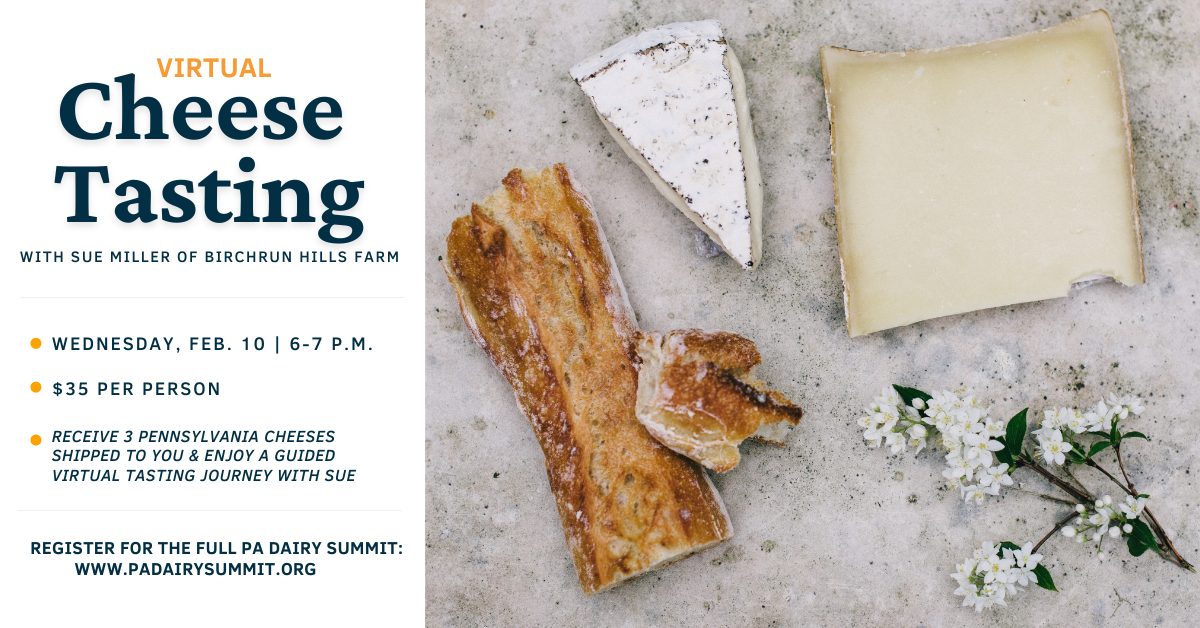 Enjoy an evening of cheese tasting with Sue Miller of Birchrun Hills Farm. When you sign up for the virtual cheese-tasting event, owner Sue Miller of Birchrun Hills Farm will ship you three types of local cheese. During the evening reception, she will guide you through an educational cheese-tasting journey and share suggestions for pairing each cheese with different beverages. Grab a bottle of your favorite beverage, catch up with your peers, and spend the evening trying new tastes and flavors!
When: Anytime
Where: Virtual tasting event. Details sent after registration. Cheese will be shipped directly to you.
Cost: $35 per person for three cheeses and guided tasting
How to Register: Fill out the form below to register and submit payment. Contact Heidi Zimmerman with questions.
About Birchrun Hills Farm:
Birchrun Hills Farm is a small family dairy farm with an on-site creamery in northern Chester County, Pennsylvania. Owned and operated by Ken and Sue Miller and their two sons, Randy and Jesse, they control every step of how their products are made. They sustainably grow crops and feed a herd of 80 holstein cows to produce high-quality milk. They make cheese and age them in an underground aging-facility. The Miller family has been making cheese since 2006 to secure a sustainable future for our dairy farm.
Fill out the form below to receive a shipment of cheese for $35: