Every year I look forward to the Pennsylvania Dairy Summit. If you never attended, it's a two-day conference held ever February that offers a mix of insight, inspiration, and networking. This year's Summit was held in Lancaster on February 2 – 3. It featured breakouts on everything from integrating robotic milkers and managing feed costs to navigating supply chain logistics and understanding the 2022 dairy price outlook.
The Summit opened with a one-on-one interview with Elle Purrier St. Pierre, who competed in the US Olympic Games in 2021 and is from a dairy farm in Vermont. Elle shared how an off-handed suggestion from her basketball assistant coach in 9th grade led to her one day setting records in the one mile and being part of the US Olympic team. She also talked about how the work ethic and resiliency she developed while working on the dairy farm helped her train physically and mentally to compete as a professional athlete.
Other keynote speakers at the Summit included Dr. Marin Bozic, who spoke about federal milk marketing order reform, Dale and Clay Hemminger, who shared a showcase of their robotic dairy farm in New York, and Ed Herr, who shared how culture and investing in people define the Herr's Potato Chip legacy. Part of the reason why I look forward to the Summit every year is because of the "truisms" that I glean from the sessions. While there are several definitions of the word "truism," my favorite is that it is an undoubted or self-evident truth.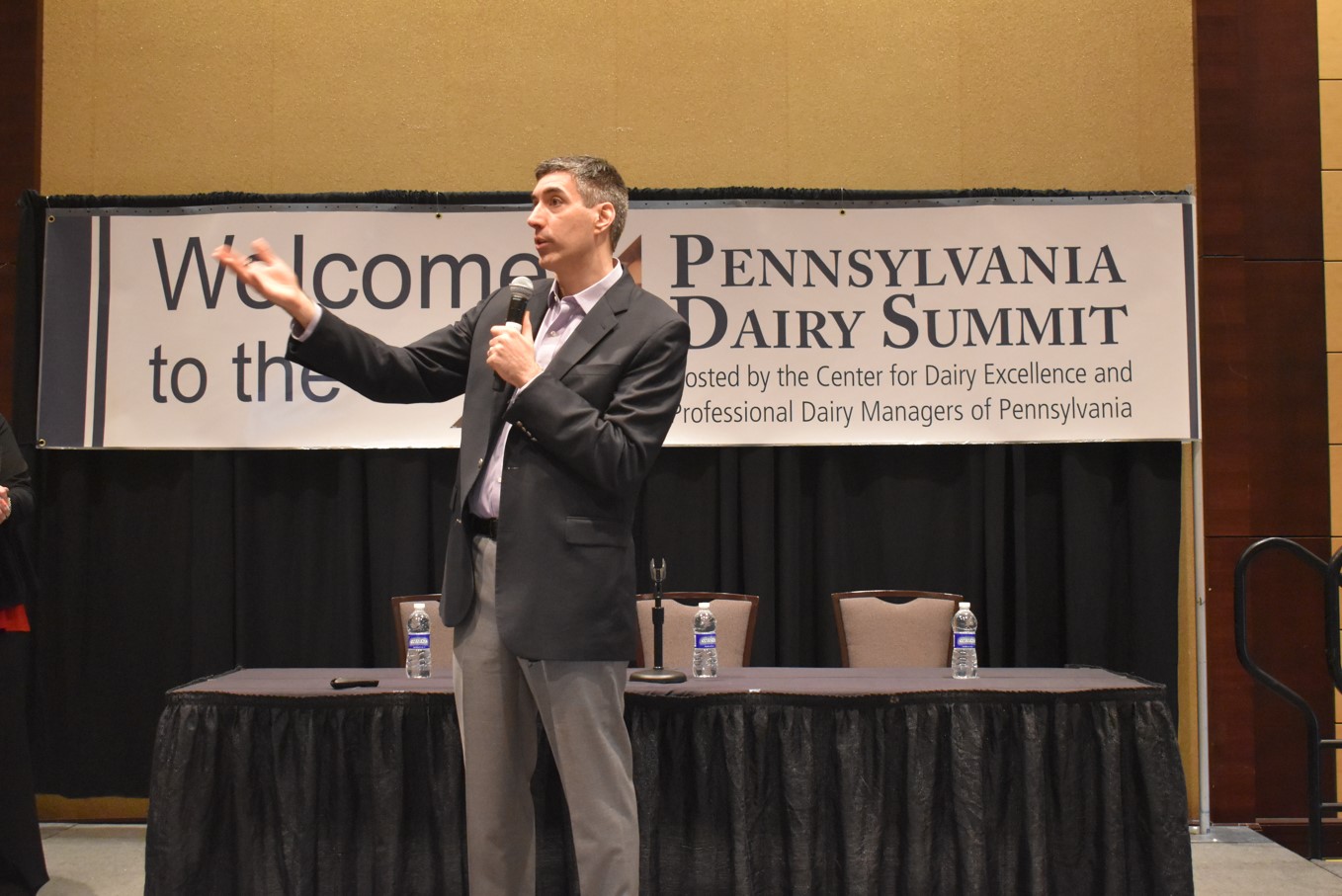 Here are just a few of the many truisms I got from this year's Dairy Summit:
When you're in transition, communication is key. Donny Bartch from Merrimart Farms spoke as part of the panel at the Young Professionals Reception and shared how his journey took him from a non-farm upbringing to today being the owner of a 260-cow dairy in Perry County. Donny encouraged both generations to remember, "At the end of the day, you have to step back and think about what this is all for."
I can do things you cannot. You can do things I cannot, but together we can do great things. The Dairy Innovation Forum, which is held each year as part of the Summit, featured a panel of dairy processors who forged unique partnerships to build on common goals and unique strengths.
It takes a team. In the Feed Costs breakout session, Walt Moore from Walmoore Holsteins in Chester County and Jared Kurtz from Kurtland Farms in Berks County shared what they are doing to manage feed costs and efficiency amidst higher commodity prices. They were both very candid about how they leverage a team of consultants and employees to maximize results. "It's important to seek to learn and listen to others," Jared said.
Talk about the future, even if it's scary. Josh Keefer from the North Group spoke about how generational differences can cause roadblocks in communicating effectively with co-managers and employees on the farm. He shared how something you say can be perceived very differently by the person hearing it because of generational differences. "You need to ask yourself if you are holding people accountable to standards you didn't clearly communicate with them," he said.
The next seven years shouldn't look like the last seven. Matt Gould, editor of The Dairy Analyst, talked about the 2022 Dairy Outlook and what is expected in terms of milk pricing in the coming year. While global supplies are shrinking, he reminded the audience that the US is the only major exporter poised to be able to supply international dairy demand right now.
It's a constant balancing act, and getting off to a good uniform start is key. Jonathan Rotz from Pioneer led a breakout session on in-furrow technology and how critical it is to feed the seed for success. Just like a cow, Jonathan showed how everything you ask of a crop takes energy. In-furrow technologies are a way to make sure that crop is getting the nutrients it needs to get off to a good start.
You can't manage what you don't measure. Jason Karszes from Cornell University shared how they are working to support benchmarking groups among dairy farmers in New York and the surrounding area. These benchmarking groups allow dairy producers to "benchmark" their performance against their peers to quickly see where they are pulling ahead and where they are falling behind.
It's not about a dairy farm, a trucking company, or a chocolate company. Eric Boyle from Hershey Foods and Rick Wadhams from Wadhams Transport shared how increased consumer demand and ongoing labor shortages are creating logistical challenges for everyone in the supply chain right now. "What's most important is that we become more interconnected and flexible on finding solutions," Eric told the group at this breakout session.
Get to first and then try to steal second. This was words of wisdom shared by Dale Hemminger during their producer showcase in talking about how they have grown their dairy and vegetable farm business over the years. "I try to go for base hits to avoid burning up too much equity," he said.Dale also shared why we should be excited about our role in the Northeast dairy industry. "We have access to plenty of water, which is something other regions don't have, and we are within a day's drive of more than half the US population," he said. "We can compete, but we have to know our numbers and what we are good at, so we can exploit it."
If you're not intentionally encouraging someone, you could be unintentionally discouraging them. Ed Herr spoke about their potato chip business and how they work to cultivate the next generation of family members to be part of the family business. He shared how they have family stakeholder retreats where they talk to the family members – even those at a very young age – about what the family business has to offer them.
The final truism I took away from this year's Summit came as part of a video Elle shared before her interview about competing in the US Olympics. During the Olympic trial races, where the US Olympic team members are decided, Elle had to compete against more than a dozen other professional athletes. When the gun went off, the runners all took off and clamored to get their spots on the track. About 10 yards into the race, Elle was knocked completely off the track by the other runners. But instead of giving up or falling behind, she pushed her way right back onto the track and took the lead. She never looked back and took first place by a strong lead at the end.
So, the moral of that story is, "Sometimes you get knocked off track (literally), but it's what you do afterwards that matters."
Thanks to our sponsors, exhibitors, and all those who supported this year's Summit. If you missed it this year, be sure to mark your calendars for next year's Pennsylvania Dairy Summit, which will be hosted by the Professional Dairy Managers of Pennsylvania and the Center for Dairy Excellence on February 8 – 9, 2023 at the Penn Stater in State College, Pa. Registrations will open in November 2022. We hope you will consider joining us!
Editor's Note: This column is written by Jayne Sebright, executive director for the Center for Dairy Excellence, and published monthly in the Lancaster Farming Dairy Reporter.