Date:
Wednesday, August 10, 2022
Location:
Special Events Building at Ag Progress Days
Address:
2710 W. Pine Grove Road
Pennsylvania Furnace, PA 16865
Directions >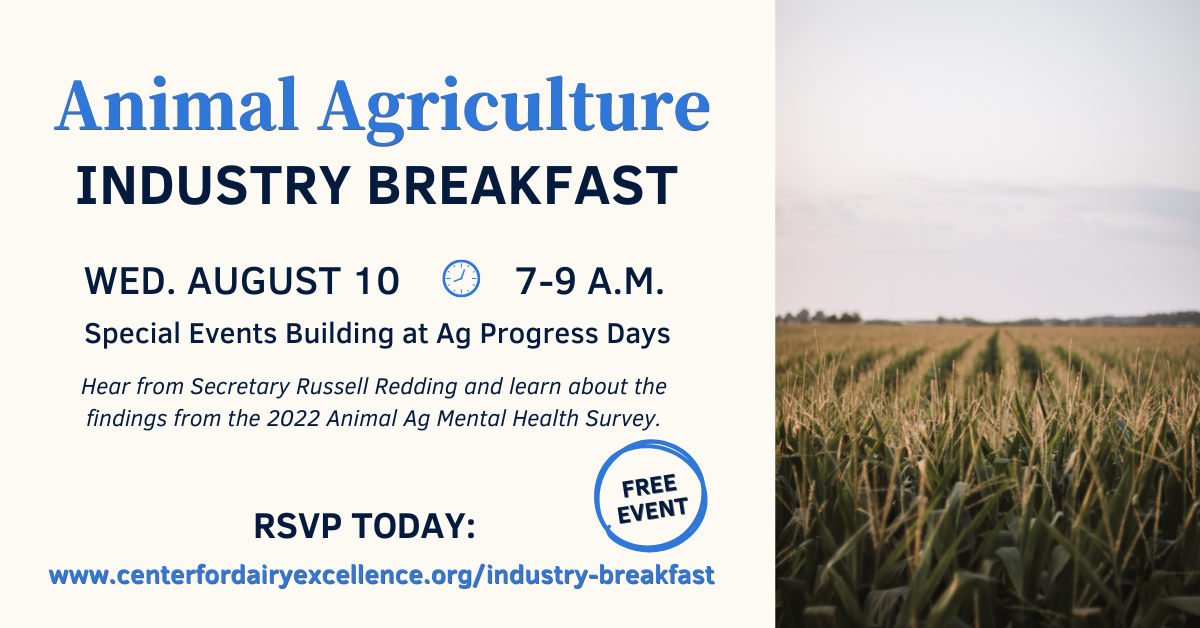 Whether you're a producer or ag professional, join the entire Pennsylvania animal agriculture industry for the 2022 Industry Breakfast on Mental Health in the Animal Ag Industry. The event will be held on Wednesday, August 10 from 7-9 a.m. in the Special Events Building at Ag Progress Days. Join us for a morning filled with conversation about real-time issues facing Pennsylvania agriculture, including mental health and farm stress.
Secretary Russell Redding will provide opening remarks, and Ginger Fenton from Penn State and Gina Pighetti, retired professor from the Tennessee State University, will share the findings of the 2022 Animal Ag Mental Health Survey. More details to come.
Breakfast is free, but pre-registration is required.
This event is being held as part of an initiative of the Pennsylvania Beef Producers Working Group, Center for Beef Excellence, Center for Poultry and Livestock Excellence, and Center for Dairy Excellence and is funded by the Pennsylvania Department of Agriculture and the USDA Farmer Rancher Network Assistance Program.
Register Today:
Animal Agriculture Industry Breakfast Registration