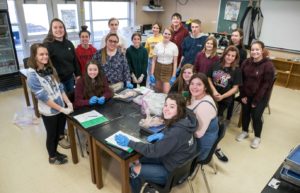 While the Dairy Leaders of Tomorrow curriculum is centered around dairy, it often sparks connections with other animal science topics. At Cumberland Valley High School in Mechanicsburg, Pennsylvania, the Dairy Leaders of Tomorrow reproductive anatomy lesson served as a relevant introduction for a pig dissection assignment.
"We were going through the different systems of pigs, and I didn't think the curriculum we were using did a good enough job of really showcasing the different parts of the reproductive tract," said Darla Romberger, an agriculture teacher at Cumberland Valley High School. "I knew the Dairy Leaders of Tomorrow curriculum had a really good reproductive lesson and visuals to go along with it. It was a nice connection, and it supplemented the curriculum really well for us."
Romberger began by using the Dairy Leaders of Tomorrow anatomy lesson to introduce her students to the different parts of a female cow's reproductive system. For students with an interest in animal agriculture, this gave them a deeper understanding of how to manage herds and offspring.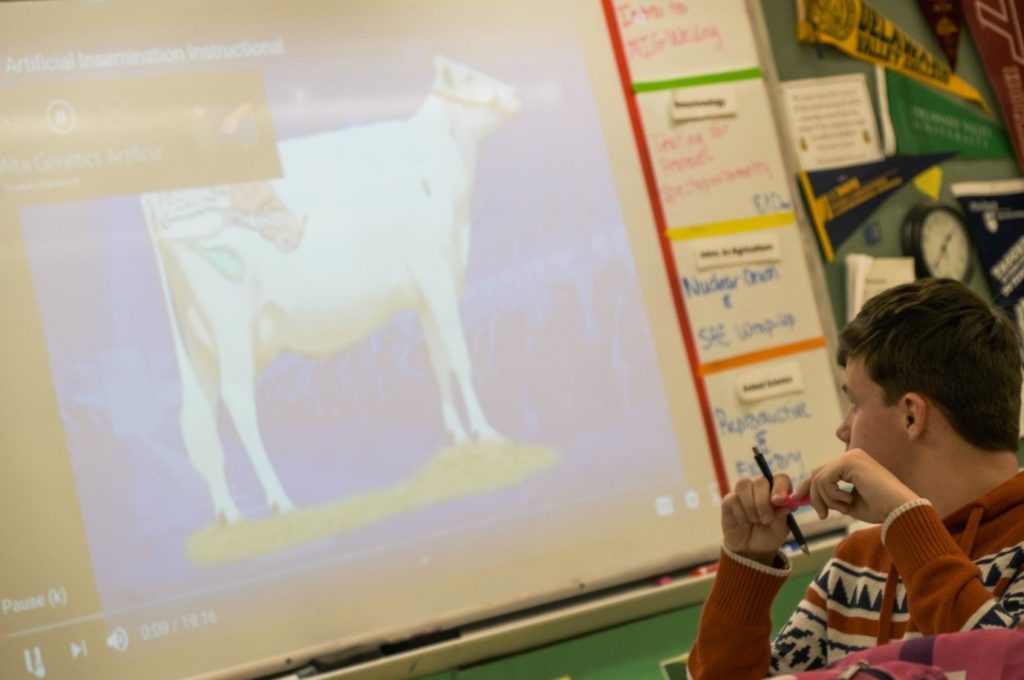 "If students want to own animals, they need to understand the body systems of an animal in order to be good owners," Romberger said. "If they eventually decide to be in a managerial position, they need to know the full reproductive cycle of what it takes to produce the next generation of offspring. That's what a lot of animal agriculture is—managing offspring and animals as they age."
After the Dairy Leaders of Tomorrow introductory lesson, the high schoolers moved on to the hands-on part of the lesson: dissecting the pigs. By bridging the gap between different animals' reproductive systems, Romberger was able to educate her students on the wide range of careers available in animal agriculture.  
Romberger has been using the Dairy Leaders of Tomorrow program for seven years as a supplement to the curriculum she's already using. The program's flexibility and personalization has allowed her to meet the individual needs of her students.
"I like how the Dairy Leaders of Tomorrow curriculum has the option of being utilized individually by students," Romberger added. "I had an independent study student go through all three components last year at her own pace. I could track her progress and see how far she was getting. The flexibility was really key."
Dairy Leaders of Tomorrow is a comprehensive program designed specifically to prepare high school students to pursue careers in the dairy industry. Using a three-part model, Dairy Leaders of Tomorrow offers classroom curriculum, on-farm experience opportunities as well as scholarships for both educators and students.
In 2019, 500 educators were enrolled in the Dairy Leaders of Tomorrow program and more than 19,500 students were impacted.
See how you can incorporate Dairy Leaders of Tomorrow into your classroom. Learn more.