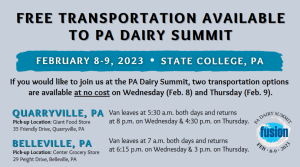 PA Dairy Producers Can Get Free Transportation from Quarryville and Belleville
The dairy industry is infused with opportunity, and the Pennsylvania Dairy Summit allows dairy professionals to learn from both industry experts and their peers about how to uncover and leverage these opportunities. Hosted by the Professional Dairy Managers of Pennsylvania and Center for Dairy Excellence, the 2023 Dairy Summit will take place on February 8 and 9 at the Penn Stater Hotel and Conference Center in State College, Pa. New this year, discounted registration costs are available to dairy producers from any state thanks to grants and support from the Northeast Dairy Business Innovation Center, Center for Dairy Excellence, Professional Dairy Managers of PA, and Summit sponsors. Free transportation is also available to Pennsylvania dairy producers.
"Dairy producers across the industry are constantly working to find connection with each sector of the supply chain, with family and business, with current and future generations, with their products and consumers, and with their mental and physical wellness," said Tony Brubaker, the 2023 Pennsylvania Dairy Summit chair and a dairy farmer from Lancaster County. "That's why the Dairy Summit is a great event for dairy producers looking to spend time with like-minded professionals who want to drive their dairy operations forward. We always enjoy networking with one another, exchanging ideas on what's working at the farm level, and learning from dynamic speakers who can help us connect all of these dots."
Pennsylvania dairy producers can receive free transportation from one of two locations on February 8 and 9, 2023:
Quarryville, Pennsylvania –  The van will leave at 5:30 a.m. both days and return at 8 p.m. on Wednesday and 4:30 p.m. on Thursday.

Belleville, Pennsylvania – The van will leave at 7 a.m. both days and return at 6:15 p.m. on Wednesday and 3 p.m. on Thursday.
This transportation will be provided at no cost for day runs only. The Dairy Summit is a two-day event, so producers can utilize the transportation on one day or both days based on their schedules. Exact pick-up locations will be provided after registration.
Dairy Summit registration fees for dairy producers from any state are set to be as affordable as possible. Producers can attend the full, two-day Dairy Summit for $100, with one-day rates available for $50. Other discounts are available for additional people who register from the same farm. When registering online, use the discount code "FUSION23" for each attendee who registers from the farm.
"This year's free transportation options and overall discounts for dairy producers make it easier than ever to attend the Dairy Summit in an affordable way," Brubaker added. "I know it can be difficult to step away from the farm for a day, but I highly encourage you to start the new year off with a trip to the PA Dairy Summit so you can approach your business with a refreshed, forward-thinking outlook this year."
During the 2023 event, featured speakers will lead dynamic keynote sessions on real-time industry issues, including farm succession and family dynamics, what dairy can learn from the avian influenza pandemic, diversifying the family farm, change management, and multi-generational family businesses. Several dairy producers from Pennsylvania and New York will also lead panel discussions and breakout sessions on topics focused on farm finances, herd management, diversification and more.
To reserve free transportation from Quarryville or Belleville and register for the Dairy Summit, call the Summit Business at 814-355-2467 between the hours of 10 a.m. and 3 p.m. on Tuesdays, Wednesdays and Thursdays. Email info@padairysummit.org with questions or to receive a printed registration form to mail back.