Earlier this summer a bad storm with straight-line winds went through our farm. The winds took out nine trees and a garage roof. Trees that towered over our house and had been there for longer than anyone can remember were pulled out of their root bed in a matter of seconds. They ended up lying over on their side with the roots fully exposed in the air. Fortunately, all the trees narrowly missed our house, so we considered ourselves fortunate it was not worse.
For about three weeks, the trees stayed on their side, with our front yard looking like a jungle of branches and limbs stretching out across it. After the planting season was over, my husband finally had time to tackle the clean-up. Some of the trees were easy to pull away. Others needed to have their branches trimmed and carried off piece by piece.
The final tree we tackled that weekend was the largest by far—a huge black walnut tree with its branches seeming almost like five smaller trees connected by the base. My husband trimmed each section of branches off at the base one by one. Just as he cut off the final section, the base of the tree stood right back up in its original root bed while we quickly moved out of its way. We could not believe it stood back up on its own. At that point, we knew the 25-foot base was much too large to pull out with the skid loader. So, we decided to wait until our largest tractor was free to pull it out by its roots and get rid of it.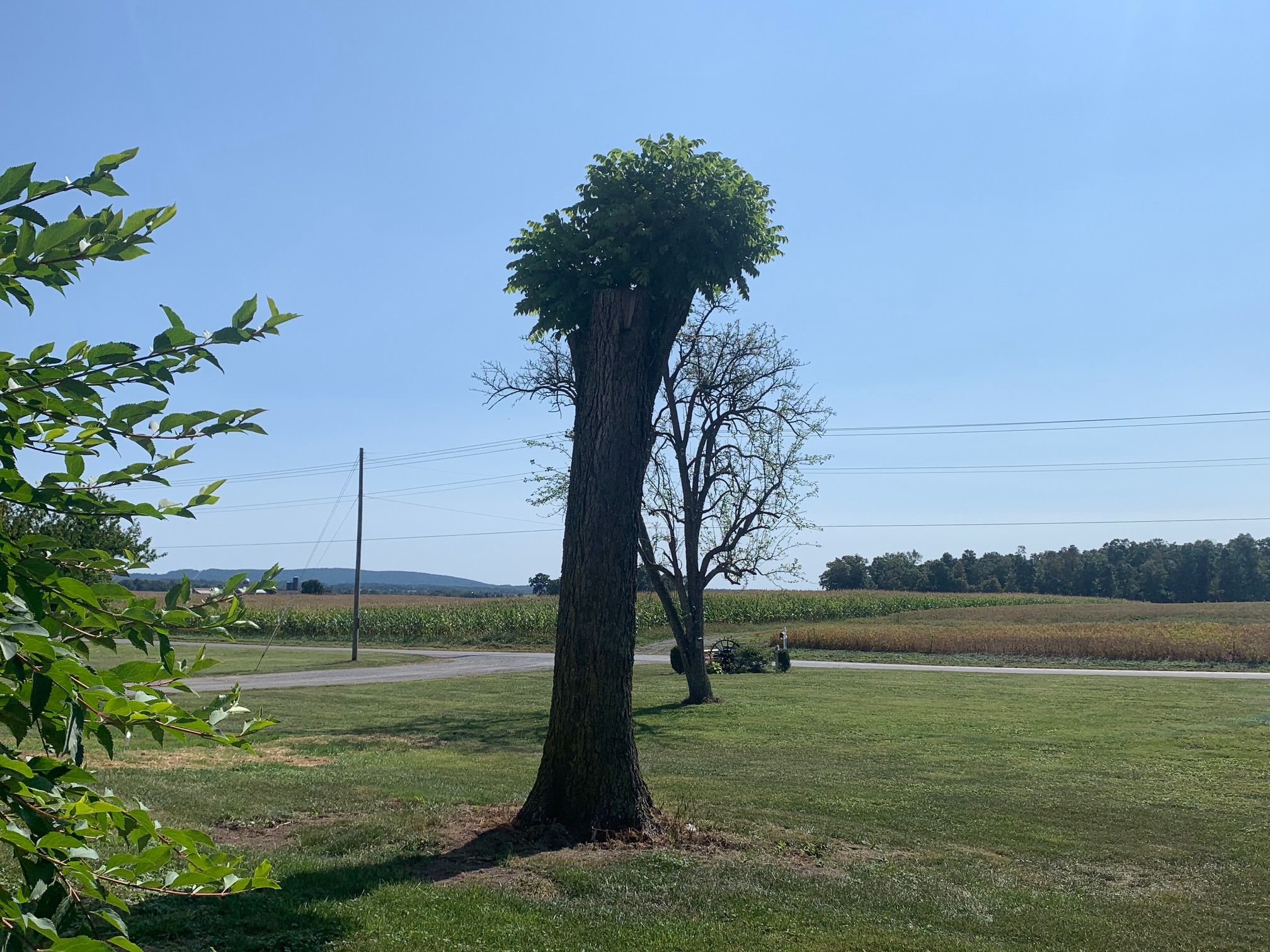 Another month and a half went by, and suddenly we began seeing small branches begin growing again from the base of that tree. If you look at that tree today, the top is full of greening branches coming out from all sides. Honestly, if you would have asked us whether that tree could have survived that fall and the following three weeks lying flat on the ground, we would have told you it was impossible. But it did, and hopefully it will be there many years to come to bear witness to its resiliency.
This year has been a challenging year for many, not just in the farming community but throughout our society. Chances are, you know someone who was laid off or who lost their job this year. You may also know somebody who suffered from COVID19 or who had a family member who suffered from it. You may know a high school or college student who lost something important to them – their graduation, their sports season, their summer internship opportunity – because of the pandemic. If you are a farmer, you may have personally dealt with evaporating income as market prices fell through the floor.
On Resilience
Many of us have experienced setbacks and have felt like we have fallen this year. For some, it has been difficult to get back up again. But, as my story about the tree illustrates, that is the most important step in surviving and thriving: knowing how to get back up after you have fallen.
Sometimes, like in the case of this tree, it takes the community of people around you to help you stand up again. If we would not have trimmed the branches from its base, the tree would not have been able to stand again. Leaning on others to help lift the burden off your shoulders is important when you are struggling. That is one of the aspects about the dairy community that I appreciate most: the network of people willing and eager to help farm families work through the challenges they face.
Through my role at the Center, I often get a firsthand view of that community in action: a neighbor calling us after a farm family has a fire to see if our Transformation Team grant could help them, a consultant asking how our Transition Team resources could help a farm family work through difficult generational issues, a nutritionist wondering if our Dairy Decisions Consultant Program could help a client who is struggling financially, a farmer who wants to leverage our internship program to give a local young person the opportunity to learn more about careers on the farm, or even another farmer who knows the local food bank doesn't have enough milk and wants to learn how to donate milk from her bulk tank. The list goes on and on.
Resources to Help
Most farmers choose their profession because they like being independent and working on their own. But sometimes being willing to accept the help that is available to you can mean the difference between thriving and dying. The programs we have available at the Center are based on the premise of bringing outside resources into a dairy to help the farm management team manage bottlenecks and difficult decisions they face in their operations. Often, as farmers, we are so focused on getting the day-to-day chores done that we fail to see those obstacles that are holding our businesses back.
Along with the Center's resources, Penn State Extension's Dairy Team offers expertise and resources to farms to help them address bottlenecks and find opportunities in their operations. Services from Penn State Extension are often free, with their extension agents willing to come out to your farm and talk through your goals to determine how to help you get there. The Center's Dairy Decisions Consultant Program can also help align a person from the industry to help you identify options for your dairy.
Although enrollment for our 2020-21 team programs won't open until next month, the Center's Transformation, Transition and Profit Team grants can help you bring your key advisors around the table to discuss those opportunities. Many farm families have come to rely on the expertise of their veterinarian, their nutritionist and their accountant on matters related to the farm. The team approach brings those folks together to share ideas and help you achieve your goals.
The farm families that have taken advantage of these programs have shared with me how incredibly valuable they have been in helping them identify a path forward. In some cases, the farmers have said they wouldn't be in business anymore without working with the Center programs or leveraging assistance from Penn State Extension. In another words, those programs helped them find a way to "get back up again," just like that walnut tree in my front yard.
If you want to learn more about the resources that are available to your dairy, please call us at the Center. Our Dairy Programs Manager Melissa Anderson, like all our team, is working remotely because of the pandemic. You can reach her directly to find out what programs are available to you by calling 717-636-0779. You can also call me at 717-817-1376. We are here to be a resource for your dairy.
Editor's Note: This column is written by Jayne Sebright, executive director for the Center for Dairy Excellence, and published monthly in the Lancaster Farming Dairy Reporter.