Thanksgiving marks a time when many families gather to give thanks. This year Thanksgiving is extra special for me because it will be the first time I will see my two oldest boys since they left for college in August. One of the traditions that usually happens with each Thanksgiving is a family dinner at Grandma's house. My mom and dad still live in the old farmhouse where I grew up, and it gets packed full for holiday meals with children, grandchildren, spouses, boyfriends and girlfriends, and even a great granddaughter now. Needless to say, when the house is filled, my mom's heart is full.
Whenever we get together at my parents', it always reminds me of family dinners growing up on the farm. Obviously, like any farm family, we were very busy with everyone assigned to chores on the farm or running to 4-H, church, or school activities. But family dinner always seemed to be a place where we came together. It was usually very noisy, and there are a lot of funny stories and memories we have from gathering around the family dinner table.
One thing I remember very clearly about our family dinners were the rules we followed – always pause to give thanks before dinner, use your fork and spoon (not your hands) to eat, and clean your plate, even if you didn't like what we were having. I used to spend hours trying to find ways to hide my peas.  Another family rule was either milk or water with dinner. Even though we always had fresh brewed iced tea in our refrigerator, and usually soda, they were not allowed at the dinner table.
Fewer Family Dinners
Today, fewer families gather around the dinner table than ever before. In fact, only about one in three families have dinner together all seven nights a week. Last year, the pandemic reversed that trend with everyone confined to their homes. However, with the world opening back up, more and more families are back to their regular routines and finding less time for those traditions they started last year. Even when families do eat together, it's often in a restaurant or over take-out. The tradition of gathering around a home-cooked meal with milk or water served as the beverage is losing its place in our American culture.
With the loss of that tradition, milk is also losing its place as a mealtime staple. The latest USDA data shows fluid milk sales relatively flat from 2019, after years of steady declines in the fluid milk category. The average per capita consumption of fluid milk in 2020 was about 16.6 gallons per person, down about 43 percent from the 29 gallons each person drank in 1975. On the bright side, consumption of whole milk and 2 percent milk are increasing, offsetting losses in the skim, low fat, and flavored milk categories. That means more and more people are returning to fuller fat milks.
Despite the steady declines in fluid milk consumption, overall dairy product consumption continues to increase. Per capita consumption of total dairy products in the US was up 3 pounds per person, or about 0.5 percent, in 2020. Increased consumption of higher fat products, like regular ice cream and butter, helped to drive the total increase, while cheese consumption was relatively flat from 2019. Still, cheese consumption has grown 113 percent since 1975, while butter consumption is only up 1.6 percent and ice cream consumption is actually down since 1975.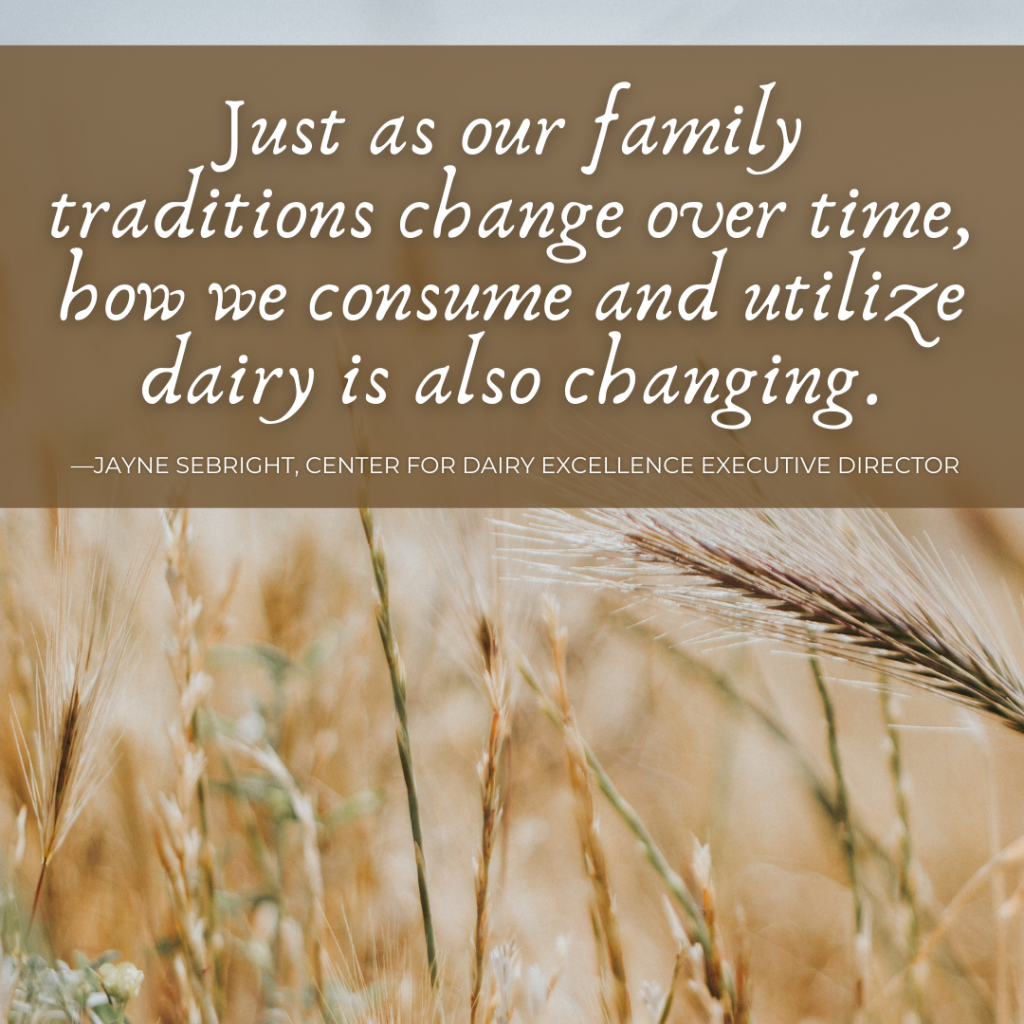 More Milk Heading Overseas
Along with strong domestic dairy product sales, increases in the amount of dairy going overseas is also helping to offset the declines we are seeing in fluid milk consumption. With September data just released, we are now in our ninth month of year-over-year growth in dairy exports. In September, the US sent 186,020 metric tons of milk solids overseas, representing a 14 percent increase from a year ago. About 38 percent of our total dairy exports are in the form of nonfat dry milk and skim milk powder, while 27 percent is in the form of whey. The third largest export category is cheese, at 18 percent.
With these increasing volumes, the value generated through US dairy exports is also steadily increasing. US Dairy Export Council estimates the value of September dairy exports at 655 million, compared to 513.4 million shipped overseas a year ago. If the volume of dairy products shipped overseas continues to grow in 2021, this year will surpass 2014's record value of nearly $7.1 billion in dairy exported. Just as a comparison, that is more than four times the amount of dairy exported in 2000 at under $1.6 billion.
So, just as our family traditions change over time, how and where we consume and utilize dairy is also changing. In 2020, about 31 percent of the milk we produced in this country was sold as Class I, which is typically milk consumed as a fluid beverage. About 16 percent of the milk produced was sold into the export market. For comparison, 10 years ago, nearly 36 percent of the milk produced in the US was sold as Class I, while less than 13 percent was sold overseas. If this trend continues, the margin between what is consumed as fluid milk and what is sent overseas will continue to contract.
Both dairy economists and dairy producers are asking the USDA to review the federal milk marketing order system because of these changing trends. The system we have in place today was created in the 1930s at a time when 70 percent of producer milk went into a bottle. As fluid milk sales decline, we are very close to a reversal of that statistic, with nearly 70 percent of our milk now going into non-fluid uses. I am not an economist and do not know what the answer is. But it does seem like it is time to look at how these changing trends affect milk pricing and how farmers should get paid.
In the meantime, use this Thanksgiving season to remember fondly the childhood traditions your parents shared with you and consider the ones you are making with your own family. Our culture is rapidly changing, and sometimes holding those traditions as sacred can help us find the gratitude and peace we need to thrive in a busy world.
Editor's Note: This column is written by Jayne Sebright, executive director for the Center for Dairy Excellence, and published monthly in the Lancaster Farming Dairy Reporter.