A couple of years ago, the Center joined with the Professional Dairy Managers of Pennsylvania to introduce a safety initiative that included Safety Shares at our meetings and a Safety Corner on our website. The idea was to encourage producers to share "near-miss" situations they have had on the farm that reminded them how important it is to make safety a priority.
The reason why we introduced this initiative is because of the devastating statistics around farm safety. Every day, more than 240 agricultural workers and farm employees suffer serious lost-work-time injuries. Five percent of these injuries result in permanent impairment, with the fatality rate for agricultural workers seven times higher than the average for all workers in the private sector.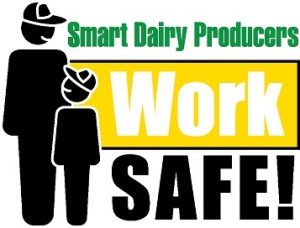 We have collected quite a few stories of mishaps and accidents that have happened. Some of them were minor, like falling off a ladder that wasn't properly secured or having a finger pinched in a headlock when trying to cut corners in sorting cows. Others were more serious. One involved a teenage boy who suffered a fatality when a skidloader bucket came down on top of him, and another involved an employee having a severe concussion and several broken bones after falling through a parlor ceiling.
Nobody knows when that next accident is going to occur or who it will involve. But we can take precautions to minimize the risks. With spring season now upon us, it's easy to see how quickly something can happen. Even on our small farm at any given time, there could be dump trucks, large tractors and kids on Kubotas all driving in and out the lane rushing to and from the latest chore or activity without any awareness of what else is going on around them.
When we are in a hurry, we do things ourselves instead of getting the help we need, and we cut corners instead of taking the proper safety measures. The five minutes you take to get that extra person or put up the safety guards could mean your life. It's so important to stop, think, and be safe.
Here are a few tips from the American Family Insurance Company to foster a safer environment on your farm.
Dress for success. Make sure you are wearing the proper clothing and have the needed safety gear for whatever activity you are doing. If you are working around farm equipment, don't wear loose clothing that can get caught in the PTO shaft. If you are running equipment, wear hearing and eye protection. Use masks to filter dusts and molds, and make sure you have proper gloves and protective clothing when working with chemicals.
Properly store and mark all chemicals. Whether it is fertilizers and pesticides for the crops or cleaning chemicals in the barn, unfortunately working with hazardous substances is a necessity of the farming profession. Make sure you know what you are working with and you have the proper training for handling them. Also remember that chemicals can get into your body through your skin, lungs, eyes and mouth. Always be mindful of them, wear protective equipment, and keep them out of children's reach.
Prepare for the Road. Make sure your farm equipment is properly marked before you travel public roads. Check your lights to make sure they are working properly, and make sure all reflective tape and slow-moving vehicle signs are properly placed. Also, make sure they are clean and clearly visible.
Air It Out. Too often we hear of tragic accidents occurring when people are working with silos or in manure storage systems. The gases coming from these places can be lethal. Make sure you ventilate an area at least 30 minutes before entering it to remove the concentration of harmful gases. Never work in an area alone without someone outside to help and monitor you. Methane, gas, carbon dioxide, ammonia and hydrogen sulfide can all form in unventilated silos and manure pits.
Avoid Electrical Accidents. If you are traveling with tall equipment, always look up to avoid overhead power lines. Always stay ten feet away to avoid a current jumping and making contact with your equipment. If a wire is low or on the ground, treat it as if it is energized and avoid it. If someone does come in contact with an energized wire, do not touch that person until the power is turned off.
Be Careful Around Animals. Remember that animals are unpredictable. No matter how well you think you know your livestock, something could spook them and cause them to react quickly, potentially hurting you. Make sure those employees working with your animals have the proper training to understand that animal's flight zone and temperament. Also, make sure housing and handling areas are well designed and properly maintained to protect both your employees' and animals' safety.
Keep Kids Safe. Any of us who grew up on a farm know how fun exploring it can be. However, a farm can also be a place where serious injuries can occur. Always go over the safety rules with your children and remind them often. Also make sure you take the necessary safety precautions to keep them safe: lock silos and bins, don't let them climb on equipment, fence off manure pits and areas with waters, lock away chemicals and cap abandoned wells and pits, and don't allow them to ride on equipment unless it is manufacture-equipped with a second seat and seat belt.
Take Care of You. Long hours on the farm are commonplace this time of year. However, if you're not getting the proper rest, that can lead to serious accidents on the farm. Feeling fatigued when operating equipment can be dangerous, and you can risk making costly mistakes when you're not fully aware. Make sure you're taking breaks from work and are well rested.
As the spring planting season approaches, it is easy to find yourself going from "zero to 60" in a blink of an eye. Taking a few extra minutes to stop and make sure you have the proper safety precautions in place can save a life. Even spending a few minutes each week doing a "Safety Share" with your own employee team might be helpful. Nothing is more important than saving a life or preventing an injury, so make sure your farm is doing everything it can to be safe.
Editor's Note: This column is written by Jayne Sebright, executive director for the Center for Dairy Excellence, and published monthly in the Lancaster Farming Dairy Reporter