Date:
Tuesday, September 21, 2021
Time:
8:30 a.m. - 3:30 p.m.
Location:
Best Western Premier - The Central Hotel & Conference Center
Event Host:
Center for Dairy Excellence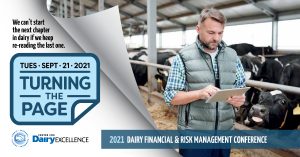 We can't start the next chapter in dairy if we keep re-reading the last one.
Whether your dairy farm clients are transitioning to outside partners, trying out new risk management tools, planning for retirement, or working with cooperatives to achieve production growth post-pandemic, the dairy industry has certainly learned a lot from the 2020 milk supply situation. As we turn the page, join the Center for Dairy Excellence for the 12th annual Dairy Financial and Risk Management Conference on Tuesday, September 21, 2021. Dairy lenders and financial consultants will learn how to help clients take the next steps forward, reflect on lessons learned, and manage changing markets.
Program details will be announced in the coming weeks. Session topics so far include:
Lessons Learned from 2020 and Growth Strategies for Northeast Milk Production
A Look at Dairy Markets, Changing PPDs, and Dairy Risk Strategies
Perspective on Dairy Farm Transitions with Outside Business Partners
A Guide to Retirement Planning on the Dairy Farm
The cost to attend this year's Dairy Financial and Risk Management Conference is $200 per person, discounted to $150 for those who are representatives of the Center for Dairy Excellence Allies for Advancement. Registration information is now available, with a complete program and speaker details out in June. For more information about the program, visit www.centerfordairyexcellence.org/dairy-financial-conference/.