Date:
Wednesday, April 28, 2021
Location:
Virtual Webinar: www.centerfordairyexcellence.org/AprilPYP
Event Host:
Center for Dairy Excellence
Want to receive a simple reminder the morning of the webinar? Consider signing up for text alerts. We'll text you a reminder the morning of the event and include the webinar link and dial-in details. Text "Sign up" to 717-585-0766.
Do you have a business plan in place for your dairy operation? During our monthly "Protecting Your Profits" webinar on Wednesday, April 28 from 12-1 p.m., Phil Taylor from AgChoice Farm Credit will expand on the business planning fundamentals we shared during our spring roundtable meeting. Learn how you can take your newly developed business plan and improve your dairy operation. Led by Zach Myers, Risk Education Manager with the Center, the free virtual event is available in conference call and webinar format.
How to Join:
Webinar Format
Visit www.centerfordairyexcellence.org/AprilPYP on Wednesday, April 28 at 12 p.m. to launch the webinar.
Conference Call Format
Individuals who would prefer to connect via conference call can dial the following number on Wednesday, April 28 at noon:
Dial: 1-646-558-8656
Meeting ID: 848 3416 1708
Passcode: 474057
Podcast Format
Visit www.centerfordairyexcellence.org/pyp to listen to the "Protecting Your Profits" podcast and subscribe to get notified when new episodes are released. Episodes are expected to be published after the live webinar and conference call are concluded each month.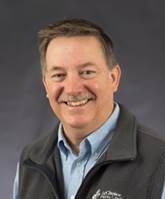 About Phil Taylor:
Phil Taylor has been with AgChoice Farm Credit since the fall of 2012 where he has worked as a Farm Business Consultant covering the AgChoice western PA branch offices in Meadville, Butler, and New Stanton. Phil graduated from The Pennsylvania State University with a  bachelor's degree in Dairy Production and has a master's degree from Michigan State University in Agricultural Economics. He has held positions as Extension Dairy Educator in both PA and Michigan. He managed a 100-cow dairy in Ohio for three years and worked as a local feed mill sales and service representative in Crawford County. His current responsibilities include helping farms with business planning, succession planning, dairy benchmarking, financial analysis, and financial recordkeeping.