Date:
Wednesday, April 15, 2020
Location:
Virtual Webinar Series
Event Host:
Center for Dairy Excellence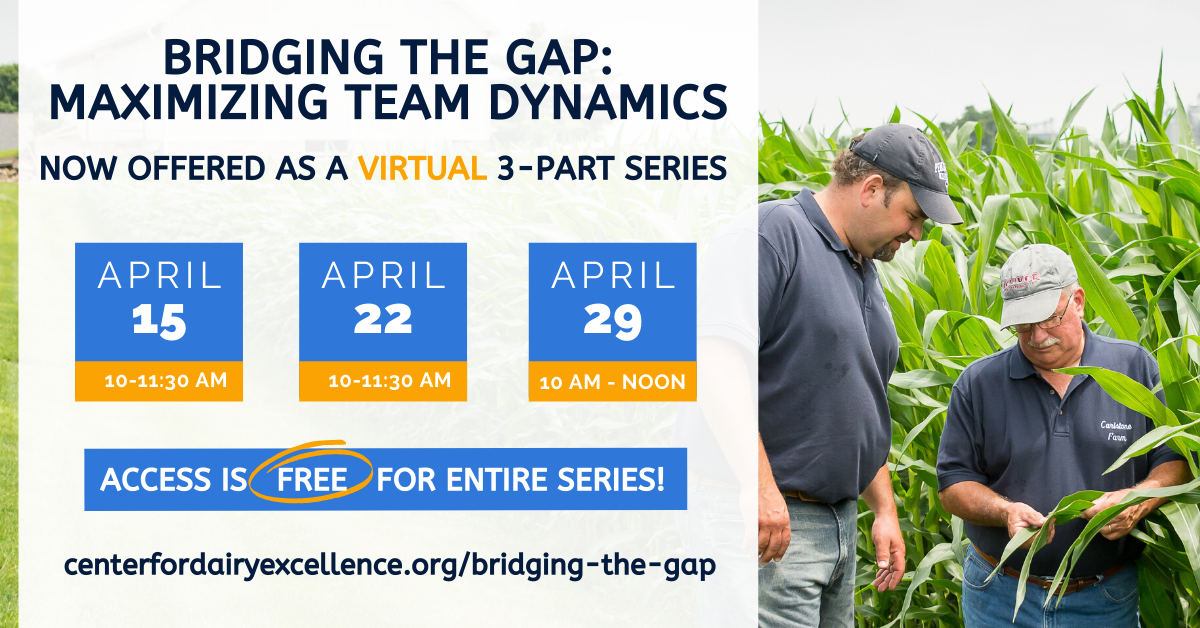 Do you facilitate dairy team discussions? Join us for a continuing education webinar series! Learn how to help your dairy clients navigate difficult discussions and enhance team dynamics. Access to the entire 3-part series is FREE. Simply complete the registration form below.
Webinar Schedule & Topics Covered:
Wednesday, April 15  |  10-11:30 a.m.

"Facilitation Basics" with Rob Goodling. Learn about the rules of meeting, treating others with respect, avoiding disruptions, setting goals and objectives, handling information flow, and engaging producers to ensure openness, trust and honesty.
Wednesday, April 22  |  10-11:30 a.m.

"Understanding Change Management" with Dr. Charles Gardner. Understand the different types of people who could be on teams, discuss the common resistance to make changes, and how to navigate team discussions around change.
Wednesday, April 29  |  10 a.m. to noon
"Conflict Resolution and Difficult Team Dynamics" with Rob Skacel. Learn how to facilitate discussions to help resolve conflicts and strengthen team dynamics.
The workshop has been approved for three hours of continuing education credit in jurisdictions that recognize RACE approval.
About the Speakers:
Rob Goodling is an Extension Associate in the Department of Animal Science and a member of the Penn State Extension Dairy Team. His primary focus is farm and data management and record-keeping. Rob was raised in portions of central and southern Pennsylvania. He attended Penn State University from 1997 to 2001, graduating with a degree in Animal Science, Science Option.  He then obtained a Master's Degree in Dairy Science from the University of Wisconsin-Madison. Upon graduating from UW in January 2004 and before joining the Department in April 2011, Rob worked for the Animal Improvement Programs Laboratory, an ARS-USDA office responsible for dairy cattle genetic evaluations and selection research. He was the Dairy Extension Educator in Lebanon County from 2004 to 2011.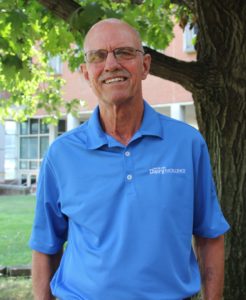 Dr. Charles Gardner grew up in southern New Jersey and worked on his uncle's dairy farm. He attended the College of Agriculture at Cornell before transferring to Veterinary College and graduating from Veterinary School in 1973. After joining the Ackermanville Veterinary Hospital and starting the Dairy Management Consultants practice, Dr. Gardner received an MBA from Moravian College. During his career, he has served as director of the Agway TSPF Heifer Program and worked at Cargill Animal Nutrition to improve animal and financial performance. Dr. Gardner currently works with the Center for Dairy Excellence to help producers transition assets and other aspects of herd management.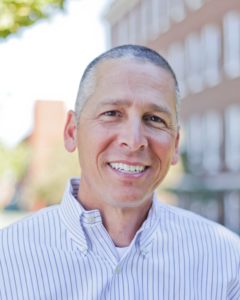 Rob Skacel is a licensed psychologist with senior executive experience at True Edge Performance Solutions. He holds a bachelor's degree from Franklin & Marshall College, and master's and doctoral degrees from Purdue University. Rob has held senior leadership positions in sizeable for-profit and non-profit organizations, where his responsibilities focused on performance improvement and organizational development. Rob founded True Edge Performance Solutions in 2000. By 2006, True Edge had grown to the point where it required Rob's full-time attention. Over the years, Rob has provided services to dozens of leaders and their organizations, in a variety of industry sectors such as manufacturing, professional services, health care, agribusiness, construction, education, non-profit, and trade associations.
Register Today:
Bridging the Gap: Maximizing Team Dynamics Webinar Series