Date:
Friday, November 5, 2021
Location:
Lancaster Farm & Home Center
Event Host:
Center for Dairy Excellence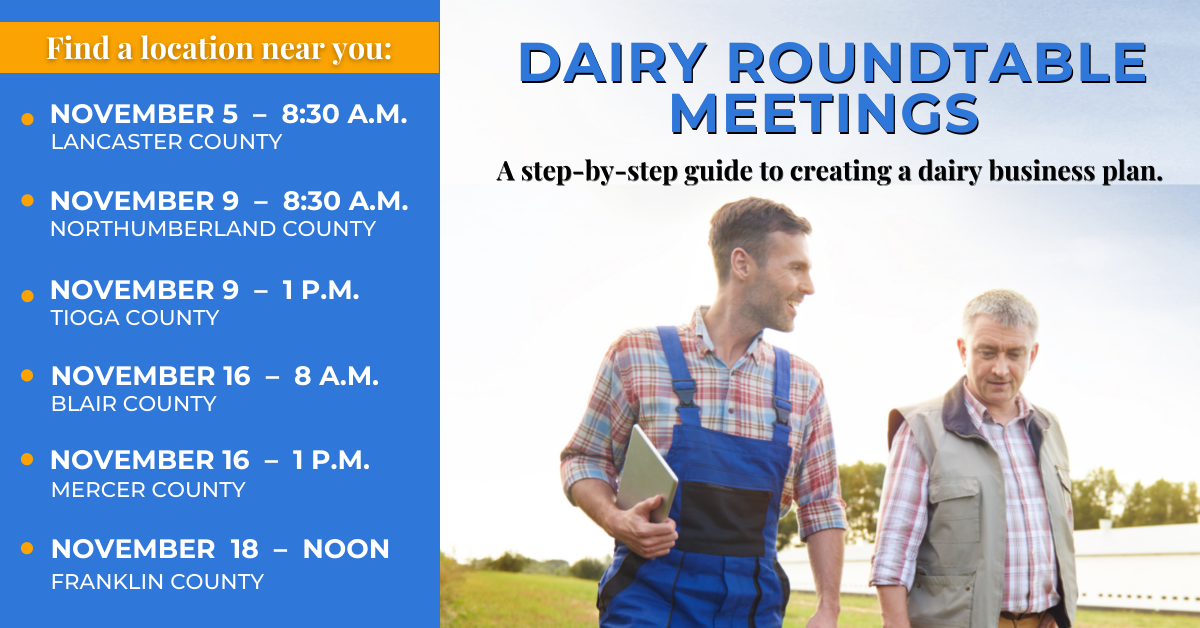 On a day-to-day basis, dairy producers' tasks vary and can change as unexpected issues arise. Their work depends on a great deal of uncontrollable factors, but creating a business plan is something dairy producers can control and can help create a roadmap for decision-making.
This November, join us for one of six business planning roundtable meetings across Pennsylvania! Ideal for dairy producers and industry professionals, these free, in-person events will discuss the importance of having a business plan in place on dairy operations. Representatives from the Center for Dairy Excellence and Penn State Extension Dairy team will provide attendees with a business planning template and walk through the steps involved in developing a plan.
All roundtable meetings are free and will include a meal followed by discussion. Advanced registration is encouraged. Register below!
View the full list of roundtable dates and locations:
Friday, November 5 from 8:30-11 a.m. – Lancaster County
Lancaster Farm & Home Center (1383 Arcadia Rd, Lancaster, PA  17601)
Tuesday, November 9 from 8:30-11a.m. – Northumberland County
Good Wil's Restaurant (24 Weaver Lane, Milton, PA 17847)
Tuesday, November 9 from 1-3:30 p.m. – Tioga County
Lambs Creek Food & Spirits (200 Gateway Dr, Mansfield, PA  16933)
Tuesday, November 16 from 8-10:30 a.m. – Blair County
Bistro at the Village Green (403 Village Way, Martinsburg, PA 16662)
Tuesday, November 16 from 1-3:30 p.m. – Mercer County
Hoss's Steak & Sea House (1948 Leesburg Grove City Rd, Grove City, PA  16127)
Thursday, November 18 from 12-2:30 p.m. – Franklin County
Hoss's Steak & Sea House (20 Falling Spring Rd, Chambersburg, PA  17202)
Fall 2021 Roundtable Meeting Registration