Date:
Saturday, October 16, 2021
Event Host:
Center for Dairy Excellence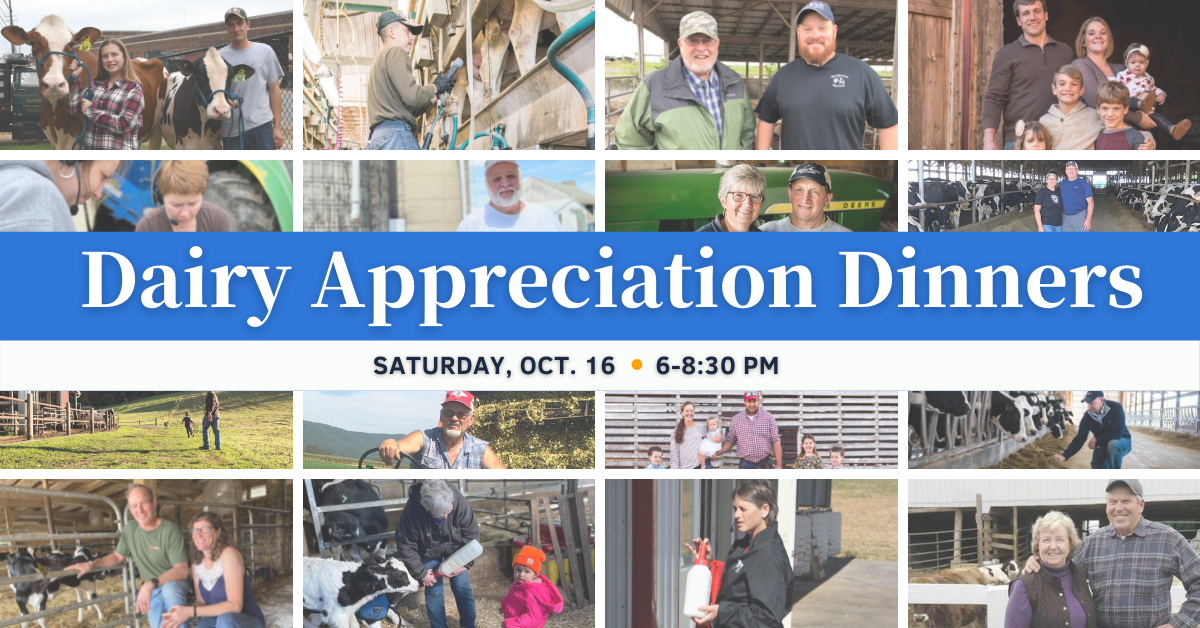 Pennsylvania dairy producers: you and your family are invited to one of three Dairy Appreciation Dinners taking place across the state this October! The free events will be held on three dairy farms in Eastern, Central and Western Pennsylvania on Saturday, October 16 from 6-8:30 p.m.
The first 100 people who RSVP for each event location will receive this free gift – an "always essential" lunchbox! Click here to view a photo. Sign up below.
The family-friendly events include a free dinner, entertainment, resource-sharing from dairy industry organizations, and an overall atmosphere of community and positivity. There is no formal program – families can stay for as little or as long as they would like. This will be a chance for us all to come together after being apart for so long and to celebrate dairy farmers' essential roles in our communities.
The Dairy Appreciation Dinners are free, but Pennsylvania dairy producers are highly encouraged to RSVP their families using the form below. Producers can register up to six people. Multiple partners from the same farm can register separately. Based on interest and farm capacity at each location, the Center may close registration if needed.
Locations:
Eastern Pennsylvania – Brubaker Farms
493 Musser Road, Mount Joy, PA 17552
Saturday, October 16 from 6-8:30 p.m.
Central Pennsylvania – Penn England LLC
10341 Fox Run Road, Williamsburg, PA 16693
Saturday, October 16 from 6-8:30 p.m.
Western Pennsylvania – The SpringHouse
1531 Route 136, Washington, PA 15301
Saturday, October 16 from 6-8:30 p.m.
*Farm addresses, directions, and parking information will be provided following registration.
Thank you to AgChoice Farm Credit, Bedford Farm Bureau Co-Op Association, Cargill, Dairy Farmers of America, First Citizens Community Bank, Fulton Bank, Hoober Inc., King Construction, Lancaster DHIA, Longenecker's Inc., Messick's, MidAtlantic Farm Credit, Professional Dairy Managers of Pennsylvania (PDMP), Reliance Bank, Riverview Bank, Wenger Feeds, and Zook Molasses Company for sponsoring the events!
For industry participation, sponsorship opportunities or questions about larger groups, contact Emily Barge at ebarge@centerfordairyexcellence.org or call 717-346-0849.
RSVP Your Family Today!
Dairy Appreciation Dinner Registration