Date:
Friday, February 19, 2021
Location:
Virtual Event: www.centerfordairyexcellence.org/SurveyResults
Event Host:
Center for Dairy Excellence and The Pennsylvania State University Smeal College of Business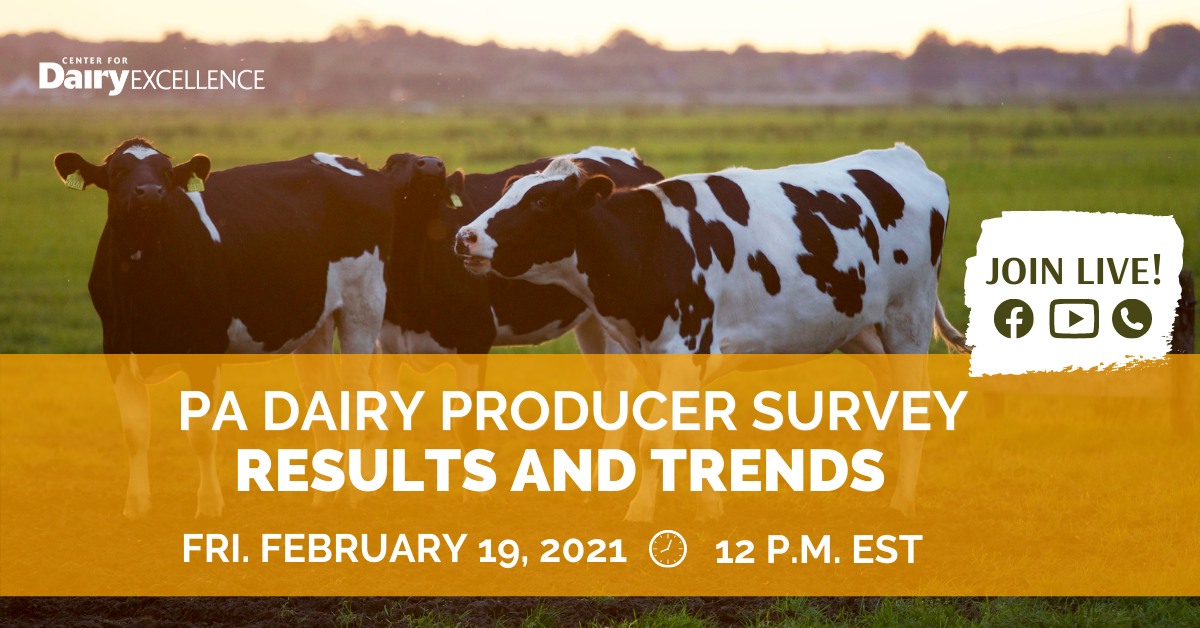 On Friday, February 19 at 12 p.m., join us for a free webinar, titled "Dairy Producer Survey Results and Trends," in partnership with the Pennsylvania State University Smeal College of Business. Dairy producers and industry representatives will hear from Zach Myers, Risk Education Manager at the Center, and Veronica Villena Martinez of the Smeal College of Business. They will share the data, trends, and results from the 2020 Dairy Producer Survey that was sent to Pennsylvania dairy farms last year.
The dairies that participated in the 2020 Dairy Producer Survey represent 10 percent of Pennsylvania's total dairies and 4 percent of annual milk production. Dairy farms from 55 of the state's 67 counties participated in the survey. Their responses give great insight into current farm management practices, business structures, herd management, and more.
During the webinar, Myers and Villena Martinez will reveal data about the Pennsylvania dairy industry based on survey responses and findings. The survey results consist of questions in the following four categories:
Owner and herd demographics
Impact of COVID-19 and the likelihood of remaining in the dairy business
Farm management practices
Cooperative and milk marketing related questions
Click here to view the full report and survey results, and make sure you join us live to ask questions about the data.
Register Today:
Register below and you will receive access to the webinar:
Dairy Producer Survey Results and Trends - Free Webinar