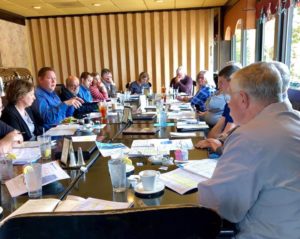 The Free Meetings Will Include Conversations About Risk Management and Cost of Production
Dairy producers are encouraged to attend one of six upcoming Dairy Producer Roundtable Meetings in New Holland, Lewisburg, Mansfield, Martinsburg, Grove City, and Chambersburg. The meetings will include conversations about new risk management programs available to dairy farm families and how dairy producers can utilize tools to calculate their cost of production.
"The roundtable meetings are a great way to foster collaboration and discussion with dairy producers in your area," said Jayne Sebright, Executive Director at the Center for Dairy Excellence. "With so much uncertainty in the marketplace, it's also an opportunity to consider how risk management fits into your business and learn about new programs available to help mitigate financial loss in the short term."
During the roundtables, representatives from the Center and Penn State Extension's Dairy Team will explain the steps involved in developing a risk management plan and calculating cost of production. Participants will also have opportunities to ask questions about current market dynamics and will walk away with resources to help them better monitor their own cost of production. All meetings will include a meal followed by discussion.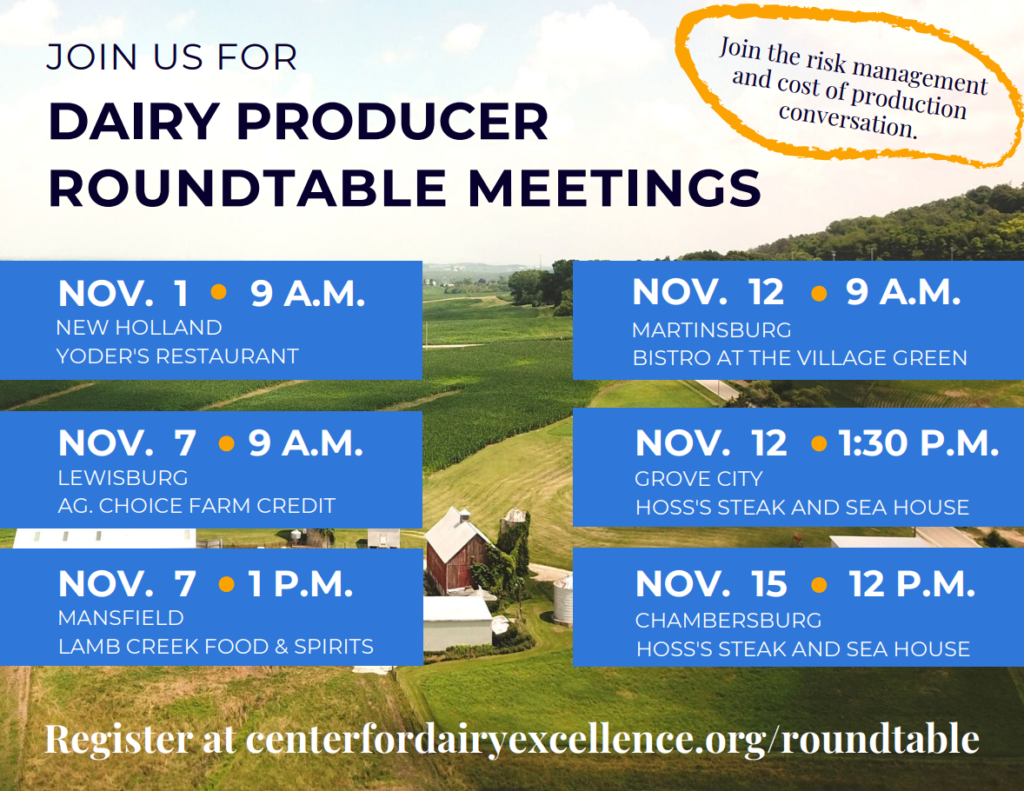 Dairy Producer Roundtable Meetings will be held at the following locations this November:
New Holland— Friday, November 1 at 8 a.m., Yoder's (14 S. Tower Road
New Holland, PA 17557)
Lewisburg— Thursday, November 7 at 9 a.m., Ag Choice Farm Credit (450 International Drive, Lewisburg, PA 17837)
Mansfield— Thursday, November 7 at 1 p.m., Lamb's Creek Food and Spirits (200 Gateway Drive, Mansfield, PA 16933)
Martinsburg— Tuesday, November 12 at 9 a.m., The Bistro at the Village Green (403 Village Way, Martinsburg, PA 16662)
Grove City— Tuesday, November 12 at 1:30 p.m., Hoss's Steak and Sea House (1948 Leesburg Grove City Rd., Grove City, PA 16127)
Chambersburg— Friday, November 15 at 12 p.m., Hoss's Steak and Sea House (20 Falling Spring Road, Chambersburg, PA 17201)
All meetings are free to attend, but registration is encouraged. Register online or contact Heidi Zimmerman at hzimmerman1@centerfordairyexcellence.org or 717-346-0849.