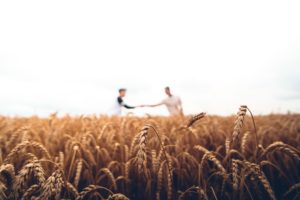 By Jayne Sebright, Center for Dairy Excellence Executive Director
One of my favorite Thanksgiving Day traditions is going around the table and having everyone say why they are most thankful. We don't do this every year in our family because it's often met with eye-rolling and begrudging comments. But when we do, usually at least one person surprises me with their thoughtful remarks.
This is also often a time of year where many of us in the dairy industry remind others to give thanks for the farmers who feed them. Recently, though, I read an article that took a different spin on that concept. It was published in Farm Journal by Kate Miller, a rancher who had just finished up a very long, wet day on the ranch and was empathizing with multiple posts from other farmers reminding people to "thank a farmer," only to enter a restaurant where she saw a sign from the owners thanking their customers. It was a paradigm shift for her that made her question why we in the ag industry feel the continuous need to remind our customers to thank us.
The sign read, "Please accept our sincere thanks for letting us serve you. We greatly appreciate the fact that you have chosen to do business with us. And in return, we pledge our continuing efforts to offer you the best service possible."
One of the top principles of customer service is acknowledging that the customer always has a choice. They are not obligated to shop in certain stores, to eat certain foods, or to be loyal to any one brand. The choice is entirely up to them. As farmers, we depend on them choosing our products over our competitors'. Along with reminding others to thank a farmer, maybe we should be reminding ourselves to thank our customers and not take their trust for granted.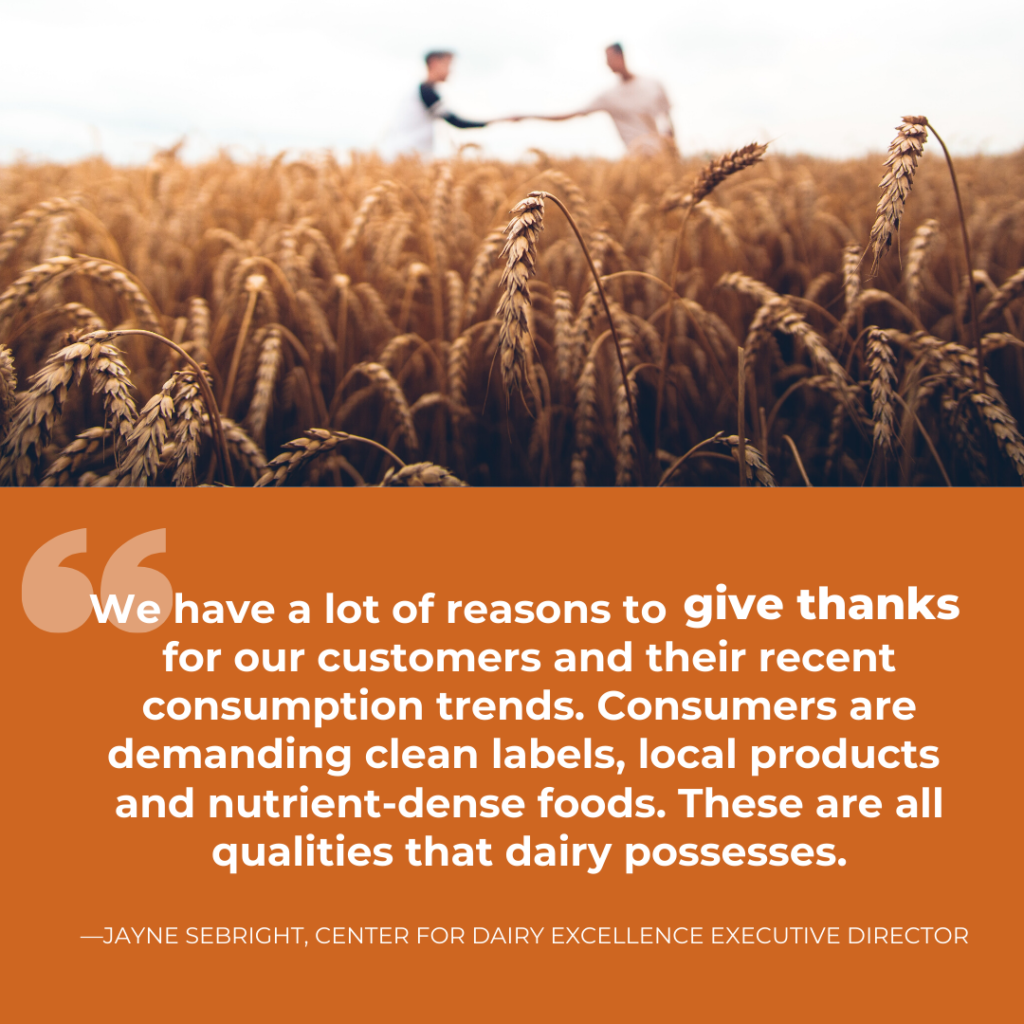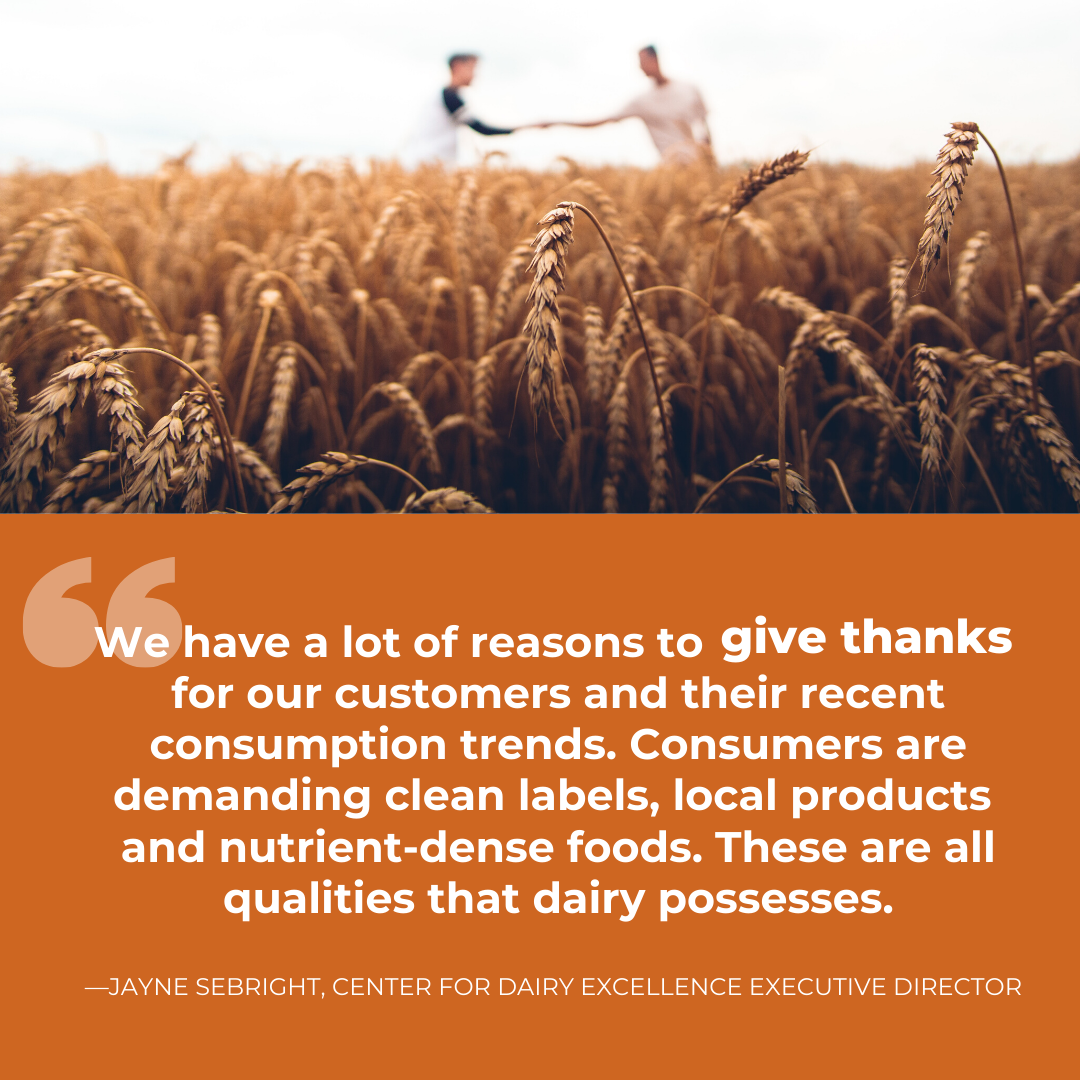 Transparency Is Not a Bad Word
The Center for Food Integrity refers to the current era as a golden opportunity for agriculture because many Americans want to know more about farming and food production. CFI research indicates that consumers expect transparency when it comes to their food production. This has created an opportunity for many of us to open the barn doors and connect with customers through hosting events and tours, speaking to community groups, posting videos on social media, or sharing regular posts about farm life.
It also creates an opportunity for the entire industry to stand behind our pledge to provide quality products to consumers and quality care for our animals. Recently the National Dairy Farmers Assuring Responsible Management (FARM) Program released its 4.0 Version, which will take effect in January 2020. More than 98 percent of the US milk supply participates in the FARM program, with standards reviewed and revised every three years to meet current science and best management practices.
The newest version of FARM supports a closer farmer-veterinarian relationship, requires continuing education for all farm employees, and adds a new standard for pain management. It builds on lessons learned over the past several years and incorporates input from farmers, veterinarians, animal welfare experts, and dairy industry leaders. The primary goal of the program is to demonstrate to consumers that dairy is a leader in the humane and ethical care of our animals.
This new version of the program may present some challenges to farms because employees will need the training necessary to stay in compliance with the program's expectations. But organizations like the Center for Dairy Excellence are working with the FARM team to make sure the training is available and easy to access. There is also a wealth of resources on the FARM Program website at nationaldairyfarm.com.
Reasons to Give Thanks
Even with the increased demand for transparency, we have a lot of reasons to give thanks for our customers and their recent consumption trends. Consumers right now are demanding clean labels, local products and nutrient-dense foods. These are all qualities that dairy possesses.
Milk and dairy foods contain a powerful nutrient package of nine essential nutrients, including protein that can help Americans achieve their health and wellness goals. In fact, milk is the No. 1 food source of nine essential nutrients for children and six essential nutrients for adults. Few foods deliver dairy's powerhouse of nutrients in such an affordable, appealing and readily available way.
When you compare milk to other foods, we win on the clean label issue as well. Just read the label of almond "milk." It contains filtered water, almonds, evaporated cane syrup, tricalcium phosphate, sea salt, and a host of other chemicals difficult to pronounce. In the dairy industry, about the only thing that is sometimes added to milk is Vitamin D. Otherwise, it's just milk, and you can't get much simpler than that.
Milk also has the advantage of being local. In fact, most fluid milk sold in Pennsylvania is produced within 150 miles from where it is sold. Our state ranks in the top four states in butter and ice cream production as well, and we have a host of artisan cheese makers across the Commonwealth that offer unique varieties of local cheeses for our customers. The last time I checked, you can't buy almonds or coconuts in Pennsylvania.
On Thanksgiving, there are so many reasons to give thanks — for family, friends, our farms, our country, and most importantly for the life in which God has given us. Just remember, when making your list on November 28, don't forget our customers.
Or, consider taking it one step further. The next time you're in a grocery store or at a restaurant and see someone choosing dairy for them or their families, take a minute to tell them thanks. They'll appreciate that you did, and you might make a new connection. Besides, it is choices like theirs that will keep our industry strong well into the future.
Editor's Note: This column is written by Jayne Sebright, executive director for the Center for Dairy Excellence, and published monthly in the Lancaster Farming Dairy Reporter.
---
Follow along with our Center Focus Column each month.