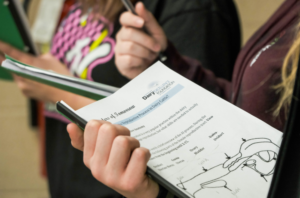 The next generation of dairy doesn't look the same as it did five months ago, let alone 10 years ago. The dairy industry and the way we teach students are changing rapidly, and the future often feels unknown.
To navigate these changes and continue preparing students to pursue careers in the dairy industry, many agriculture teachers are using the Dairy Leaders of Tomorrow (DLT) program, managed by the Center for Dairy Excellence Foundation of Pennsylvania.
The high school curriculum provides a comprehensive, three-part model that includes classroom lessons, on-farm experiences, and scholarship opportunities. Available in a digital format with online modules that allow students to work independently at their own pace, the DLT curriculum includes three core courses that meet Common Core Educational Standards. Students can also earn industry-recognized certificates in both Dairy Herd Management and Dairy Business Management as they work through the program.
A Building Block for Independent Study Students
At Cumberland Valley High School in Cumberland County, Pennsylvania, agriculture teacher Darla Romberger mentors high school independent study students. This year, one of her students completed all three units in the DLT program.
"I like how the DLT curriculum has the option of being utilized individually by students," Romberger said. "I had an independent study student, Amanda, go through all three components at her own pace. I could track her progress and see how far she was getting. The flexibility was really key."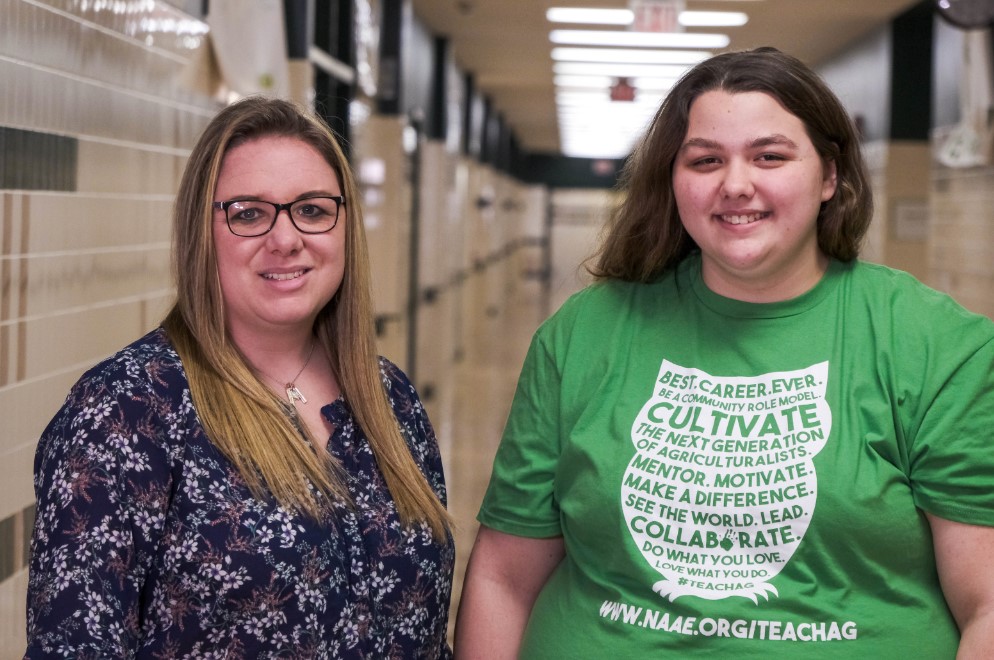 Amanda took two weeks to work through the online courses independently, completing two to three lessons each day. After growing up on her family's dairy farm, Amanda says the program gave her practical takeaways and knowledge she can apply if she gets more involved on the farm in the future.
"It was really nice to have the independent time to do it. My biggest takeaway was ultimately herd management. It made me feel like I have the knowledge to do hands-on things on the farm. I don't have to sit back and watch other people do it," Amanda said.
An Introduction to Different Careers in Dairy
At Bald Eagle School District in Centre County, Pennsylvania, Todd Biddle teaches 8th through 12th grade students. For the last three years, Biddle has incorporated DLT curriculum into his animal production classes to introduce his students to the wide range of dairy-related careers.
"We know that in agriculture, the dairy industry is one of the largest industries in Pennsylvania. DLT exposes my kids to the myriad of opportunities," he said. "I really love the first module because it opens them up to the diversity of the industry. They might not want to milk cows for a living, but maybe they have an interest in art and can learn ways to promote dairy products. It shows them how they could find a career in the industry."
To keep the lessons meaningful and differentiated for students, Biddle adds enrichment and hands-on activities to several of the DLT lessons.
"At the end of each module, we do a fun class activity. We make butter and ice cream. That is my way of celebrating their completion while helping them learn something more about the dairy industry," Biddle added.
A Resource for Students Completing Co-ops and Virtual Learning
At the Lancaster County Career and Technology Center in Lancaster County, Pennsylvania, Lori Hess teaches an animal production science and technology class to high school seniors. She uses DLT as a supplement to her textbook's curriculum and to help her seniors gain dairy herd management certifications and credentials.
"I didn't like how the dairy unit in my textbook jumped around. I started using the DLT curriculum instead and if students want, they can get certifications to go along with it," Hess said. "It has been beneficial for me because the lesson plans are all there. From a teaching standpoint, it's easy enough for anyone to pick up and implement in the classroom."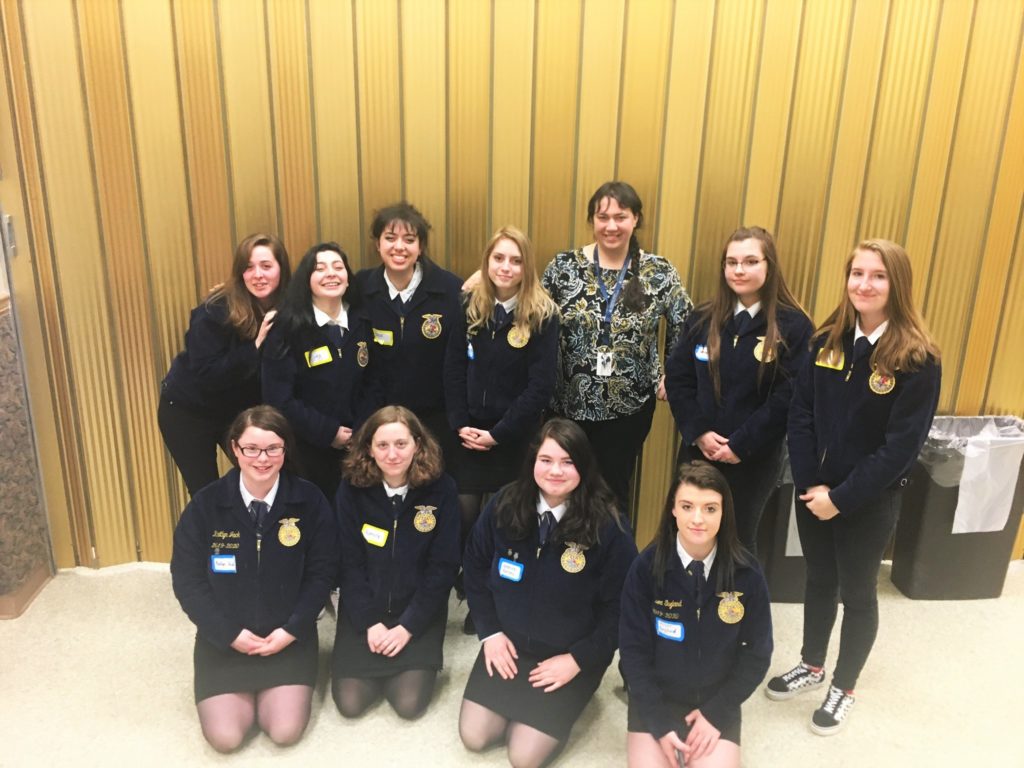 As a technical school, many of Hess's students participate in a co-op program where they are out of the classroom and gaining experience on the job. In addition, all of her students ended the 2019-20 school year with virtual learning due to the COVID-19 pandemic. Whether her students are working out of the classroom, or learning virtually from their homes, the online independent study option allowed them to work at their own pace.
"For my students who are out on co-op, they can still complete the dairy unit online. They know to go through the lessons and take the quizzes so they can still get their certifications," she said. "Students work at their own pace, so they don't feel rushed. They can work ahead, too."
Activities and Projects to Kindle Excitement for Dairy
As students work through the DLT curriculum, either independently or in the classroom, several projects help reinforce the concepts they're learning and foster their creativity and excitement for dairy.
In Romberger's classroom, the DLT reproductive anatomy lesson served as a relevant introduction for a pig dissection assignment in her high school animal science class.
"We were going through the different systems of pigs, and I didn't think the curriculum we were using did a good enough job of really showcasing the different parts of the reproductive tract," Romberger said. "I knew the DLT curriculum had a really good reproductive lesson and visuals to go along with it. It was a nice connection, and it supplemented the curriculum really well for us."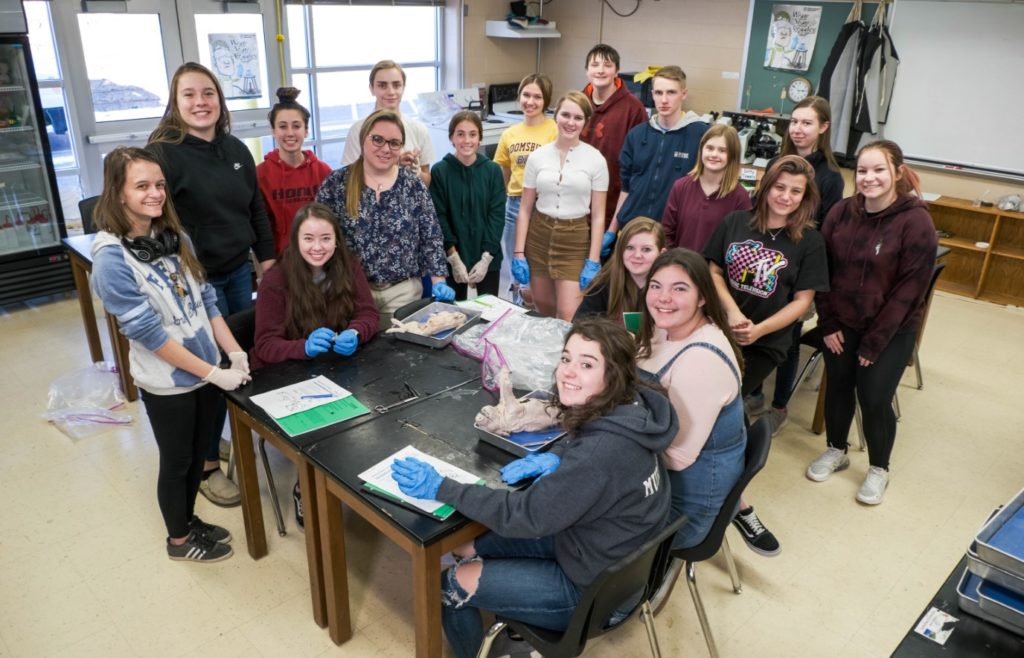 For Hess's high school seniors, they enjoyed the public service announcement project that is included in one of the DLT units. Using creativity and a team approach, students were required to work in groups to create an announcement or infomercial about dairy breeds. One of her students chose to write a rap about Holsteins, making it a memorable conclusion to the DLT lessons.
In Biddle's classroom, his students formed long-lasting connections with dairy farmers in their local community after watching a video on farmers and learning about their challenges. They were then required to look at the milk containers in their refrigerators at home and find the plant code to determine if the milk was coming from their state or local farms.
Investing in the Future of Dairy
The DLT program also provides annual scholarships to both students and educators who are passionate about contributing to the future of dairy.
"Receiving the DLT Teacher Scholarship allowed me to attend a national conference and network with teachers and educational vendors from across the country," said Romberger. "It was valuable and has immediately improved my ability to design relevant experiences for my students relating to dairy and animal science."
For high school students who completed a DLT course and plan to pursue a dairy-related career after graduation, the student scholarships provide financial assistance to help them enroll in academic programs that support the future of dairy.
Ultimately, empowering the next generation of dairy farmers starts with the education they receive today. Through Dairy Leaders of Tomorrow, high school students have the resources and curriculum to get a jumpstart on their future careers in dairy.
"DLT helps students learn about the industry, get job credentials, and have a chance to earn money to go to college," Biddle said. "It's an amazing program, and as teachers, we're always looking for best practices. I truly think DLT is a best practice. We have a great resource in the industry, so we might as well use it."
---
To learn more about Dairy Leaders of Tomorrow, contact Brittany Snyder at bsnyder@centerfordairyexcellence.org or visit dairyleadersoftomorrow.com.