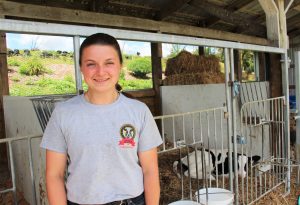 Even though Rebecca Burns didn't grow up on a dairy farm, she loved working with animals from a young age. When she decided to study animal science in college, she realized she could make a career out of her passion.
"I was the person [in my family] to branch off and discover that I really liked working with animals and agriculture in general. It was when I went to college that I discovered dairy was the path I wanted to take," Rebecca said.
With an interest in animal science, Rebecca decided to challenge herself and embark on a new adventure by attending Iowa State University. "I'm really used to Pennsylvania, so going to a new state to learn about agriculture and see what they do out there was super fascinating to me," she explained.
As Rebecca began her college career, she was introduced to dairy in one of her core classes and eventually started getting experience on the university's teaching farms. When she joined the Dairy Science Club and met others in the industry, she felt her goals solidifying and her passion for dairy strengthening.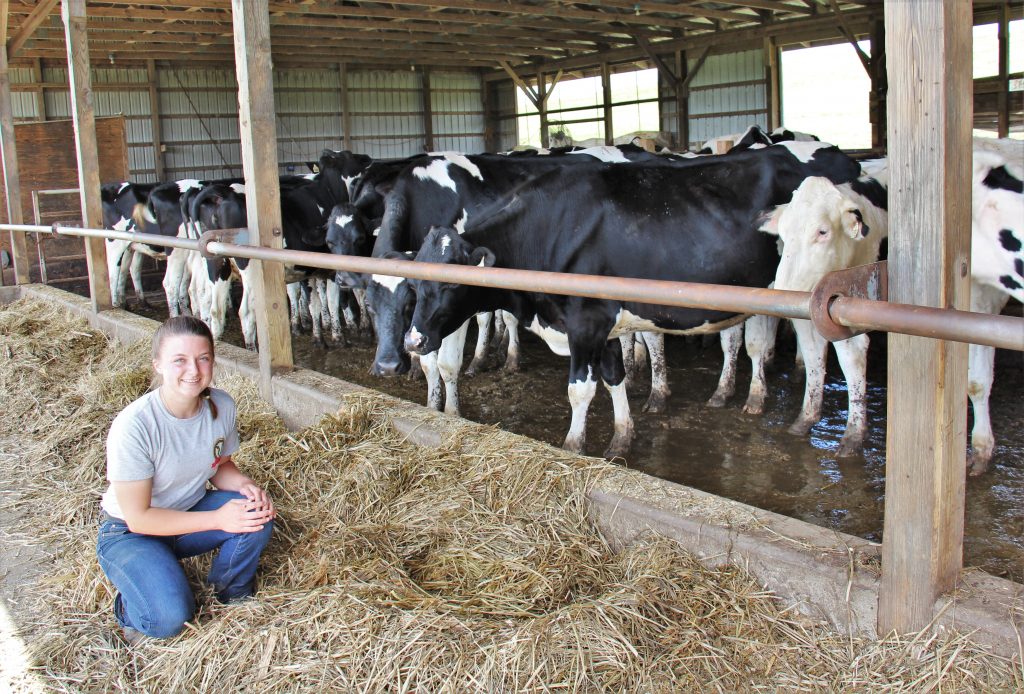 "It was the people who drew me in first. From there, it was their positive energy about the industry and hearing their experiences that really caught my eye," Rebecca said. "Once I started getting hands-on experience with the cows and being on the farm, [my passion] really took off."
Rebecca decided to apply for the 2020 On-Farm Internship Program through the Center for Dairy Excellence Foundation of Pennsylvania, the Professional Dairy Managers of Pennsylvania, and the Pennsylvania Dairymen's Association. As one of seven students accepted into the program, she was paired with McWilliams Farm in Somerset, Pennsylvania and spent her summer expanding on her academic knowledge and gaining hands-on skills in a real-world setting.
Rebecca worked with the farm's show cows and heifers and also learned about breeding, performed calf work, and completed herd checks with the veterinarian.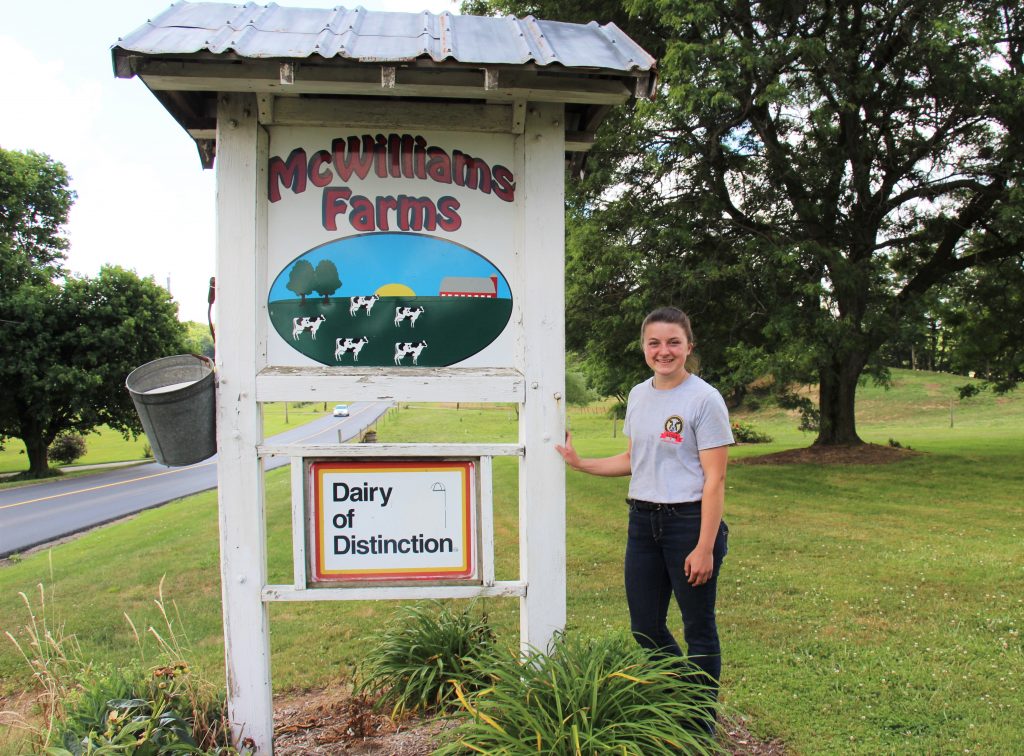 "The calf work was my favorite. There's something about the whole process that's really rewarding – seeing them be bred, watching the cows calve, taking the little calf and starting it off on a bottle, and watching it grow over the weeks," she said. "Working to get them off on the right foot so they can have a successful life and career on the farm is a super cool thing."
In addition to gaining on-farm skills, the internship helped Rebecca develop other soft skills such as communicating with others and learning how she fits into a team. She also completed a research project to evaluate the difference between feeding calves twice a day versus three times a day. By monitoring the calves' growth with weigh tape, Rebecca worked to identify how daily feeding patterns affect calf growth and overall health.
"Getting experience on the farm has been refreshing for me. It has opened my eyes to a lot of new concepts and ideas," Rebecca said. "I've been able to see people come through who have other careers in the dairy industry that I didn't even think about before. Talking to them and making connections has been really helpful. I wouldn't have gotten that without the internship."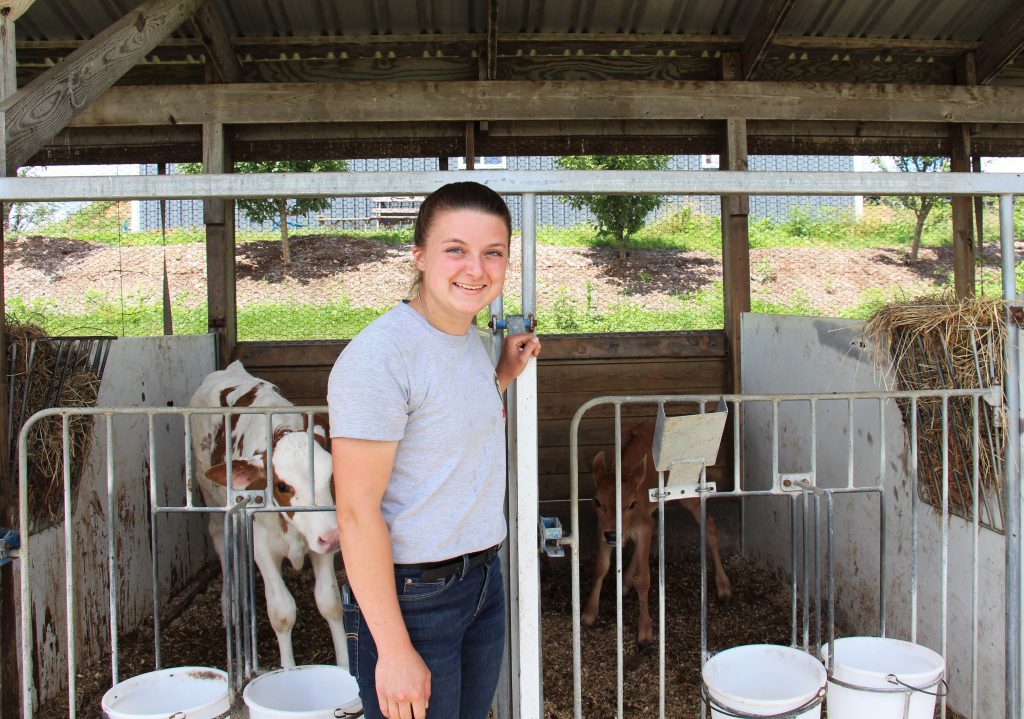 As she begins her junior year of college, Rebecca has a strong interest in nutrition and reproduction. She is looking forward to expanding on those interests in some of her specialized classes. No matter where her education takes her, Rebecca says she is committed to the dairy industry.
"I see myself staying in dairy. The people are great, and I have a passion for it," Rebecca added. "I like to teach people about the industry, too, especially since I don't come from a farm background. It's fun to share information with them, and then when they're pouring their milk in the cereal bowl, they have a whole different view on it than what they had before."
---
The Center for Dairy Excellence Foundation, the Professional Dairy Managers of Pennsylvania, and the Pennsylvania Dairymen's Association provide $3,000 grants to support the on-farm internship program each summer. Learn more.