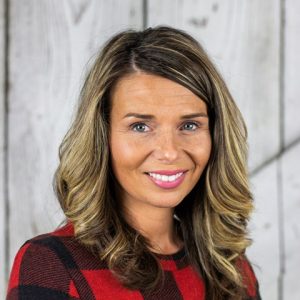 We recently sat down with Nichole Hockenberry, Executive Director of the PA Beef Council, to learn more about the Beef Checkoff program and what it means for dairy. Why do dairy producers have to pay into checkoff? What's the return on investment? Nichole answered these questions and more.
Why do dairy producers have to pay the $1 per head checkoff?
Nichole: The Beef Checkoff program was established as part of the 1985 Farm Bill. The Checkoff assesses $1 per head on the sale of live domestic and imported cattle, in addition to a comparable assessment on imported beef and beef products. The Checkoff assessment became mandatory when the program was approved by 79 percent of producers in a 1988 national referendum vote.
The Checkoff program was designed to stimulate restaurants and grocery stores to sell more beef and encourage consumers to buy more beef. This is accomplished through initiatives such as consumer advertising, marketing partnerships, public relations, education, research and new-product development.
By law, all producers selling cattle or calves, for any reason and regardless of age or sex, are required to pay $1 per head to support beef/veal promotion, research and information. The buyer, generally, is responsible for collecting $1 per head from the seller, but both are responsible for seeing that the dollar is collected and paid. These funds are sent to their respective state beef councils for remittance to the Cattlemen's Beef Board (CBB) collection office. Additionally, the checkoff is collected at the same rate on every live beef animal imported and at the equivalent rate of $1 per head on all beef products that are imported.
How does Beef Checkoff benefit dairy producers?
Nichole: While the dairy industry's primary business is producing milk, dairy farmers also sell male calves and produce beef from the cows or finished calves sent to market. Dairy producers are unique as they are raising two commodities on the farm: milk and beef. Every dairy animal has a career change when leaving the milking area. It's important to remember those animals have value and can be harvested as a safe, wholesome and nutritious protein. In fact, about 21 percent of the beef produced in the U.S. comes from dairy stock. When the checkoff was first established in the Beef Promotion and Research Act as part of the 1985 Farm Bill, producers wanted to ensure that all those who would benefit from the increased demand as a result of the Beef Checkoff would share in the cost of funding the program. Therefore, with the dairy industry providing a good portion of the beef produced in the U.S., these producers are also a part of the Beef Checkoff program. Dairy producers are represented proportionally on state beef council boards and the Cattlemen's Beef Board. The PA Beef Council (PBC) has regional representation of dairy producers that have been nominated by dairy organizations.
From 2014 to 2018, all CBB's promotion and research activities increased total domestic beef demand by 12.8 billion pounds in total, or 2.6 billion pounds per year.
In Pennsylvania specifically, the PA Beef Council is the local arm of the Beef Checkoff that directly works with dairy producers on programs like the Northeast Dairy Beef Quality Assurance (NEDBQA) program. This program specifically hosts events and workshops centered around dairy producer education. PBC has hosted events on animal handling, on-farm trainings, veterinary workshops and protocol writing. In the 2019-2020 Fiscal Year, PBC impacted 956 producers with 5 in-person trainings and a total of 23 events in the Northeast region.
What is the return on investment to dairy farms from the beef checkoff program?
Nichole: Since approximately 21% of beef in the U.S. comes from dairy animals, the Beef Checkoff directly impacts dairy producers. The 2019 Return on Investment report is listed below:
INVESTMENT OF $1.00 RETURNS $11.91 TO BEEF COMMUNITY PROFIT:
Collectively, the overall BCR for all nine CBB activities (including foreign market development) is $11.91. In other words, an extra dollar invested in CBB activities over the period, 2014-18, returned $11.91 to beef industry producer profit.
From 2014 to 2018, all CBB's promotion and research activities increased total domestic beef demand by 12.8 billion pounds in total, or 2.6 billion pounds per year.
In Pennsylvania, the PBC supports dairy specific programming at the following events:
Oregon Dairy Family Farm Days
The PA Dairy Summit
Northeast Dairy Beef Quality Assurance Workshops
NEDBQA FARM Protocol Writing Workshops
On-farm animal handling training
All-American Dairy Show
Veal Summit
The PA Farm Show & Culinary Connection (features beef and veal)
What is the advantage to supporting a nationally driven beef checkoff program as opposed to each farmer marketing his or her own product?
Nichole: The Checkoff acts as a catalyst for change and is designed to stimulate beef sales and consumption through a combination of initiatives including consumer advertising, research, public relations and new-product development.
The Beef Checkoff represents all beef, not a brand, and works continually to raise confidence in beef in the meat case and on the plate. With many other competing proteins and alternatives, it's important to stay top of mind to consumers.
The Beef Checkoff program increases profit opportunities for producers by keeping beef top-of-mind with consumers, restaurants, butchers and other food retailers. It also reaches out to educators, dietitians, and medical personnel and influencers. In short, it is always working to ensure a wholesome, quality beef-eating experience consistently.
Around the world, beef consumers demand high-quality, safe and nutritious products. As protein choices continue to expand, beef safety and nutrition research are key to ensuring that both domestic and foreign beef consumers have confidence in their purchasing decisions. The only way to maintain and grow this confidence is through strong and effective science-based communication. Beef Checkoff-funded research programs have been used to respond to industry, media and regulatory inquiries, as well as influencer and consumer concerns, by showcasing the beef industry's commitment to science-based information and consumer education.
What is Beef Checkoff doing to combat anti-animal agriculture rhetoric right now?
The beef checkoff actively shares the science about animal production and the positive attributes of beef in the diet. From an animal care standpoint, Beef Quality Assurance (BQA) is a great story for producers and the checkoff to share. Beef producers have a long-standing tradition of focusing on food quality and safety starting at the farm. As of 2021, Pennsylvania boasts more than 7,000 producers enrolled in the PA BQA program. BQA is a voluntary program that certifies producers in best management practices that aide in the animals well-being and subsequently results in safe, wholesome and delicious beef.
How does Beef Checkoff help to promote beef as a part of a healthy diet?
The checkoff is actively involved in supporting human nutrition research to understand and communicate science-based information about beef's role in health. Research topics include beef's role in healthy diets for weight management, heart health, metabolic health and physical performance. Sharing beef's great nutrition story is a priority of checkoff programs.
Thanks, in part, to a partnership with the Beef Checkoff, the American Heart Association (AHA) has certified the following beef products as part of its AHAHeart Check Food Certification Program. This program places the AHA Heart-Check mark logo on food packages to help healthy consumers, over age 2 identify foods that meet criteria for saturated fat and cholesterol. The beef products meeting this criteria for the AHA Heart Check certification include:
Sirloin tip steak
Bottom round steak
Top sirloin stir-fry
Boneless top sirloin petite roast
Top sirloin filet
Top sirloin kabob
Top sirloin steak, boneless, center cut
Extra lean ground beef (96% lean, 4% fat)
Extra lean ground beef (96% lean 4% fat) (with natural flavors)
Additionally, the Beef Checkoff has participated in creating heart-healthy beef recipes for the AHA Recipe Certification Program. Under this program, the Heart-Check mark logo helps health-conscious Americans identify heart-healthy recipes they can cook for themselves at home. Recipes can be certified in several categories and require meeting AHA nutrient criteria for total fat, saturated fat, sodium, and added sugar per serving. Twenty recipes that are AHA-certified and are included in the Heart Healthy Recipes collection on BeefItsWhatsForDinner.com.
In Pennsylvania, the PA beef Council, plays an active role in the following nutrition focused academies and associations: PA Family Physicians, PA Nutrition and Dietetics, School Nutrition Association of PA.
What is the checkoff doing to dispel notions that beef production is damaging to the environment?
The beef production system involves complex biological processes. Understanding that the concept of sustainability infiltrates every phase of the beef production lifecycle, in 2012 and 2014 the Beef Checkoff and the USDA's Agricultural Research Service conducted a lifecycle assessment lifecycle assessment designed to scientifically quantify and benchmark environmental, social and economic aspects of beef industry sustainability. The goal of the assessment was to provide a clear picture as to where beef operators along the supply chain could identify ways to improve efficiency and sustainability. The research included an evaluation of thousands of data points to quantify the industry's progress from 2005 to 2011.
Today, U.S. cattle farmers and ranchers are able to produce the same amount of beef with one-third fewer cattle than they did in 1977. The concept of sustainability is ever-changing, and the industry is constantly learning new ways to improve beef production. Beef producers are committed to preserving natural resources so future generations can continue to feed the world. The checkoff will continue to look for ways to assist them in this endeavor.
The beef community has a long-standing commitment to caring for their animals and providing families with the safest, highest-quality beef possible. The Beef Quality Assurance (BQA) program trains farmers and ranchers on best practice cattle management techniques to ensure their animals and the environment are cared for.
The Beef Checkoff continues to share beef's sustainability message in various outlets from social media, digital banner ads, highlighted speakers and more. See fact sheet and graphics that help to aide this conversation.