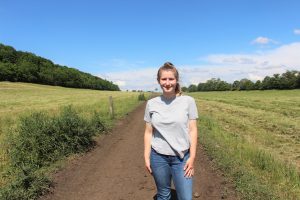 Growing up in Stamford, Connecticut, 30 minutes outside of New York City , Yvette Wolpo didn't see a lot of dairy cows, but that didn't stop her from developing an interest in agriculture. As a high school student, she became involved in FFA and decided to study animal science at The Pennsylvania State University.
"I've always wanted to be a vet, but I come from a really urban area. In my town, there are no farm animals and no cows at all," she said. "I've done work with small animals but I've never had experience with large animals."
As a rising junior at Penn State, Yvette attended a career fair and learned about the on-farm internship program. After applying and being accepted, she was paired with Rock Hollow Dairy, LLC in Perry County, Pennsylvania where her goals for the summer have been to gain on-farm experience and expand her knowledge of large animal health and reproduction. Yvette is one of seven college students who are completing on-farm internships this summer through the Dairy Excellence Foundation, the Professional Dairy Managers of Pennsylvania, and the Pennsylvania Dairymen's Association.
"I was so excited about this internship. A lot of people don't get internships this early on [in their college career], so it is a really good opportunity," she said. "I don't have a ton of dairy experience. This is a smaller farm and it's family-run. They are very willing to teach me everything."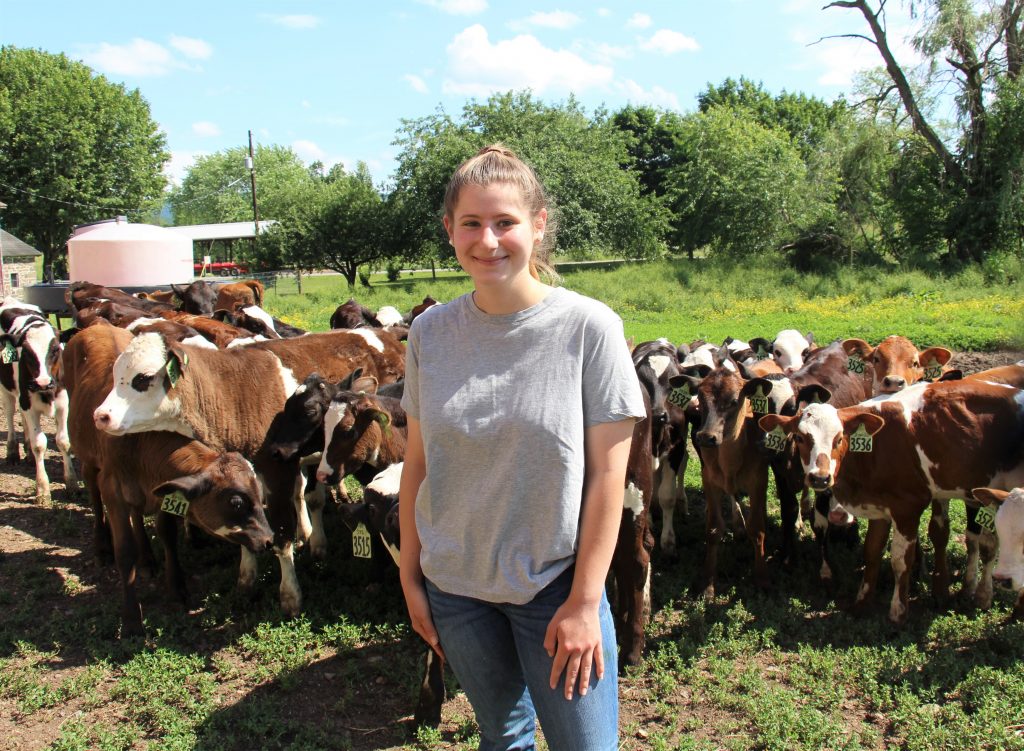 For Neil Hertzler of Rock Hollow Dairy, helping students like Yvette gain direct experience at the farm level is rewarding for him.
"We enjoy being a host farm for interns because we feel it is important to give a student who is interested in agriculture an opportunity to get hands-on experience. We enjoy getting to know students and working with them for the summer," he said.
Throughout the internship, Yvette has learned how to milk cows, manage pastures, and feed the herd different minerals. With her interest in reproduction, she is also working with Hertzler on an in-depth research project they designed to match her goals for the internship. Yvette has been performing heat checks every day to help study the farm's conception rates and make improvements in their seasonal breeding program.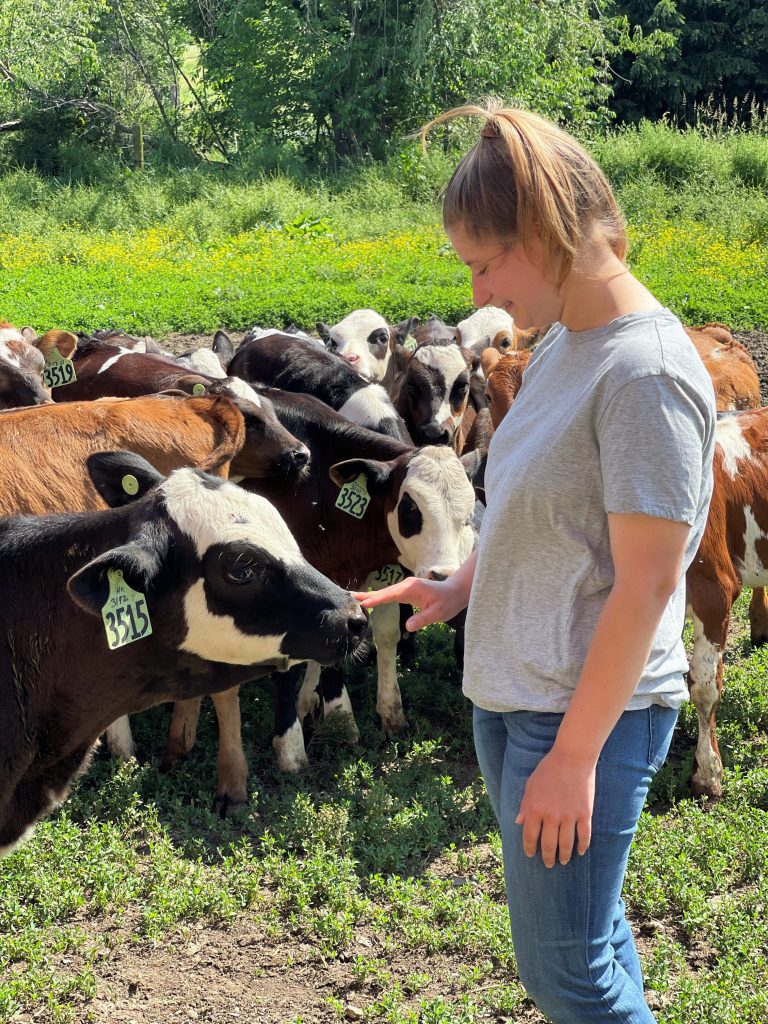 "I'm really interested in reproduction, so I've been checking heats twice a day and then we mark when they're bred. I'm checking to see how conception rates work and the differences between things like behavior sighting and breeding," Yvette explained. "I really want to see if when you track heats consistently and mark that against the time, if we can change conception rates."
Right now Yvette is considering a career as a veterinarian, but the on-farm internship is also helping her look at other areas of the industry. She has an interest in artificial insemination (AI) and hopes to build on what she has learned about AI this summer throughout the rest of her college career.
"I'm hoping to do a little AI. My boss does it here. He has shown me a little bit already and said he'd be willing to teach me more, so I'm really excited about that. I've wanted to do that since I was in high school," she said.
In addition to learning all about large animal health and reproduction, Yvette is spending the summer in a roomy, air-conditioned camper directly on the dairy farm – which has given her a deep appreciation for the dairy farm families that call Pennsylvania home.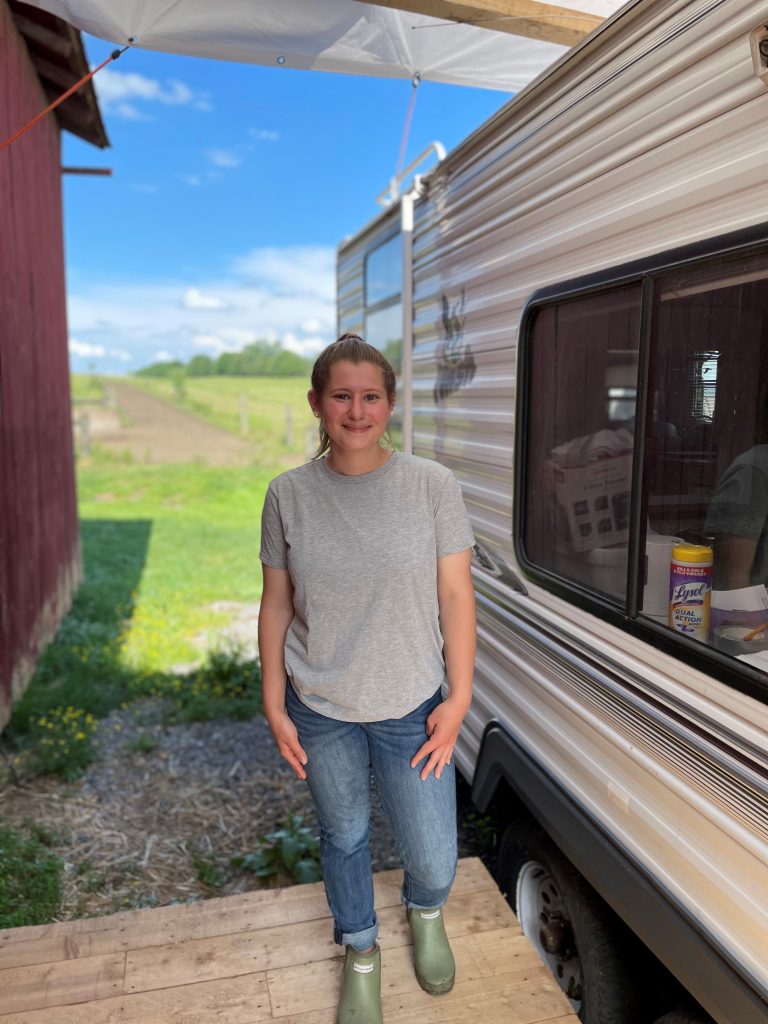 "I don't think a lot of people realize this type of farm still exists – the little family farm. It's a really interesting difference to see. I've seen the bigger, more industrial farms but here everything is done naturally. Being able to live here and work all summer is really exciting. I've never done that before," Yvette added.
Even though she began the internship with a passion for cows, Yvette says the experience has validated her desire to make a viable career out of her passion. By gaining direct experience on the farm, Yvette has developed the skills and confidence she needs to continue her journey with dairy.
"A lot of people in my major grew up on dairy farms, so sometimes it can be intimidating not having a lot of experience. But I think the dairy industry is really interesting, and doing this internship has really cemented that. I love being around cows, and this has always been something I've wanted to do," she shared.
---
The Center for Dairy Excellence Foundation, the Professional Dairy Managers of Pennsylvania, and the Pennsylvania Dairymen's Association provide $3,000 grants to support the on-farm internship program each summer. Learn more.